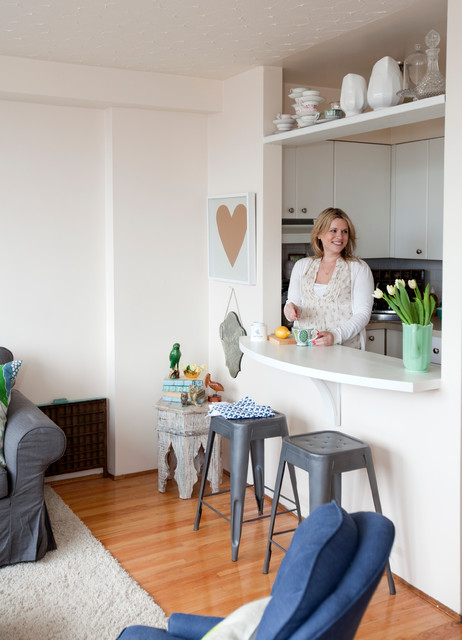 West End Studio
Eclectic , Vancouver
Inspiration for an eclectic home design remodel in Vancouver — 
Houzz
What Houzz contributors are saying:

Janet Dunn added this to How Your Home Can Heal a Bad Day
Nov 10, 2016
Good company. Unburdening yourself to someone else, without expecting them to provide a solution, can be a cathartic way to release resentment. A trusted friend or family member who will listen to your gripes without judging or giving advice is worth their weight in gold. Unload over a cup of coffee or glass of wine.Why it helps: "A problem shared is a problem halved." Informal studies show that this chestnut holds true, and the counseling professions are based around the idea. Just verbalizing frustration may open up a different perspective and release irritation. No friend handy? Grab pen and paper and write it all down, bad words and all.

Becky Harris added this to You Said It: 'Or Is It Just Me?' and Other Houzz Quotables
Jan 16, 2015
"There are so many gorgeous studio spaces available these days that we can finally put the 'Does size matter?' question to bed." — Bryna HowesFrom Manhattan to New South Wales, people are making the most of small studio homes. Creative solutions such as secret drawers hidden in stairs, streamlined cabinetry, multifunctional furniture and loft beds make them very livable. I usually think I could never do a studio, but these made me reconsider. Full story: Small-Space Living: 8 Stylish Multitasking StudiosDid anything on Houzz make you hit the Bookmark button this week? If so, please let us know in the Comments section.

Bryna Howes added this to Small-Space Living: 8 Stylish Multitasking Studios
Jan 12, 2015
What sets this studio apart is the design. The natural light combined with the white walls and soft-colored furniture has opened up the studio and made it seem bigger than it is.To enhance the effect, the occupants installed a large mirror against one wall. This is another clever trick often used for making a room seem bigger and brighter.
What Houzzers are commenting on: