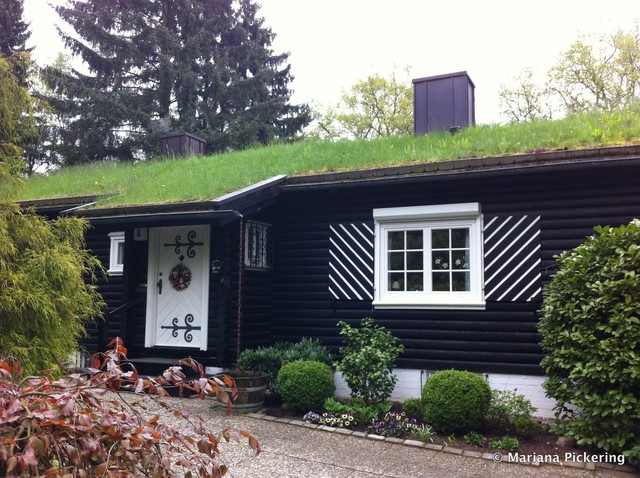 Wohldorf-Ohlstedt green roof near Hamburg, Germany
Farmhouse Exterior, Denver
This is the community of Wohldorf-Ohlstedt near Hamburg, Germany. This was the first stop on our day of excursions to various green roofs in the Hamburg area for the 3rd International Green Roof Congress. It was also the most impressive (a) because of the beauty of the very natural looking roofs covered in grasses, and (b) because these roofs were constructed in the 1940′s and seem to still be functioning quite well. In fact, the town council has mandated that any renovation projects or new constructions within the original area of the neighborhood must have or maintain a green roof.

Mariana Pickering (Emu Architetti)
Farmhouse exterior home idea in Denver — Houzz
Related Professionals in Denver
This photo has one question

What Houzz contributors are saying:

Mariana Pickering (Emu Building Science)
added this to
6 Green-Roof Myths, Busted
Common MythsMyth No. 1: Green roofs are a new and experimental part of the green trend.When do you think the residential green roof in this photo was installed? Five years ago? Ten? Maybe 20? This green roof has been protecting this German residence since the 1940s — more than 70 years ago! Last May I was able to attend the International Green Roof Association's conference in Hamburg, Germany. As part of the conference program, we visited the small community of Wohldorf-Ohlstedt. This roof and others like it were constructed in 1943 in one of three Norwegian settlements. The neighborhood was intended to be a social housing option for the needy, including former concentration camp prisoners. It later became a middle-class suburb, with the green-roofed houses becoming quite sought after but rarely available.Green roofs have been around for centuries. It's the execution of them that has become more technical of late, allowing for thinner and lighter roof profiles.
What Houzzers are commenting on: