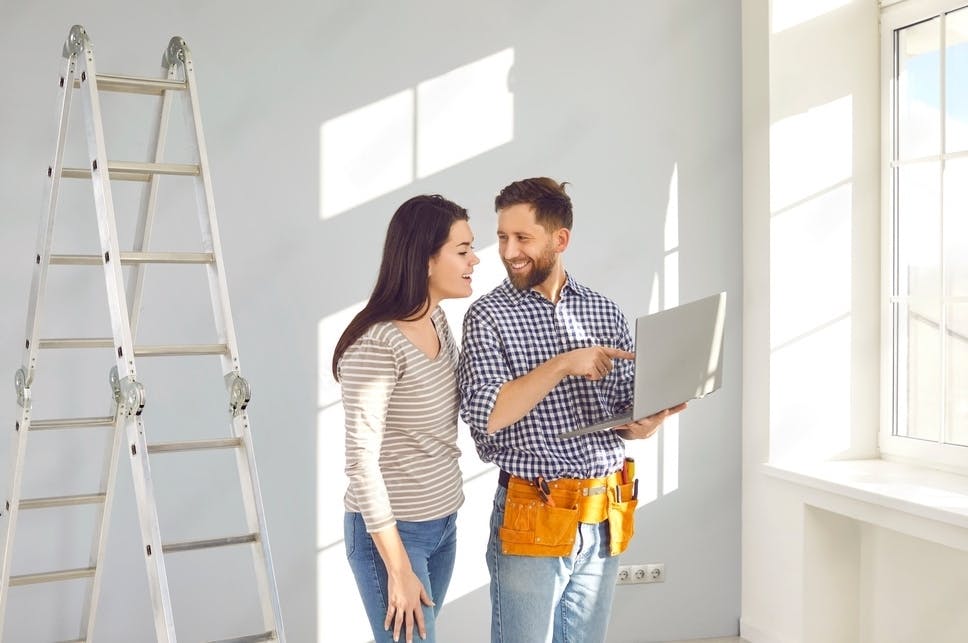 We are excited to announce the launch of our new Selections tool for builders and remodelers. This powerful workspace and presentation tool will help you share products and materials with your clients and collect approvals, in one visual place online. Gone are the days of scattered feedback and messy spreadsheets. With our new Selections Tool, you can streamline every step of the selection process, manage budget expectations with your client, and keep all the choices and final decisions organized in one tool. 
Watch our 2-minute overview video to see how the tool works, and start using it today to take your remodeling projects to the next level.
Here are 3 reasons why you should start using Selections from Houzz Pro today: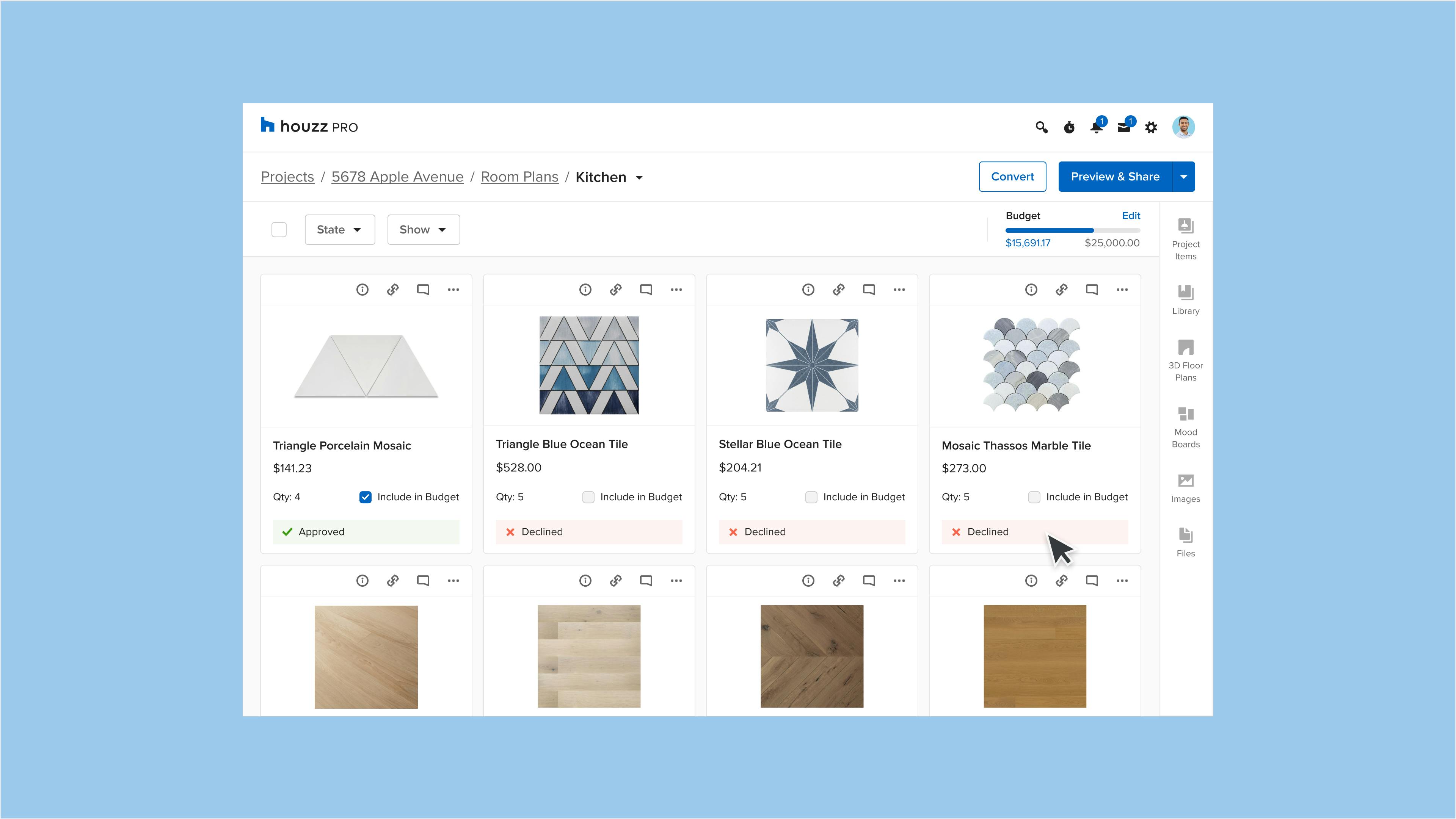 1. Impress Your Clients - They Will Tell All Their Friends About You!
You are keenly aware that the selections process can be overwhelming for clients, with hundreds if not thousands of decisions that need to be made. With Houzz Pro, we give you the tools you need to guide clients through the process in an easy, streamlined manner, and deliver a standout client experience. 
For each project, you can create one or more visual boards (we call it a Room Plan) of products, materials, finishes, and fixtures,--anything you're proposing. Within each Room Plan, you can pull not only images and details of all these choices, but you can also include other key files to help with the process. Give clients the big picture by including in Mood Boards, 3D floor plans, PDF files such as specifications, and more, so everything's all in one place for your client to review. You can even rearrange and resize items to spotlight your suggestions. Your clients will be able to scroll through the list of options and easily approve or decline items.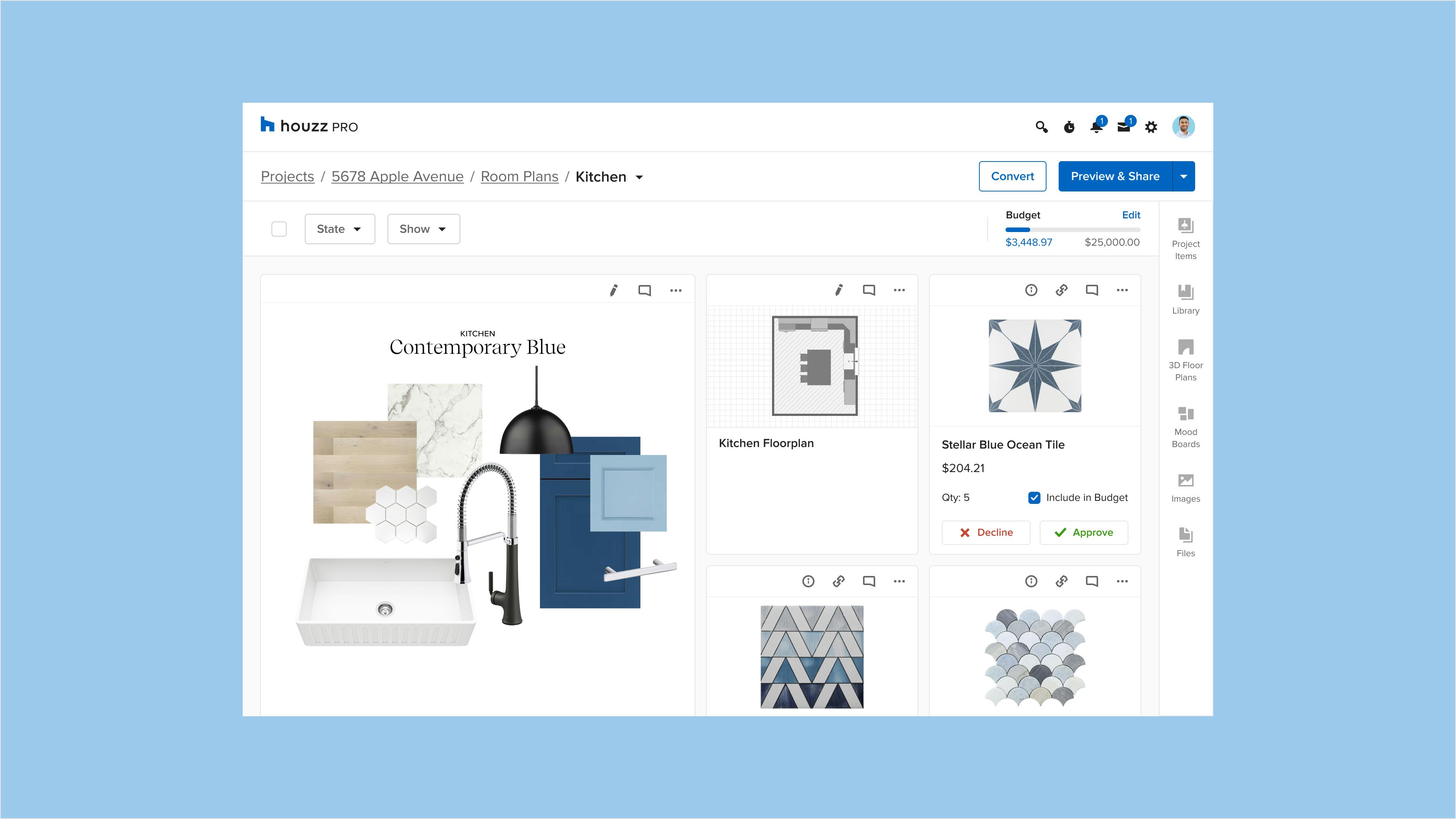 2. Manage Budget Expectations with Ease
Managing budget expectations with clients is essential to any remodeling project. With the Houzz Pro Selections tools, you can manage budget expectations with ease. In the upper right corner of each Room plan, you'll see a budget bar. Just click Edit to add in the room's budget and watch as the bar fills in as items are approved. The budget is viewable to your clients if you give them permission in the Preview and Share screen.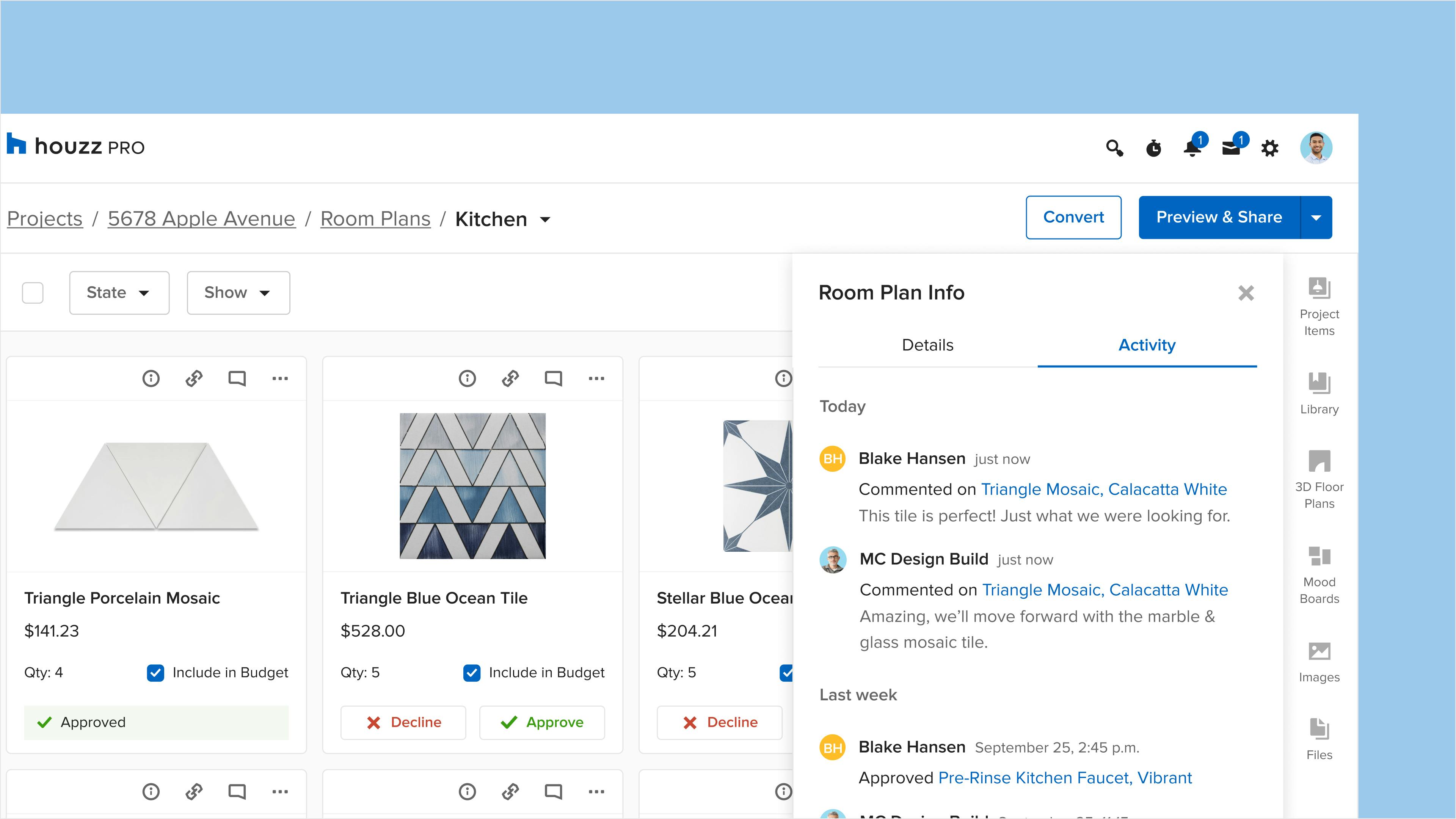 3. Keep Everything Documented in One Place
Your clients can easily approve and decline items and leave feedback online and you'll be automatically notified when your client approves or declines something. Everything that's been changed, approved, commented on, when your client viewed it, and so on is always available at your fingertips, in one place. Access the activity stream by clicking the information (i) icon on the top and opening the Activity tab. 
Ready to get started? 
First, download our popular Clipper tool. It will let you save products and materials instantly from your preferred online vendors to your Selections Library in Houzz Pro. You can then head here to create your first Room Plan. 
Join the conversation by commenting or asking a question below. The Houzz team reads every single comment, and we'll get back to you by email if you need us!

Want advice delivered to your inbox?
Unlock industry insights and updates for contractors and design pros
By signing up, I agree to the Houzz Terms of Use and Privacy Policy and that Houzz may use my information to contact me about relevant content, products, and services.