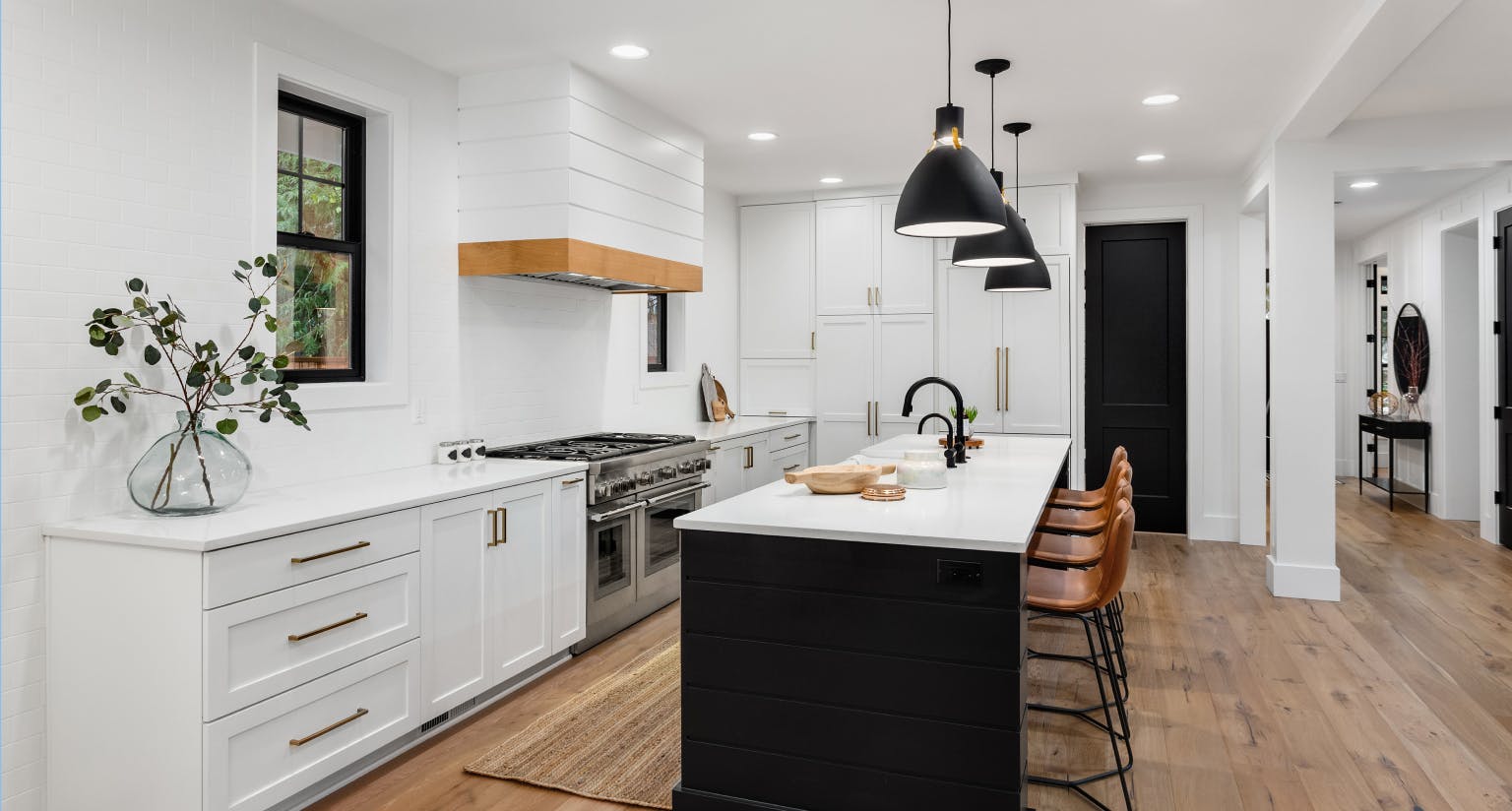 Working in construction is not without its challenges, from long-standing concerns such as jobsite safety and complicated governmental regulations to the pandemic that has brought new issues for the industry to address. Here we explain the top three issues facing the construction industry right now, and offer some potential solutions.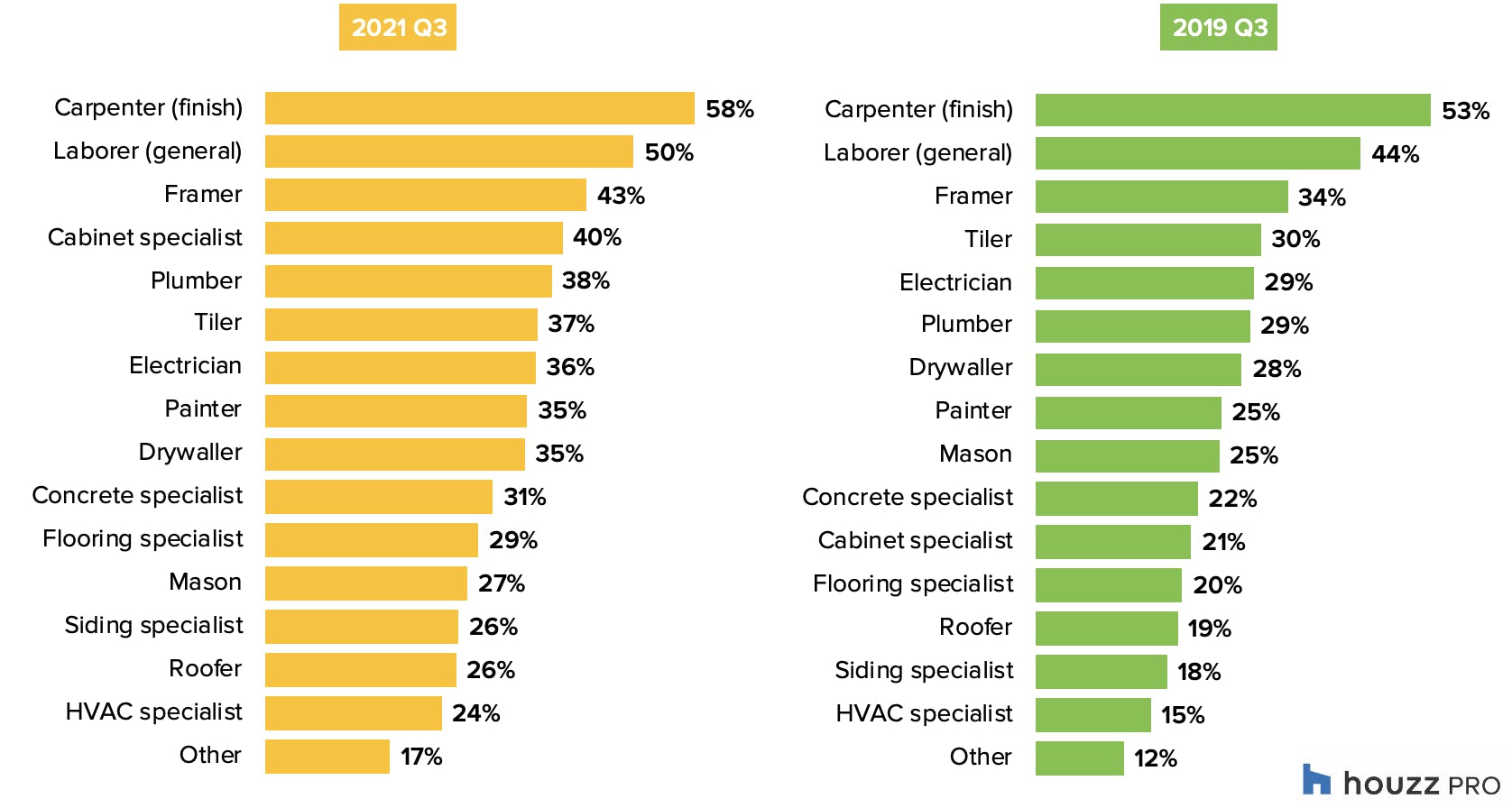 Challenge #1: Labor shortages
The demand for new homes and home improvement is soaring, thanks not just to population growth but to all the people working from home nowadays. Unfortunately there simply aren't enough skilled construction workers to go around. More than nine in 10 construction businesses (92%) have reported moderate to severe skilled labor shortages for the third quarter of 2021, according to the Houzz Renovation Barometer — see the chart below for the percentage of companies reporting shortages by profession. Associated Builders and Contractors (ABC), a national industry trade organization, says construction companies will need to hire 430,000 more workers in 2021 than in 2020 to meet demand.
Solution: Present an attractive recruiting package
Major reasons for the labor shortage — dwindling high school shop classes and other training programs, pandemic- and pre-pandemic-related career switching, a workforce that's aging out — can't be addressed at the individual level. But what you can do as a business owner to attract skilled workers is offer competitive compensation, free training and the chance to work for a company that's at the top of its game. And part of presenting your best professional face while recruiting is having a system that streamlines daily tasks and makes your employees' jobs easier. Houzz offers Houzz Pro, which has tools that let everyone on the team save time and effort creating estimates and floor plans and requesting payment online right from their smartphone, plus communicate with clients quickly and efficiently. And increased efficiency may even allow you to reduce the workforce needed on projects.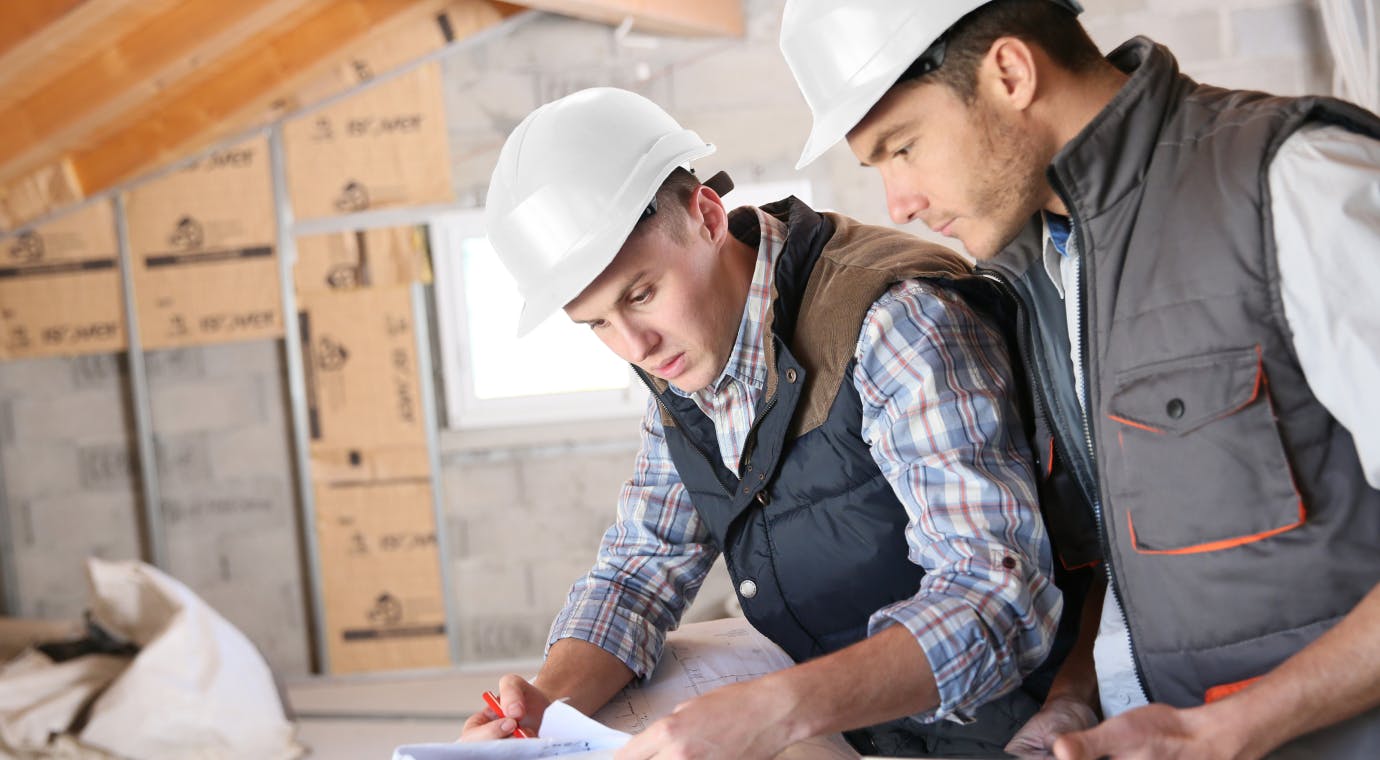 Challenge #2: Supply-chain issues
The supply-chain challenge has two sides: limited supply and higher costs. ABC says the cost of softwood lumber increased a whopping 154% between June 2020 and June 2021, while iron and steel rose 63% year over year — and those materials are just the tip of the iceberg. More than nine in 10 construction businesses reported increased costs for lumber, copper, steel and aluminum in the second quarter of 2021, according to the Houzz Renovation Barometer. Both sides of this issue have a host of causes: pandemic-related shutdowns and production limits, shortages due to increased demand, increased tariffs and other trade restrictions, labor shortages and even hoarding. The end result: increased lead times, higher overall project costs and project backlogs. In fact, the overall backlog for the construction industry is more than a month longer in Q3 of 2021 than it was during the same period in 2020, clocking in at 10.8 weeks nationally.  
Solution: Keep an eagle eye on prices and delivery schedules
While you can't change the price of materials or when they'll arrive, you can stay on top of pricing forecasts, vendor policies and production schedules to plan accurately. Consider pre-purchasing materials, getting price guarantees or moving quickly when a favorable price window opens. Verify material production regularly with vendors. Include a price escalation clause and timeline flexibility in the contract. And utilize Houzz Pro's Estimates builder tool; its customizable fields let you add or change line items to ensure that you're including every cost in your quote, so you can stay profitable. You can also add important info and notes to the terms and conditions of your estimates and change orders—for example, specifying that the price is good only for a certain period of time.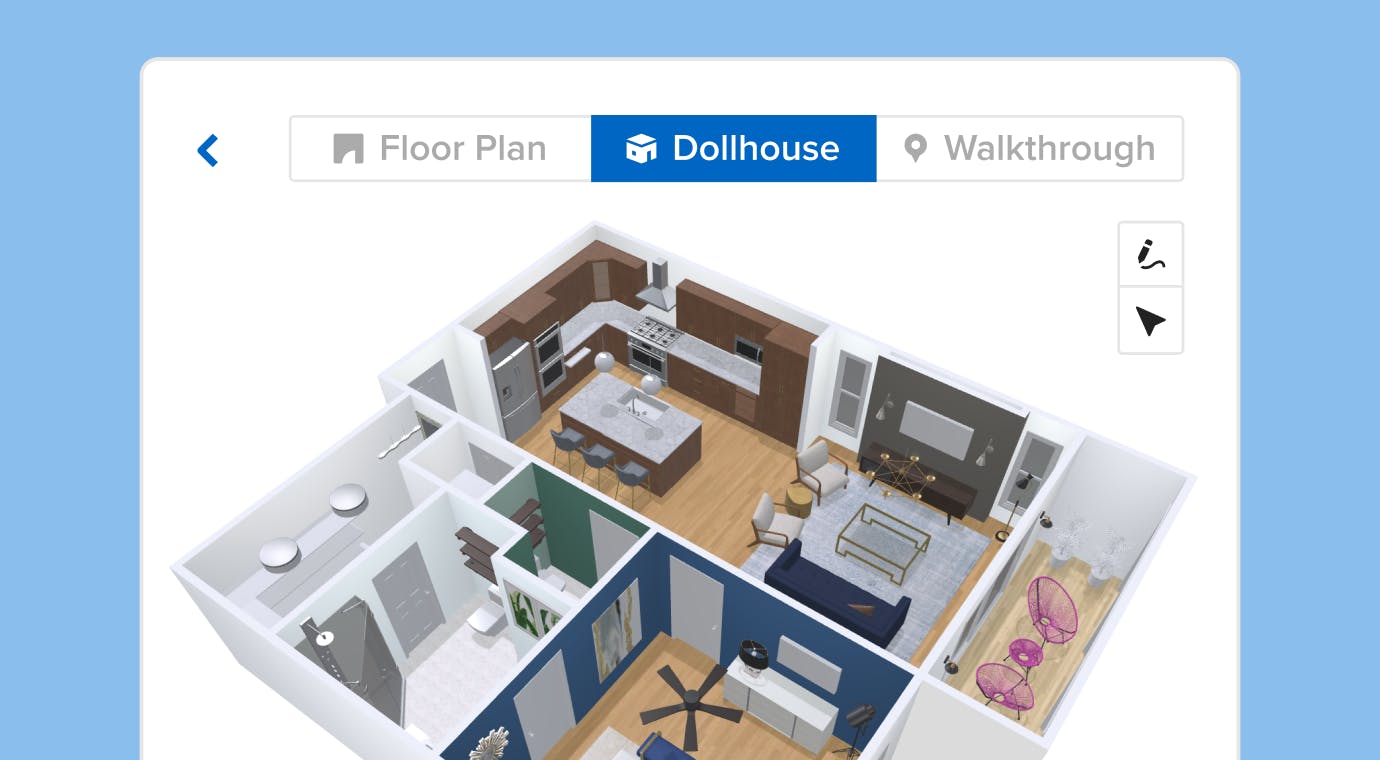 Challenge #3: Slow technology adoption
Construction businesses typically aren't early adopters of cutting-edge technologies, for a variety of reasons — cost-consciousness and comfort with tried-and-true methods, especially when it comes to safety, come to mind. While robots and virtual reality may be far into the future for small businesses, 3D modeling and project management software is more accessible and can benefit companies of all sizes. Advantages can include increased productivity, lower costs and the ability to attract younger workers.
Solution: Start with your smart device
A single app can help your company on many levels and bring you into the high-tech age without missing a beat. For example, Houzz Pro's 3D Floor Planner tool lets you quickly create 3D floor plans using your smartphone. Just scan a room with your device to record its measurements and instantly create a base floor plan. Then you can add windows, doors and products and view your entire design in walkthrough or dollhouse mode. The app also helps you keep track of every aspect of your projects in one place, from client approvals to invoice payment.
No one would say that being a builder in the current climate is easy, but there are plenty of reasons to be optimistic. For one, having more demand for your work than you can meet is never a bad problem to have. And in construction specifically right now, high demand also means that homebuyers on the whole aren't balking at higher prices. For another, you may be forced to find operational efficiencies that will improve your business for the long haul. Even starting with small steps, such as adopting Houzz Pro or joining the Houzz Trade Program, can make a huge difference in smoother operations, worker satisfaction, and a bigger bottom line.
Join the conversation by commenting or asking a question below. The Houzz team reads every single comment, and we'll get back to you by email if you need us!