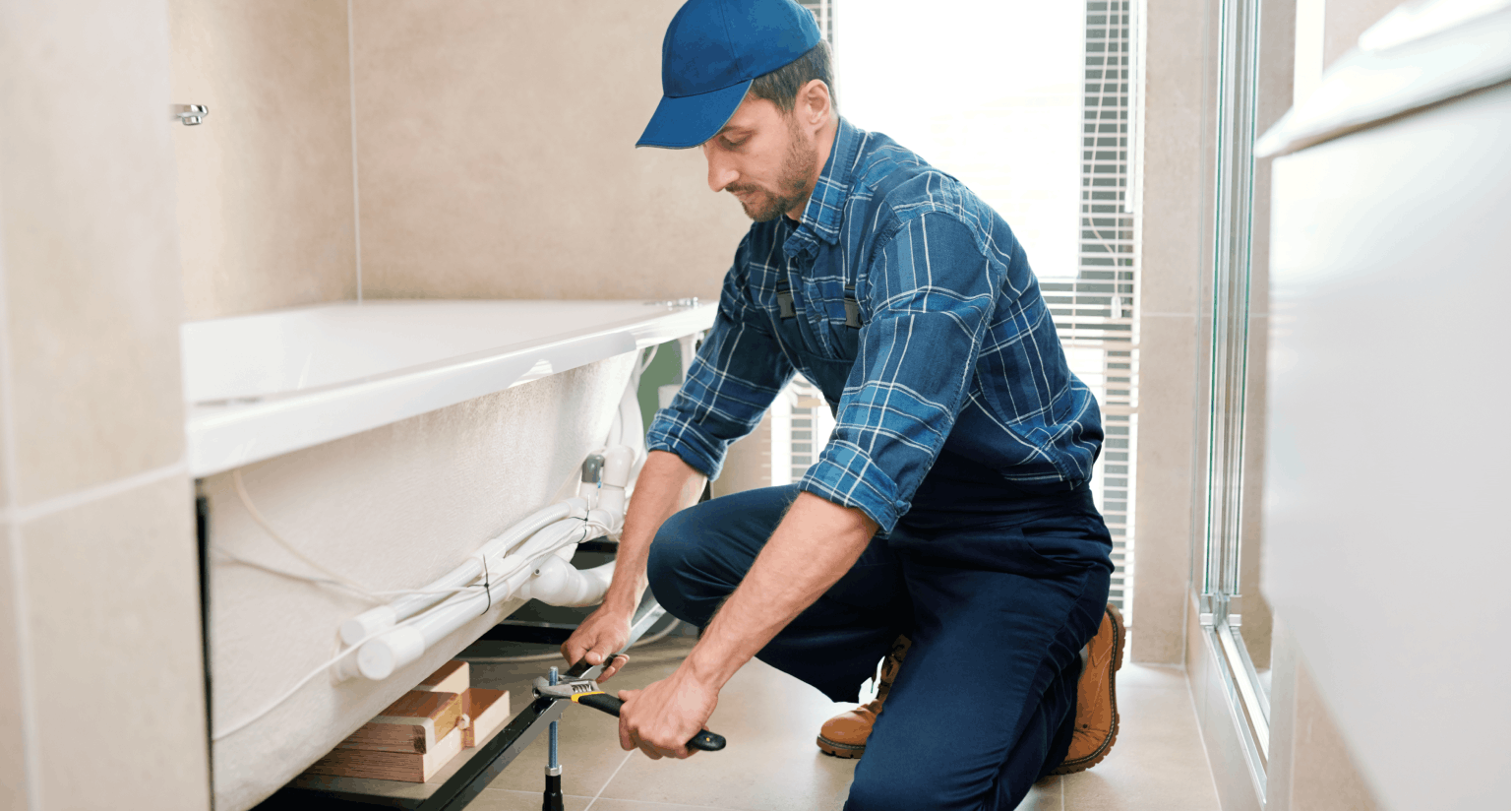 Great news for designers and contractors: When it comes to bathroom renovations, homeowners are spending more on major remodels, and more renovators are hiring help, this year than last year, according to the 2021 U.S. Houzz Bathroom Trends Study (download the full PDF). The report, which analyzes survey responses from almost 3,000 renovating homeowners fielded in July 2021, offers plenty of expected but still welcome data. Let's dig in.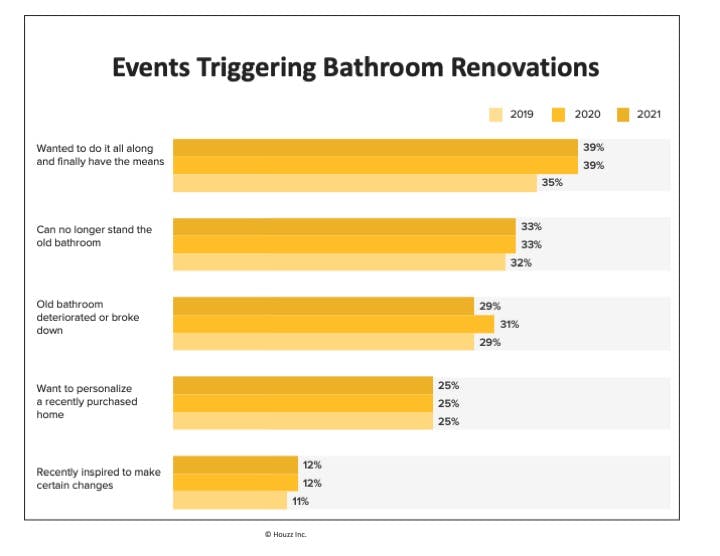 Reasons to Renovate
One in 4 homeowners (25%) renovates the bathroom as part of personalizing a new home, says the study. Moreover, this reason has remained consistent for three years running. But the two leading triggers for beginning a renovation are "Wanted to do it all along and finally have the means (39%) and "Can no longer stand the old bathroom (33%). These two reasons come in just ahead of "Old bathroom deteriorated or broke down" (29%). Just 12% of homeowners cite "Recently inspired to make certain changes" as a renovation trigger.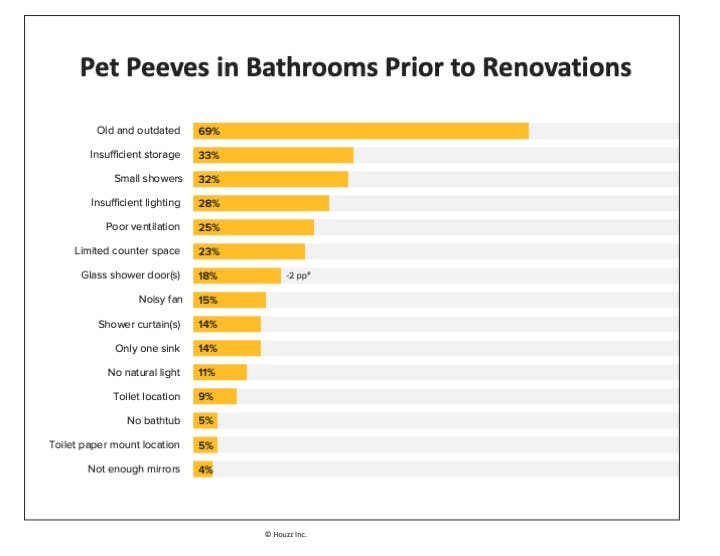 The top pet peeve of homeowners who renovate the bathroom is that it's "old and outdated" (69%). Other issues include insufficient storage (33%), a small shower (32%) and insufficient lighting. Aging-related issues are also on homeowners' minds, with more than a quarter (27%) saying they need to accommodate aging family members' needs now and nearly 2 in 5 (39%) saying they'll need to do so in the future.
Lower in popularity but still issues many renovators seek to fix are poor ventilation (25%) and limited counter space (23%). 
As all of the above generally aren't DIY fixes, hiring of specialty service providers is up, which helps account for the surge in demand that general contractors and bathroom designers have been seeing for their services this year. (Details on hiring trends are provided in the section "More Homeowners Are Hiring Help" below.)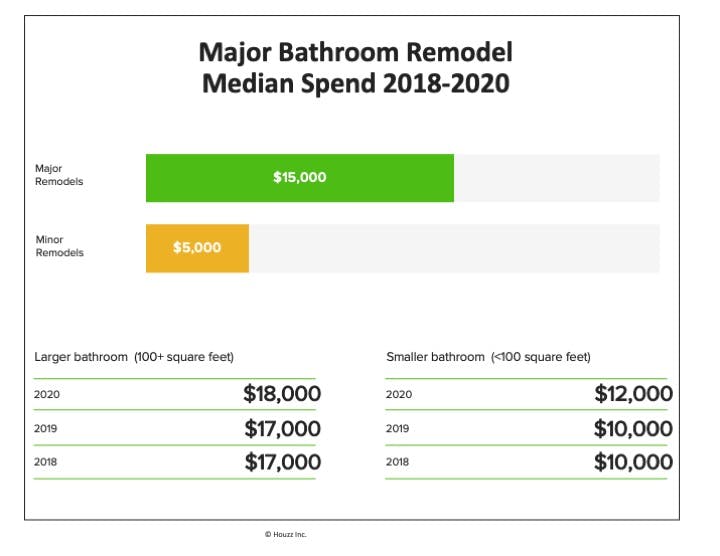 Major Remodel Spend Grows
Coinciding with economic growth nationwide beginning early in 2021, homeowners are spending more on major remodels of both small and large bathrooms. ("Major" refers to a remodel in which at least the shower is upgraded.) In fact, the spend on major remodels of small bathrooms is up considerably, increasing by 20% over the previous year. For larger bathrooms (100 square feet or more), the spend is up 6%.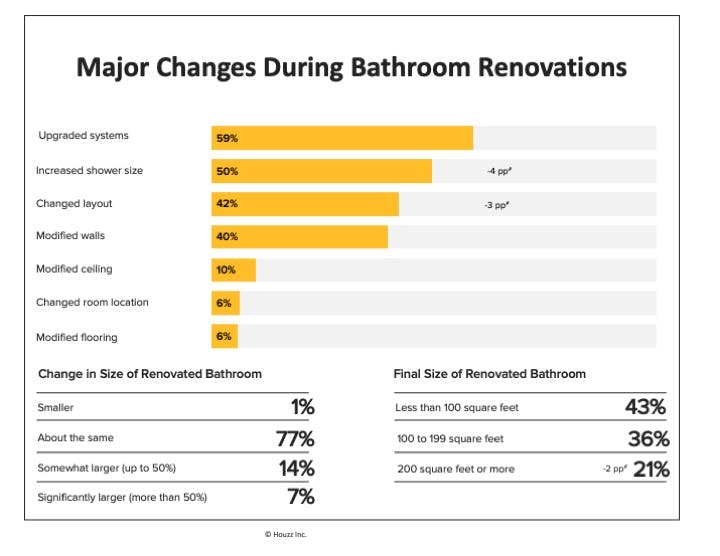 The biggest change renovators are making to their bathrooms is upgrading systems (59%), including adding a ventilation fan (56%) and radiant heating (15%). But fully half of them (50%) are increasing the shower size, 42% are changing the layout, 40% are modifying walls and 6% are even changing the location of the bathroom entirely. Again, these all are complex projects that the average homeowner can't complete themselves, as they require specialty skills and can even be dangerous to attempt without proper training.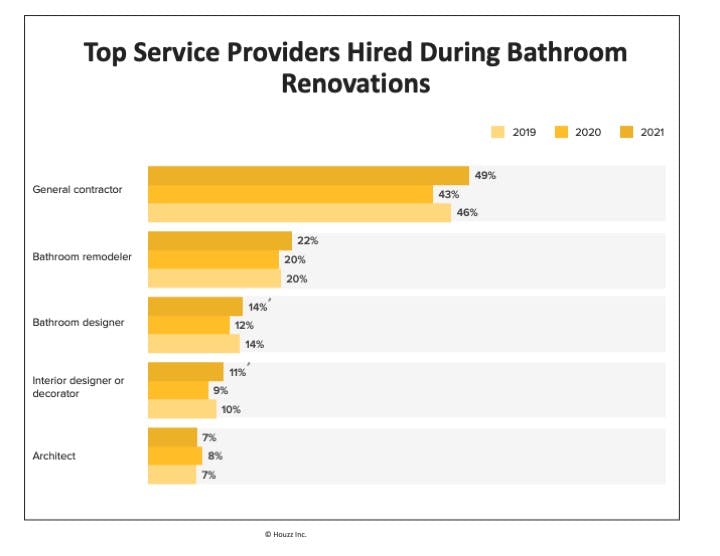 More Homeowners Are Hiring Help
Significantly more renovating homeowners are hiring general contractors this year — almost half of them, in fact (49%, up 6 percentage points since 2020). Hiring also increased for bathroom remodelers (22%, up 2 percentage points), bathroom designers (14%, up 2 percentage points) and interior designers or decorators (11%, up 2 percentage points). This year 84% of renovators hired pros overall (including architects and interior designers or decorators), which is, again, up 2 percentage points since last year.
None of this will come as a surprise to builders and interior designers, who are experiencing the high demand firsthand. In fact, business activity in the construction sector reached a record high in the third quarter of 2021, and interior designers and architects have been seeing big increases in both activity and project backlogs this year.
This high demand for building and design services comes with certain challenges, however, including pipeline and labor issues. So it's more important than ever to stay organized and in touch with clients, vendors and contractors. Consider starting a free trial of Houzz Pro to see how its estimate builder, invoicing templates, communication dashboard and other tools can help you manage projects, lower stress and keep clients happy.
Join the conversation by commenting or asking a question below. The Houzz team reads every single comment, and we'll get back to you by email if you need us!