If there's one question that often comes up in the interiors industry, it's how to build a successful interior design business, particularly if you're deciding to change careers. Step forward award-winning interior designer Nicole Arnold, who has carved a phenomenally successful design business in Dallas, Texas, after originally starting out as a sales and marketing executive for Levi Strauss & Company.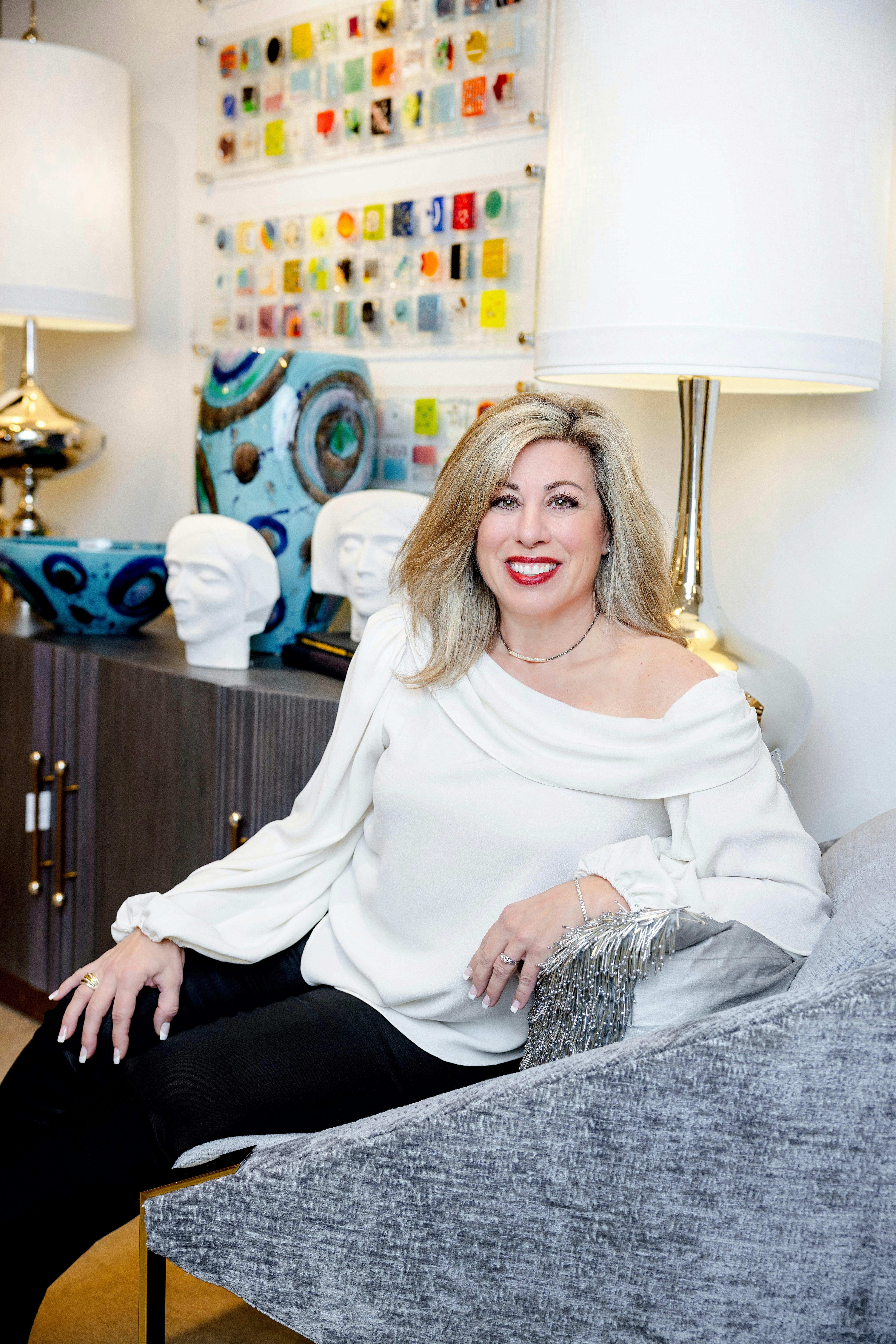 Arnold's previous expertise in project management, budgeting, communication and rapport skills, proved invaluable in setting up her company, Nicole Arnold Interiors, 15 years ago, and enables her to speak the language of the high-flying professionals and commercial clients she now serves. It's also attributed to her winning her 13 consecutive Best of Houzz awards, of which she is extremely proud. "It's an honor to be recognized for all of the hard work I've put into building my business, my reputation and my leadership in the design industry," says Arnold. "It means a lot to me that others care about my opinion and direction in such a subjective environment. It's also wonderful that my clients care enough about me to endorse not only our designs, but the high standard of service we stretch to reach each and every day."
Now a team of seven, Arnold's design firm upholds the ethos of delivering spaces with a classic foundation that are elegant, functional and timeless in everything they create.  Here, Arnold reveals the secrets to creating a flourishing interior design company and ensuring it continues for many years. 
See Your Diverse Background As An Advantage 
There's something to be said for not taking the well-trodden route to becoming an interior designer. Many elements of a person's previous background and careers can shape the way they look at things today, and can have a profound effect on the way they design spaces. Coming from a corporate background was a huge bonus for Arnold, but she also trusted in her intuition of color and textiles, how to put things together and the way things are merchandised. "Interior design ended up becoming a natural transition for me," says Arnold. "Designing my own home was fun, I was talented in putting together well-decorated spaces and I had confidence I could make a career transition that would be successful." Arnold started her business from home, by herself. "I was a solopreneur doing small jobs for clients, then I started shadowing another Dallas designer and pretty soon it was off to the races."
Build A Strong Business Model
An important step to becoming a successful interior designer is to create a clear and precise business model and define your niche, which should naturally provide an edge over the competition. For Arnold, she realized early on that she had to approach her new career as a business, not a hobby, and create an efficient strategy that would be profitable. "One key area that prevents interior designers from keeping their profits is all the non-billable activities that take up so much of their time, such as running all over the city looking for resources. Early on, my idea was to create my own resource space where other designers could work, so I could have the majority of my resources at hand and collaborate with them. I also wanted to align myself with other successful professionals to learn and help one another, making each of us better." Arnolds explains. 
This part of Arnold's business plan was so successful, she co-founded the North Texas Design Group in 2013, a collective of designers working directly with manufacturers to provide clients with competitive pricing and a wide assortment of exclusive furnishings. "There are five partners within the collective and we've built an 11,000-square-foot design studio with a vast resource library where each firm's staff can work," says Arnold. "We can collaborate as we want, but we all operate our businesses autonomously. We are technically competition, but we come together and leverage our purchasing volume to achieve optimal pricing.  I'm able to be so much more productive and efficient as I've significantly reduced wasteful, non-billable activities, and my internal profit goals can be upheld to support my business model."
Arnold also believes that there must be a level of accountability to ensure you stick to your business model and financial goals or the firm is destined to fail. "I have revenue goals to attain every month, every quarter and every year. I also ensure we're taking on the right types of projects to achieve both our revenue goals as well as consistency within our brand." says Arnold.
Be Willing to Flex 
Every industry must evolve to keep up with modern advancements, and companies need to be able to adapt to these changes in order to stay in the game. One of the big changes in the interior design industry has been the switch from  showrooms with live samples to digital showrooms where everything can be seen online, making it easier for designers to create 3D renders using virtual samples. "Online tools have significantly advanced design drawings, enabling us to produce more in-depth visual cues for our clients when we are presenting, giving them a better understanding of the project," says Arnold. 
Arnold also points out that with so many social media and online furniture stores offering entry to mid-level furnishings, homeowners have been empowered over the past decade or so to do a lot of the things themselves that they used to hire a designer to do. As a result, many designers, including Arnold have had to pivot their business model away from delivering smaller projects to refocusing upstream and working with full-service clients. "We now have an established project minimum and intently focus on the clients that value the turn-key service and elevated standard that we offer. These are clients that are happy to invest in us executing their project because they typically don't have the time or talent to do it themselves. Plus, these are the types of projects we do best; since we're in charge of the whole project, we can best control the results. It's been an intentional marketing shift for our business that's really paid off," says Arnold. 
Take Calculated Risks
Arnold is the first to admit she can be a risk-taker, however, she believes in taking calculated risks to grow your business in the right direction. For example, you might not have 100% of the workflow needed to cover the cost of taking on your first employee, however, you could look at taking someone on part-time at first, or on a contract basis, and then evolve their role to full-time as your business grows. "Don't be afraid to take risks; keep them small up front, then take larger ones when you have more capital to lean on," says Arnold. "For example, when you need additional help, stick your neck out and hire someone in some capacity, after figuring out how you'll generate the work to cover the cost. If you need more office space, or need to move the business out of your home, consider sharing space with another or starting with a virtual office. Making micro moves that translate into long-term payoffs are the only way to scale your business."
Set Specific Working Hours and Stick to Them
All new business owners want their company to be a success and they'll work all the hours they can to ensure they meet their targets. However, It's important not to burn out at the beginning or your creative juices will be depleted. As a busy working mom, Arnold was determined to create a good work life balance so she could be present for her son's events, even if it often meant arriving hastily on two wheels. 'I'm pretty stringent with our team's working hours. We don't work nights or weekends," says Arnold. "Obviously, if we are short staffed or on a tight deadline, the buck stops with me and I have to deal with it, but as a business owner, it's important not to make a long-term proposition out of that." The goal, she believes, is to hire adequate and capable staff members that can steady the ship so you can take time for yourself, knowing your business will always run smoothly no matter where you are.
Streamline Your Processes with Software
With so many moving parts of an interior design business, it's vital to have management software in place that will track projects, maintain the work flow, and monitor cash flow. Without an efficient system, you run the risk of losing yourself in paperwork. "Before I had my management software in place, I used to forget to bill clients for things that I'd bought and paid for on their behalf because I didn't have a system that tied my purchases back to my billing. That exposed me too much to losing money," admits Arnold. "In some areas of the business, I do prefer a more old-school approach and I'm not the first one to jump on every new technology, however, without solid processes in place, you simply cannot run a professional business."
Deal With Disappointed Clients Professionally
Word of mouth and referrals are an integral part of winning new clients, so dealing professionally with dissatisfied clients will ensure you maintain an untarnished reputation throughout the industry. The few times this has happened to Arnold, she dealt with the situation swiftly, ensuring the client felt fairly treated in the end. There are times, however, when she suggests cutting  your losses and walking away. "Arnold transparently shared, "we've had potential clients disagree with our model from time to time and we just recognize that for what it is and agree to amicably part ways. I've even been known to refer these potential clients that aren't 100% aligned with our model to competitors that may be a better fit for their needs. In the end, I just want to be able to say I helped that person like a professional, even if it was by foregoing them as a client."
Invest Back into the Business
Arnold's final and most game-changing tip for interior designers starting out is to save money and invest back into the business, rather than taking every bit of the profit out. This will build a thriving company. "Saving money allowed me to hire help, rent my first office space and subsequently grow the business. No matter how small the monetary increments you save, just keep doing it because it will gain traction exponentially, eventually helping you accomplish your next level of success." One tip she suggests is to save 10% of every job's profit. "If you can't do 10%, do 5%...the point is to start somewhere. I did this and it was such a great discipline for me that I unconsciously maintain to this day. It enables me to offer better benefits to my employees, have a secure cushion if the economy shifts and invest in various upgrades as my business needs them." 
After 15 years in the industry, Arnold has experienced many ups and downs, however, her biggest lesson has been understanding the importance of growing her business through reputation and customer referrals. "When we do a great job for our clients, then receive recognition, like Best of Houzz, it further reinforces that we are doing the right things. Clients are genuinely excited for us when we win these and other accolades. They love knowing they are working with an 'award-winning' designer and value our relationship even more," says Arnold. 
Join the conversation by commenting or asking a question below. The Houzz team reads every single comment, and we'll get back to you by email if you need us!

Want advice delivered to your inbox?
Unlock industry insights and updates for contractors and design pros
By signing up, I agree to the Houzz Terms of Use and Privacy Policy and that Houzz may use my information to contact me about relevant content, products, and services.