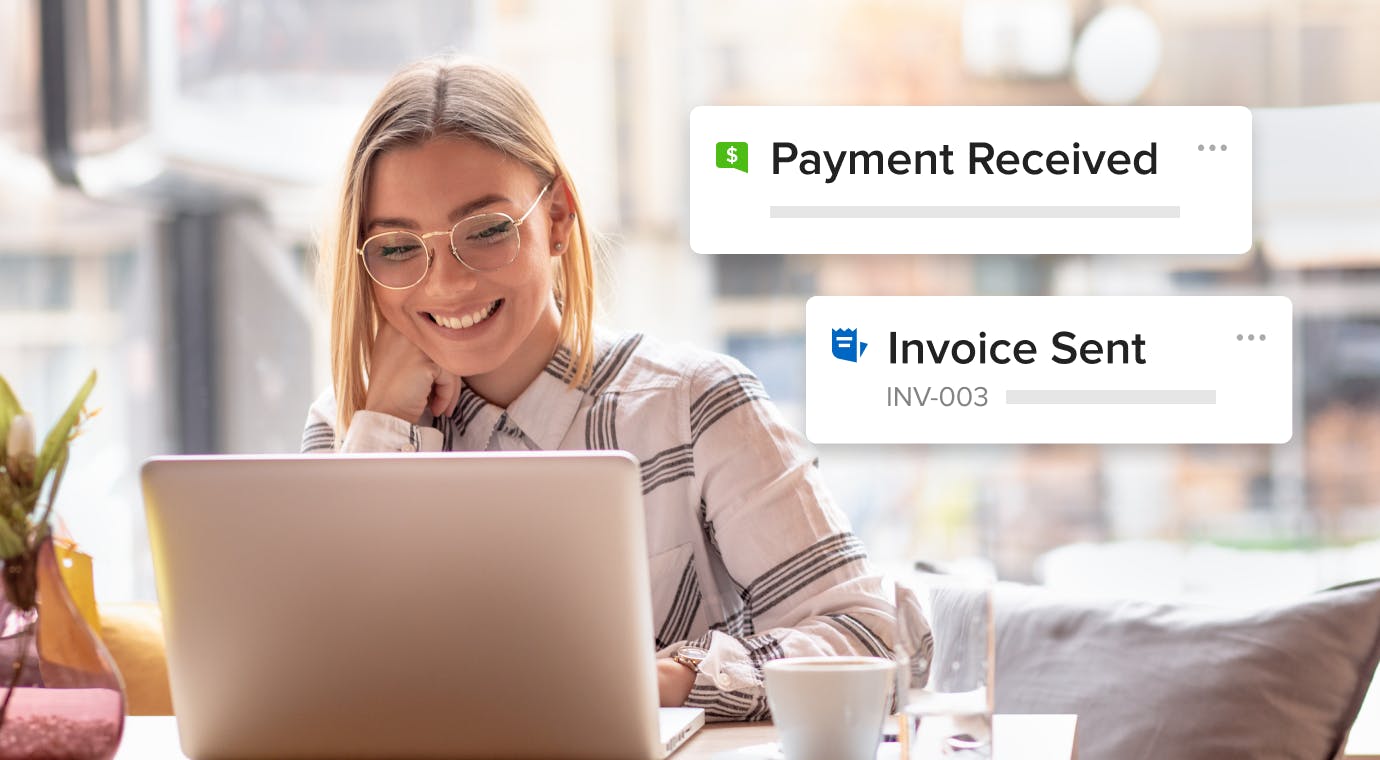 As the world becomes more and more connected, we can't help but value the speed and efficiency that comes with operating online. While nostalgia might keep us holding onto old technology like vinyl records, checkbooks, or wall clocks, the facts are clear: digital transformation has changed our lives for the better. Working at the speed that online offers has freed up our time, meaning we can do more, see more, and be more.  This same principle is of course true when it comes to using technology like Houzz Pro. The services and tools offered in the Houzz Pro all-in-one business management software are on par with the movement toward making lives easier. Houzz Pro wants to help you save time, work more efficiently, and get paid faster – so that you can run your business at full potential, and full throttle.
Just one of the ways Houzz Pro aims to help you become more profitable is through the built-in invoicing software. This automatic, easy-to-use software makes payments quick and easy ­– for you and for your clients. By using Houzz Pro's online invoice software, not only are you positioning yourself to get paid on time, but you can also ensure you're paid far in advance to speed up your cash flow. 
Here are 5 ways our online invoice software can get you paid faster and improve the way you do business:
1. Say goodbye to checks. Don't let nostalgia get the better of you!
We know checks are a 'favorite relic' of many professionals, but it's time to face the facts – 90% of homeowners today choose online payments as their preferred payment method, and usage of checks continues to plummet year after year.  Houzz Pro helps you stay on top of the trends by saying goodbye to writing checks, and hello to easy, convenient and secure payments linked to our invoice tracking software. All you have to do is enter your bank details in Houzz Pro, and customers can pay you instantly via credit card or wire transfer with the click of a button. Free up your time and mental load by never having to wait for a check in the mail and for the bank to clear it again.
2. Create clear, simple invoices. Ones your clients can easily digest and use. 
In so many ways, simple equals better. This is true for invoices, too. Many clients put off paying immediately if invoices are poorly designed or confusing. With Houzz Pro's business invoice software, the invoices you'll create will look polished and professional and, most importantly, be clear and easy for clients to understand. You'll be sending out streamlined, easy-to-follow statements that won't cause any hesitation from customers. The invoice tool is so simple that clients will only need to click a button to initiate a payment. 
According to the latest studies, the top benefits of digital transformation are numerous: from improved operational efficiency (40%) and faster time to market (36%) to the ability to meet customer expectations (35%). Save trees, and pen ink, and of course lots of time with Houzz Pro online invoice feature.  
3. Invoice automatically and immediately. Time is money, after all. 
Why put off the inevitable? Organizing all necessary details into one invoice template is a time consuming task. With Houzz Pro's online invoice system for small businesses, sending invoices is no longer a time trap. Houzz Pro provides existing professional invoice templates to help you set up your invoice to be sent to your client as soon as the project is complete, and you can even automate the invoice along with your final draft of the work. It is almost like having a personal assistant to help you stay on top of all your invoicing needs. Sending online invoices using Houzz Pro speeds up payment, but also aids in accurately tracking expenses and capturing every dollar. You can also create change orders and send them to clients for speedy approval using e-signature, for both peace of mind and added efficiency. This is the right way to digitize your business.
4. Offer incentives. Get your clients to want to make a payment deadline. 
Getting paid faster results in better cash flow for your own business needs. And who doesn't like cash? Because you can build your own payment schedules and invoices using Houzz Pro tools, you can go one step further by creating built-in payment incentives. Incentives are soft-nudge tactics to get your clients excited to pay early or on time. 
Early payment discounts give customers an incentive to pay well before payment is due.  A common example is a 3-5% discount if paid within 10 days. You can choose your own expiring discount and payment schemes, depending on your projects and urgency. As you continue to own the agency and creativity of your business model, Houzz Pro provides essential tools and tips so you can thrive!
5. Enforcing "late fees." A little psychology never hurt anybody.
Late fees are the "negative reinforcement" incentive; but they work! If you enforce a late fee, customers who don't pay within a certain window of time will then have to pay an additional amount over and above the normal cost. This is something most clients will certainly try to avoid, and is highly effective in getting them to pay on time. Payment incentives like these help decrease the risk of not being paid on large invoice amounts, thereby reducing financial hurdles and financial stress to you.
Join the conversation by commenting or asking a question below. The Houzz team reads every single comment, and we'll get back to you by email if you need us!