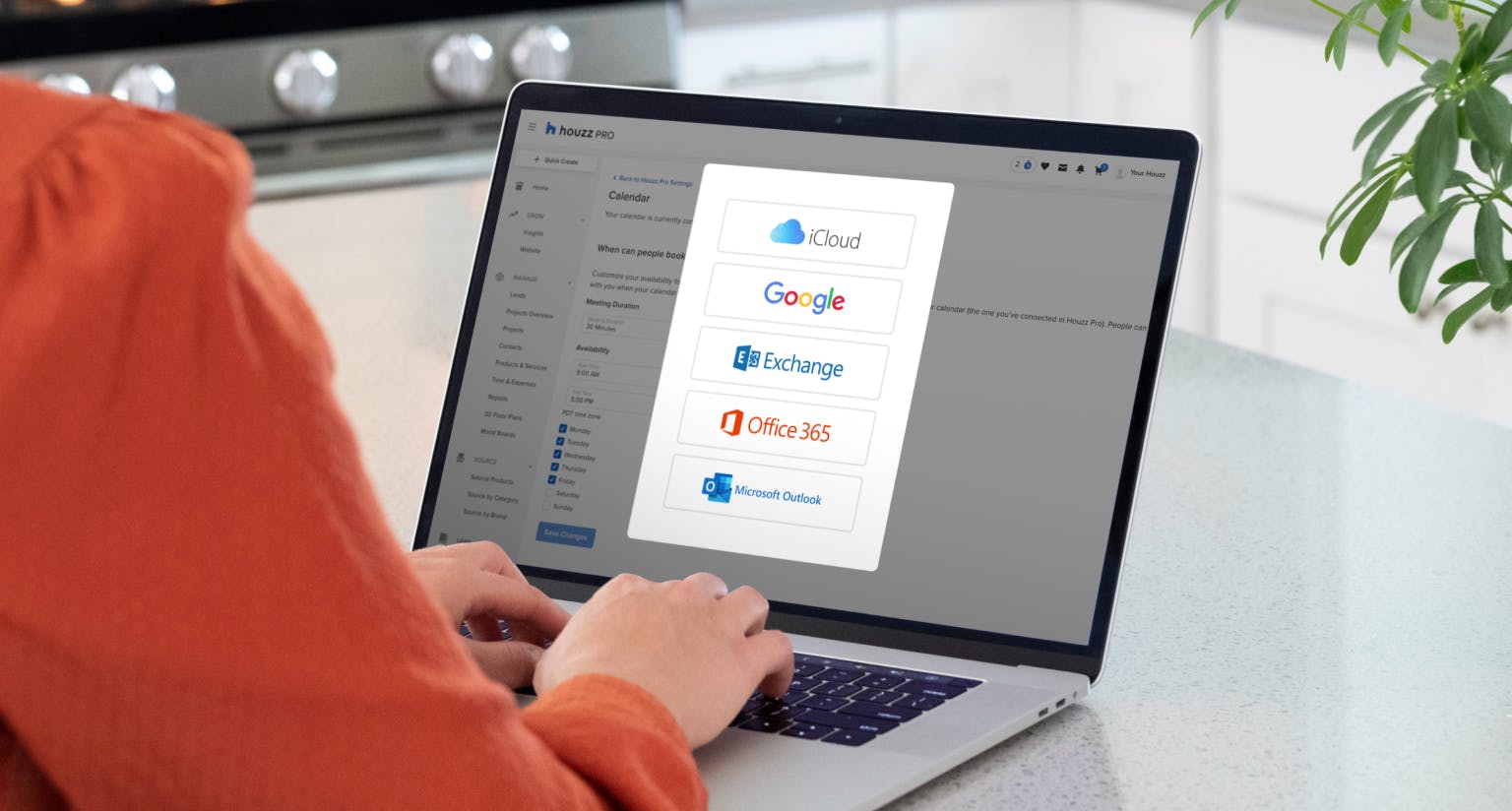 Apps have changed the way we live – and for the better. With integration all around us, today it's easier to conquer more tasks and at a greater speed, regardless of where we may be in the world.  From M-commerce and desktop activities, to social media, cloud-based services, 5G and wearable devices, apps quite literally follow us and we follow them. They're evolving as we do, bringing more harmony and ease into our lives. Houzz Pro brings the same into your life as an interior designer or construction professional by integrating the most relevant and popular tools with your Houzz Pro account. So you can effortlessly automate your work from anywhere, at any time. 
According to Oracle, a 2020 global survey of business leaders found that 66% were piloting solutions to automate at least one business process, up from 57% two years earlier. Automated task tools are no longer the future. They're used by successful professionals today. Thanks to easy integration with Houzz Pro, you can now offload some of your most time-consuming tasks giving you extra time to focus on other important elements of your business. Houzz Pro integrations lead to increased productivity, reduced overhead, and the ability to scale your business with fewer resources.
Here are three business management integrations you can use today with your Houzz Pro account: 
Integrate with QuickBooks Online.  Your tax accountant will thank you.
If there's an option to simplify your accounting process, you're going to take it, right? The QuickBooks Houzz Pro integration helps you do just that. Voted the #1 accounting application for small businesses, QuickBooks owes its rank to its depth, flexibility, and extensibility. Good news then that Houzz Pro lets you push every proposal, invoice, purchase order and expense to your QuickBooks Online account. Through the simple act of syncing, you avoid having to type in all your information again. No more double-entries with the Houzz Pro QuickBooks integration. How does it work? Once your business data is finalized - for example, approved by a client, it's automatically pushed over to QuickBooks so that your accountants can find everything they need to work with. Syncing each and every business expenditure not only saves you time, but also helps you avoid mistakes by ensuring every key transaction is accounted for. Houzz Pro's built-in error center goes one step further in solving inaccuracies and offering solutions to core problems.
Reply fast and keep your clients happy with Gmail integration.
Communicating with leads and clients is an important part of your business and a crucial step for success. Houzz Pro's Gmail integration tool allows you to connect with your leads and clients in a convenient way, so you can manage your communications with ease. Using your Gmail account, you can sync relevant  emails to Houzz Pro. You can also create quick-reply templates in Houzz Pro and use them right from Gmail, so that you're replying as quickly as possible and in the most professional way. By ticking the "add to Houzz Pro" box at the right corner of the email draft, you can automatically add all attachments and documents from your email into your Houzz Pro Lead Management Tool. This will ensure you have everything you need in one place without the laborious, manual task of downloading and uploading. Let's face it – no one likes inbox administrative work. Keep your clients happy, and make your work life easier with this handy integration. 
Synchronize your life with iCloud, Google, Exchange, Office 365, and Outlook calendars integration. 
Remember the days of cheesy wall calendars and half-used diaries? How great that we now have online schedules! Seeing a trip, for example, that your email has synced to your online calendar just feels so reassuring; as if someone is watching over you, making sure you get to the airport on time. This is how it feels when your Houzz Pro data syncs to your online calendar be it iCloud, Google, Exchange, Office 365, or Outlook. Houzz Pro automatically pushes over key information to your online calendar so you're always reminded what's going on when. Schedule meetings and projects easily by having all your events and free slots in one place, and keep on track of your time. Because time is precious; especially yours.
Join the conversation by commenting or asking a question below. The Houzz team reads every single comment, and we'll get back to you by email if you need us!

Want advice delivered to your inbox?
Unlock industry insights and updates for contractors and design pros
By signing up, I agree to the Houzz Terms of Use and Privacy Policy and that Houzz may use my information to contact me about relevant content, products, and services.