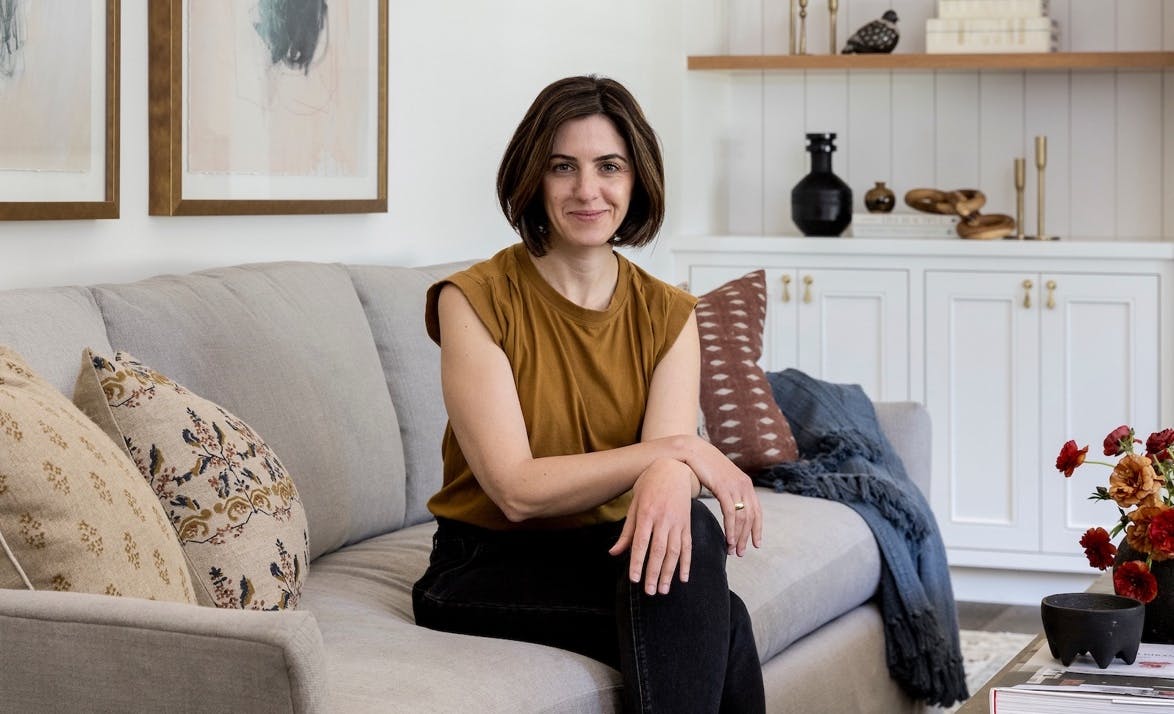 Carmit Oron wanted to be an interior designer before she even knew the profession existed. "As a kid, I loved rearranging spaces," she says. But while growing up in Israel interior design was not a career path. "No one thought someone would actually hire you to do the interior of the house, which nowadays is so basic," she says. "There was an architect and that's it." Now, years later, as the founder of Carmit Oron Interior Design, she has spent the last decade designing more than a hundred of home remodels and commercial spaces throughout Silicon Valley and the San Francisco Bay Area. 
Here she shares her timeless design aesthetic, her formula for client satisfaction, and why it's never too late to pursue your passion.
Forge Your Own Path 
After spending a couple of years running a business making and selling personalized baby bedding in boutiques throughout Israel, Oron decided to delay her passion no longer and enrolled in an interior design program. When she moved to California two years later in 2011, she was still learning and found there were fundamental differences between Israeli and American design and construction. "I thought to myself, I'll never work in this industry. It's not going to happen. Just put your dreams aside," she says. 
Then, Oron bought her first house in the Bay Area and was determined to remodel it herself. "I started learning from scratch. All the terms, materials, what to use, how to build with wood, how to make a soapbox and things like that," she said. The agent who sold her the home was so impressed by Oron's design prowess she started sending clients her way. 
"I jumped into the deep water. I took my first client," Oron says. "They gave me an opportunity to design their kitchen even though they knew I didn't have a lot of experience. It just started to evolve," she says. "More people approached me, and then a contractor reached out and asked if I wanted to work in collaboration. It started from 10 small projects a year, and now, it's 30 entire house remodel projects a year." So impressed by Oron's work, those first clients returned this year, asking Oron to design their entire house including an addition.
Oron describes her personal aesthetic as 'modern farmhouse'. "I love using natural materials and I love combining lots of textures and colors together," she says. "I get my inspiration from old-style places and vintage pieces. I love old vibes and I love to mix them as much as I can and to use a lot of timeless materials, not something that is trendy right now, but something that I look at 10 years from now, and say 'oh, yes, I still like it.'"
Managing the Three C's
However, Oron believes business success requires delivering more than just great design vibes. "People need to understand that our work is 30% design, and 70% customer service, communication, and customer satisfaction. The design is not the biggest part of the job." 
A key way that Oron manages client relationships is through Houzz Pro interior design software. "We need to answer emails fast, we need to be responsive in messages," she explains. With Houzz Pro Client Dashboard, Oron communicates quickly and effectively with clients using its messaging platform and templates in addition to e-mail communication. "My communication with a client will be very easy and seamless because we'll see the same thing."
Keeping Everyone On the Same Page
Her favorite Houzz Pro feature is the Mood Boards which she uses to illustrate her vision and guide clients through the design process as it evolves.  She shares hues, product information and inspiring photographs with her clients through the boards.  "You'll see all the details. You're not going to only see the pillow, you're going to see the zipper and the pattern and how it works with the other pillows together on the sofa," she says. This transparency and clarity lets clients provide real-time feedback to ensure they get exactly what they want. 
The mood board fits Oron's personality nicely too, she says. "For me as a visual person, it's so important because I'll remember the photo more than the name of the furniture model, so for me, seeing the photo on a mood board is helpful." 
The interior design business management software helps her bring some balance to her ever-busy work life by making it easy to work from anywhere. "Houzz Pro really helps you work remotely," she explains. "A lot of the time, I'll be in Israel for a month or two. It doesn't matter where I'm in the world."
She also uses Houzz Pro to stay organized, including the Purchase Order feature to communicate with her vendors and to create and send detailed, customized proposals to clients, who can approve or reject the plan item by item. This helps her manage client expectations by giving them a clear understanding of the project timeline and cost, especially as supply chain issues have created delays during the pandemic. 
"Once a client sees the proposal, they will understand what the ETA is. I.e. this is when it arrives, that's the shipping cost. Everything is very clear for a client. I love using Houzz Pro."  
Share Your Vision with Others
Moving ahead, Oron wants to grow her business in a sustainable way and aspires to have more publications feature her projects. She learned the hard way the importance of great photography in promoting her designs. "From the beginning, invest in a good photographer for your work," she advises aspiring designers. "I didn't do that initially. Huge mistake. I lost lots of projects that I could have used. Nowadays, it's not even a question, I will spend my money on a good photographer and on a good stylist if I need to," she says. That's what will make you grow, because you'll be able to use your photos for PR or for your portfolio," Oron says.
Not sure where to find a good photographer? You can have your professional photos taken hassle free with PerfectCapture — a new photography service from Houzz Pro, featuring a number of seasoned photographers who will masterfully capture your latest work.
With Carmit Oron Interior Design having won eight Best of Houzz Awards for design and service, Oron is living the success that comes with taking the risk to follow a little girl's dream.  
Join the conversation by commenting or asking a question below. The Houzz team reads every single comment, and we'll get back to you by email if you need us!

Want advice delivered to your inbox?
Unlock industry insights and updates for contractors and design pros
By signing up, I agree to the Houzz Terms of Use and Privacy Policy and that Houzz may use my information to contact me about relevant content, products, and services.