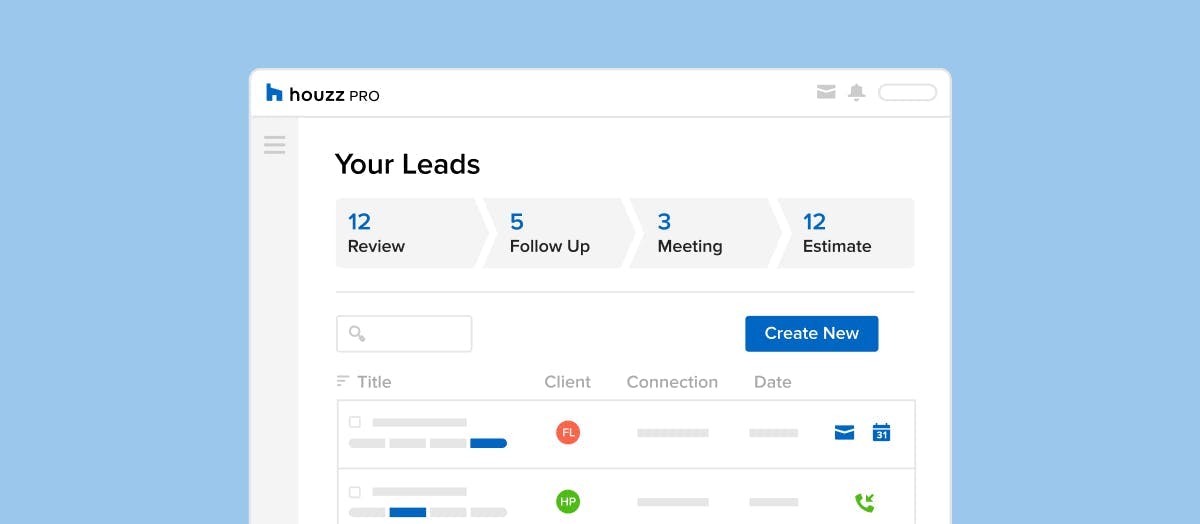 A big part of your business is about attracting leads, getting referrals, and all the moving pieces that go into winning new projects. Houzz Pro's lead management software is built to make this process easier, and smarter. 
Made just for home remodeling, design, and new construction pros, our software helps you win more projects by giving you visibility and control every step of the way. Tracking leads, communicating with clients, building and sending estimates and proposals, getting e-signatures and approvals, sending invoices and collecting payments - it's all streamlined for you in Houzz Pro. 
Learn more about the specific benefits of managing your leads in Houzz Pro below. 
1. Simplify communicating with clients. 
Stuff gets lost. It happens to the best of us. When you're communicating with potential clients over the phone, through texting, and through email, it's easy to miss things and it's hard to get complete clarity. 
When you track and manage your leads in Houzz Pro, contact information is right where you need it to be. All communication history is available to you in chronological order. That's right - you can email and text homeowners right from Houzz Pro (desktop or from the app!), and their phone numbers are right there too. 
2. Create accurate estimates and proposals, and save time with templates you can customize and re-use. 
When it's time to create an estimate or proposal for a prospective client, you can do so from our lead management system. Enter your zip code and it'll pull local cost data so your estimates will be as accurate as possible. You can create estimates from scratch or from a template. When you save your estimates as a template it'll be quick and easy for you to re-use next time. 
Prefer to stick with your own estimate system? Upload your own estimate to Houzz Pro and you'll still be able to access convenient features like sending it to clients for their approval, collecting their e-signature, tracking progress, and more. 
3. Scheduling meetings with clients is a breeze. 
When you connect your calendar to Houzz Pro (such as Google Calendar), we'll generate a personalized booking link for you. When you share this link with anyone, they can book a time to meet with you based on your availability. When a homeowner books a time to meet, you will both receive confirmation emails, an event on your calendars, and it's easy for either party to reschedule. You can even customize your meeting description, such as sharing a line about what your business is all about. 
If you'd like homeowners to be able to book an initial consultation with you from your Houzz profile, you can easily enable that in your Houzz Pro settings. 
4. Close deals seamlessly by creating and sending your branded invoice, collecting payments, and getting automatic status updates to keep you informed. 
Invoices created from Houzz Pro look professional and highlight your brand (just upload your logo!). You can easily send invoices from Houzz Pro, and homeowners will be able to view it in their email and approve it with an e-signature - conveniently accessible from any device. 
When the deal is closed you can convert the lead into a new project and continue to easily manage your client communications and processes from there! 
5. Want your employees to help out with the pre-sale process? You control what you want them to access in Houzz Pro. 
Invite your team members to Houzz Pro from Houzz Pro settings. Give them access to everything in Houzz Pro, or cherry pick. If you want a certain employee to create and manage estimates, then give them access to Estimates. If you'd like to have an employee manage new inquiries and schedule consultations, then give them access to Lead Management. Houzz Pro makes sure you're always in control. 
Our friendly support team is always here to help you make the switch from any process that you think may need an upgrade - like spreadsheets that need to be updated manually, or a notebook that one coffee spill can wipe out. Your needs are unique, and our team is happy to answer your questions, give you a personal walkthrough of our tool, and provide custom recommendations.