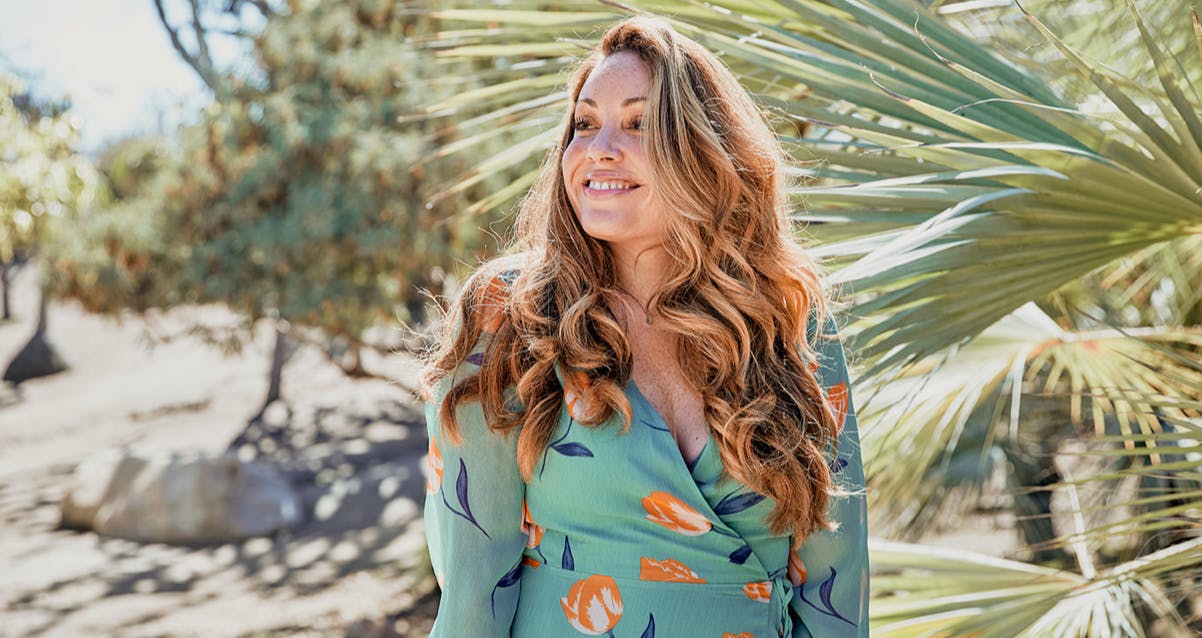 Some might call Maegan Swabb lucky. "Interior design found me," she says. "I was blown away by how well and easy the process was for me." But as the saying goes, "Luck is what happens when preparation meets opportunity," and Swabb was well prepared when her first interior design project practically landed in her lap. Over the 12 years since, the high-end boutique design firm she founded — M. Swabb Decor + Style in San Diego — has been moving full steam ahead.
Here Swabb offers her No. 1 tip for succeeding as a designer, along with advice for breaking business world stereotypes, learning to pivot and investing in yourself.
Fashionable Roots
After studying fashion and merchandising, Swabb initially landed at The Forum Shops in Las Vegas. But a new opportunity came knocking when a woman she had been personally styling through a clothing company offered her a job at a luxury home furnishings company in California. Swabb opened the door and made the move.
With a few years under her belt at the furnishings company as a sales rep, she began freelancing as a merchandiser for companies such as Greystone Home Collection, Ebanista and Jean De Merry. Then came the moment that changed everything. "I was at a party," Swabb says, "and somebody was like, 'I heard you do interior design. Do you want to help me out?'" From that first interior design project, her company was born — and 12 years later, it has four employees.
Sell Yourself — Not Your Soul
Some believe that to succeed as a female business owner, you have to compromise who you really are. Swabb has a different philosophy. "It's really all about confidence," she says. Longtime interior designer Kathleen Buoymaster once told her, "This industry is all about sales. Really, you're 75% a salesperson, and the rest of it is about interior design."
Swabb took the advice to heart. "Having the confidence in myself, being able to walk up to people and not necessarily sell them on my designs but sell them on me, has made all the difference," she says. Selling clients on yourself involves three main actions, Swabb says.
Listen. "Listening is probably the most important thing," Swabb says, "and to listen to what they really want. A lot of designers come in and they're like, 'This is my look; this is what I do; this is how I want to do it.' They fail to really connect with the client, and I think that might be hurting their business." 
Communicate. The flip side of listening is making sure clients know they're being seen and heard, and that they know the status of a project instead of feeling left in the dark. You want to ensure that you're "on top of the ball, that you're following up and that you're leading the project," Swabb says. By doing this, you earn goodwill and a stellar reputation for professionalism.
Gain trust. All clients are unique, of course, but Swabb's formula for gaining their trust works across the board: "Just treat people the way you want to be treated," she says. "We all have experiences where we go to restaurants, we go to hotels, we go on vacation, whatever it is, and we know what we want and expect out of that. It's the same for interior design." Swabb works this formula to make her clients feel comfortable, valued and respected. 
Plan to Pivot
Whether it's huge unexpected sales growth or a recession, plenty of clients or a pandemic, any business will face change and uncertainty if it's around long enough. Knowing how to pivot during these times will help ensure that your business thrives over the long haul.
In the face of supply-chain issues and other pandemic-related changes, Swabb says she never slowed down and that her company actually grew. "I saw this year as a beautiful renaissance," she says. "The pandemic was like an earthquake, and then I had to get up. I had to think, 'What can I do? How can I pivot myself in a better direction and really build something from the ground up?'"
She regrouped and reorganized, upending her employee roster. "For the first time in eight years, I have a completely new team," she says. "And I don't think there's any slowing down for us."
Swabb doesn't just think about change during times of upheaval, though. "How can we be innovative, and how can we change the industry?" she says. "I'm constantly thinking about those things." Prioritizing innovation keeps her company rooted in the future, looking ahead instead of resting on any laurels. 
Top Tip for Being a Better Designer
Working yourself into the ground isn't sustainable or ideal for either you or your design business. Swabb makes time for herself, knowing her business will reap the benefits as well. "I just know I'm a better designer when I have a sense of self," she says. "I'm more grounded for my clients, and that's super important."
How exactly does making time for yourself outside work help with the business side? "Investing in yourself is super, super important, to make sure you're sharp and on the ball, but also to ensure you're grounded and able to take on a very emotional thing for people, to be able to carry that for them," she says.
To make more time for herself as well as keep her business operations running smoothly, Swabb uses Houzz Pro software for all kinds of design project-related tasks. "The more we can streamline our process, the better our business will be," she says. Plus, "people want to hire a designer for the luxury of not having to really be stressed about a paper trail or worried that they're going to be having to be too involved." Houzz Pro's cloud-based tools make it easy for clients to approve design plans, pay invoices and stay in the loop about project updates.
Aside from the very practical time-saving benefits of technology, Swabb points that just keeping up with the times is valuable in and of itself. "Knowing what's new, what's trending, having those really cool and contemporary options available to our clients is a huge part of being successful," she says.
As M. Swabb Decor + Style has won 11 Best of Houzz Service awards and received numerous five-star reviews, Swabb can certainly speak to being successful — not just as an interior designer but as a female business owner who did it her way.
Join the conversation by commenting or asking a question below. The Houzz team reads every single comment, and we'll get back to you by email if you need us!

Want advice delivered to your inbox?
Unlock industry insights and updates for contractors and design pros
By signing up, I agree to the Houzz Terms of Use and Privacy Policy and that Houzz may use my information to contact me about relevant content, products, and services.