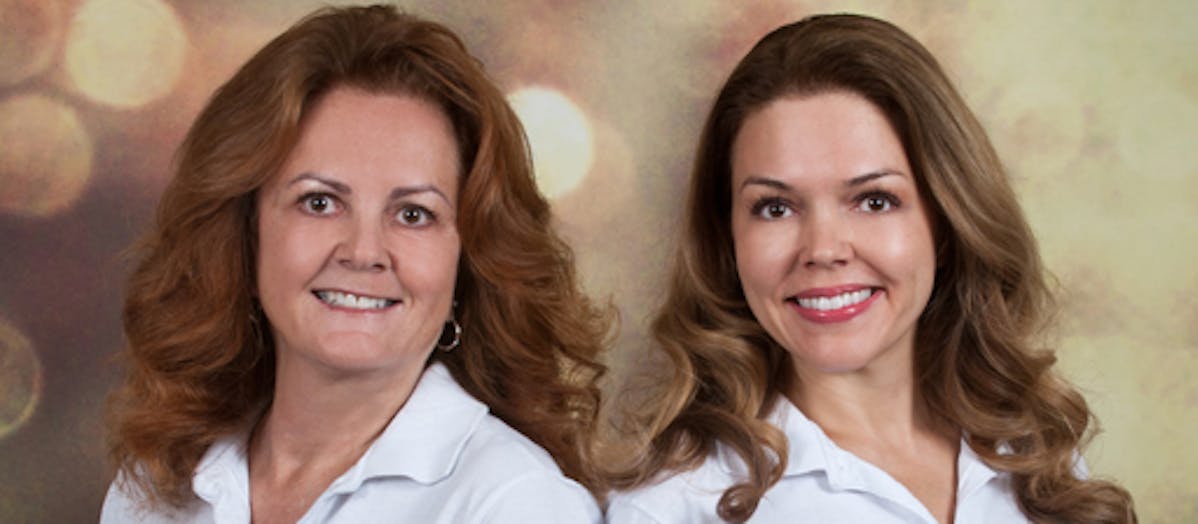 Stacey (pictured left) and Tasha Ranieri are not your typical mother-and-daughter duo. Together the pair manage a female-owned, family-run business called Ranieri Construction that specializes in home remodeling in the Las Vegas area. While running a construction business is tough, running a family-owned business comes with its own set of challenges. We sat down with the duo to discuss how they navigate the world of construction, an industry that doesn't see many mother-daughter-run businesses.
Stacey founded Ranieri Construction in 1974 with her husband Mike, a contractor. After he passed away in 2015, daughter Tasha stepped up to the plate, despite having no construction experience. "Since it was a family business, if I don't take it over, then my children wouldn't have the opportunity to possibly take it over in the future," Tasha says. "Therefore, I decided that maybe I would explore to see if construction was something that I could help my mom out with."
At the age of 37, Tasha left her job in aesthetics and completely changed her career path. Stacey is now trying to teach her everything she knows so that one day she can hopefully take over the business. Working with family definitely has its upsides, Stacey says. "Having total trust in your co-worker. Knowing that they're there for you as well as you're there for them. Knowing that if there's something wrong or something they don't like, they're going to speak up and say so instead of doing something behind your back that could potentially backfire with a client," she explains.
But balancing family and business relationships can also be challenging. "Family tend to get more emotional with each other. Because we know each other outside of the business, it's a little more difficult to keep it business-like," Stacey says. "You have to keep your relationship with your family members separate from the business. Otherwise you're going to end up hating each other."
In terms of positioning a family-run business for success, Tasha lives by this motto: "Agree to disagree," she says. "You have to agree that if one person isn't in the mood to discuss something, then you don't keep pushing. You really have to respect other people's boundaries and people have to be willing to tell you their boundaries as well."
For Stacey, it's all about healthy communication. "It's not only respecting each other but being willing to compromise or to listen to criticism," she says. "For me, sometimes it's hard. But you have to be willing to listen and take the criticism and try to become a better person because of it."
Communication is also central to the way they run their business. "We're both very hands-on, and we're very communicative with our subcontractors," Stacey says. "Our workers know they can call us if they have a question or if they can't reach their boss. That's the unique thing with us. Personally, I think it's because we're women. We're just slightly more organized." Stacey laughs and recounts a time when one of her subcontractors asked her to teach organization classes for general contractors, because he had never worked with someone as organized and efficient as her before. For Tasha, one of the most crucial components of a successful business is maintaining positive relationships. "Customer service is huge. You need to be organized, but you also need to be flexible," she says. 
Both women agree that the most rewarding aspect of home remodeling is giving clients a total transformation. "My favorite project is a whole-home remodel because it's not just a new bathroom. They come home and see a new carpet, paint, kitchen — everything is completely different," Stacey says. 
"It is really grandiose when they walk in at the end because we've transformed their home," Tasha says. "My favorite project that we've done recently is on Houzz and it's called the Midcentury Oasis. This client of ours was actually on the forefront of this new trend of two-tone cabinetry and a lot of the walnuts and the very modern look. Her house is so inviting. It's very popular on Houzz. It gets a lot of saves."
Stacey and Tasha are among many home professionals turning to digital solutions to streamline the way they run their business. Software such as Houzz Pro has revolutionized the home industry, and firms that don't adapt risk being left behind, the women say. "If you're not willing to open your mind, you're probably in the wrong business," Stacey says. "You've got to be willing to listen to clients and understand their needs and their wants, and communication is a key component of that. Having the technology to keep you open to clients is huge."
Tasha, who describes herself as old-school, agrees. "I love technology. I will continue to utilize it to its fullest," she says. "That being said, I don't want to become so dependent on technology that if something happened to this laptop the company can't effectively operate."
Working together can sometimes drive family members apart, but for Stacey and Tasha the opposite has been true. "My mom and I have always had a pretty close relationship, but now working together, it's given me a lot more respect for her," Tasha says. "We have a great time together. We've grown so much closer together than we even were prior to me working for her, which is rare."
Join the conversation by commenting or asking a question below. The Houzz team reads every single comment, and we'll get back to you by email if you need us!
More From Houzz Pro Learn