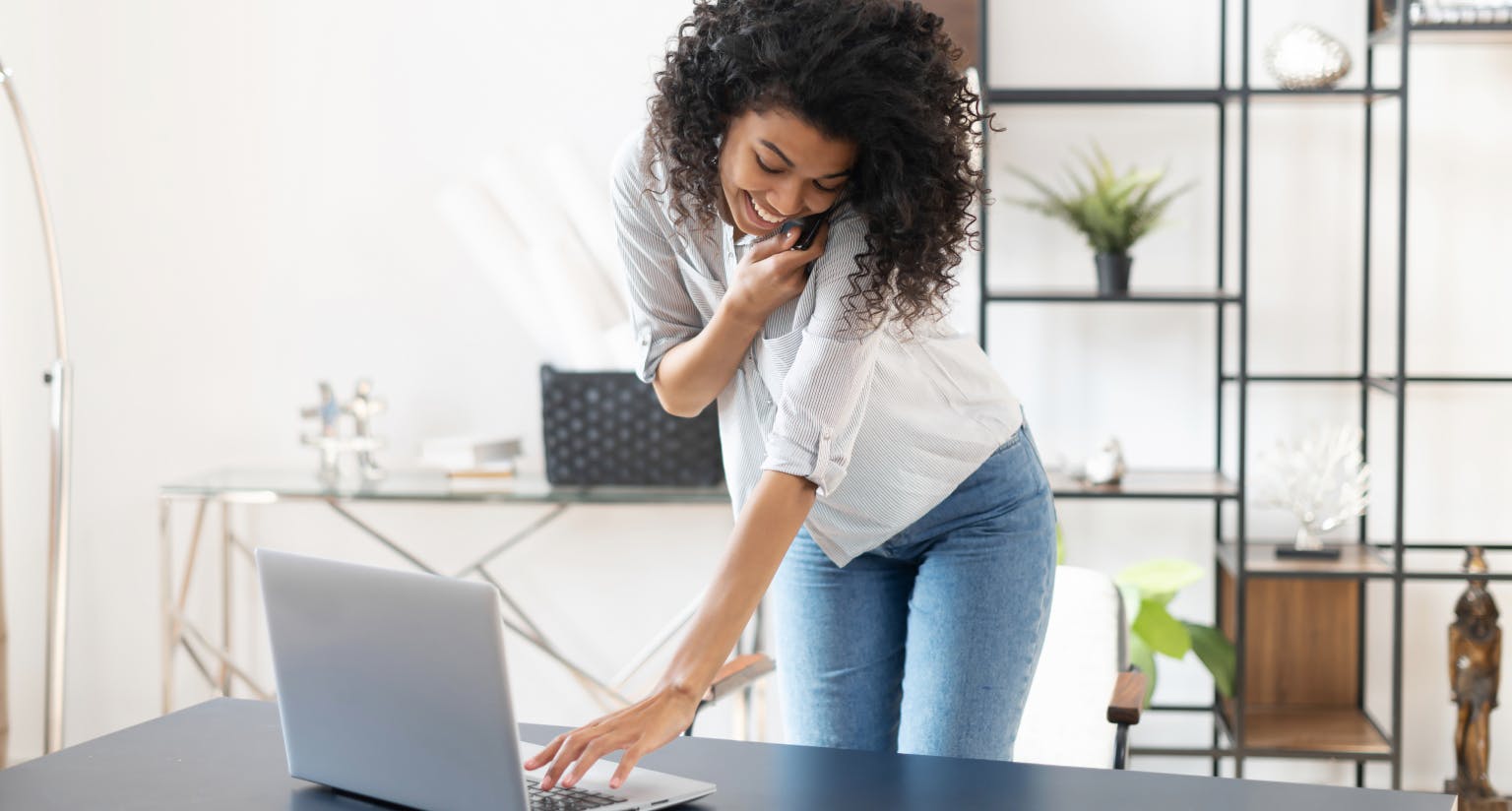 With the pandemic forcing many of us to work from home, and 5G speeding our mobile internet connections, it comes as no surprise that over 85% of adults are online everyday. In fact, 31% admit to being online constantly. With so many people searching and shopping online for home improvement services, having a strong digital presence and digital marketing has fast grown into the best way to grow your interior design or construction business. With Houzz Pro you can go a step further by adding the ability to track your reach, so you can better analyze your digital marketing data and work on your strategies to win more projects. 
With so many businesses online, how do you stand out? 
Houzz Pro offers a number of proven and tested tools for building your digital presence, in a way that helps you gain a more competitive edge:
Highlight your business with Houzz Pro
Marketing today is not just about standing out, but standing out online.  According to research (Review42), 70-80% of people look up things like customer reviews, ratings, and images before making any decision or purchase. Like doing a test-drive before buying the car, an informed glimpse into your business is the new make-or-break sales moment. That's where having a Premium Houzz Profile can help you stand out and create a bigger impact – by including reviews from past clients, exhibiting stand-out tag lines, as well as featuring a highlight reel of your work. 
Prospective customers place a lot of trust in their fellow consumers' opinions. With Houzz Pro you can choose to elevate your favorite reviews so that they're featured prominently in the center of your page. The premium profile also comes with an automated but customizable Highlight Video; think of it like a business card in a video form. This is an eye-catching, engaging and effortless way for leads to learn about your business. Viewers can even choose to contact you via the contact number linked to the video, and with Ultimate subscription where Call Tracking is enabled, you can see just how many leads have chosen to get in touch with you just from viewing your reel. 
Your Premium Houzz Profile will act as 24/7 virtual marketing team, so that your business will be visible to clients no matter when they've chosen to search online for experts like you, ensuring your profile is working even after you've clocked off. 
"Clients feel like they can trust someone with a presence on the site and positive reviews, which helps us get over that preliminary hurdle more readily."
Jed Dinger, Jed Dinger Designs Custom Cabinetry
Houzz Pro Ultimate provides Targeted Local Advertising – so you can secure the right leads. 
Targeted advertising is what digital marketers find to be most effective in leading consumers to the things they actually want. Location-based marketing in particular is reportedly 20 times more effective than random adverts, according to latest research. 
As part of your Houzz Pro package, you can reach homeowners looking to hire in your area using geo-targeting. Target your ads so that they show up to people who would do business with you based on proximity, or show your ads in areas you wish to see your business expand. Location matters, and clients, budgets, and projects do vary from area to area. With sponsored ads that are native and seamless - showing up in the directory or across a photo stream - featuring your name, rating and profile link, homeowners will be led to your page with just one click. You can also tailor which photos are shown from your portfolio to suit the areas you've targeted. With Houzz Pro, your targeted marketing will become a valuable experience for customers.
Website Services come with every Essential and Ultimate Houzz Pro subscription. We build, host and manage your website for you. 
What would you do if you tried to look up a business online but couldn't find their website? You'd do what most would – become skeptical and move on with your search. Today, businesses need to keep up with technology and user expectations, or risk falling behind. Houzz Pro helps you stay relevant by offering a professional website that is synced to your Houzz Pro premium account. 
Houzz will build, host and manage your website, as well as update it with your latest work. Like anything in the digital age, the look and feel of your website matters. 75% of people say that a website's aesthetics is one of the most vital elements to business credibility. Houzz Pro exclusive website templates are web optimized, professional, and work on any desktop or mobile device. Show off your entire portfolio by making use of our unlimited storage and customize it as you wish. You can also introduce your team, feature reviews, and receive calls and messages through your Houzz Pro empowered website, ultimately expanding your digital reach to grow your business.
"I like the 360 degree view that Houzz provides, and that potential clients can see my work, read reviews, and contact me easily."
Ann Wolinsky, AKB Designs, Kitchen & Bath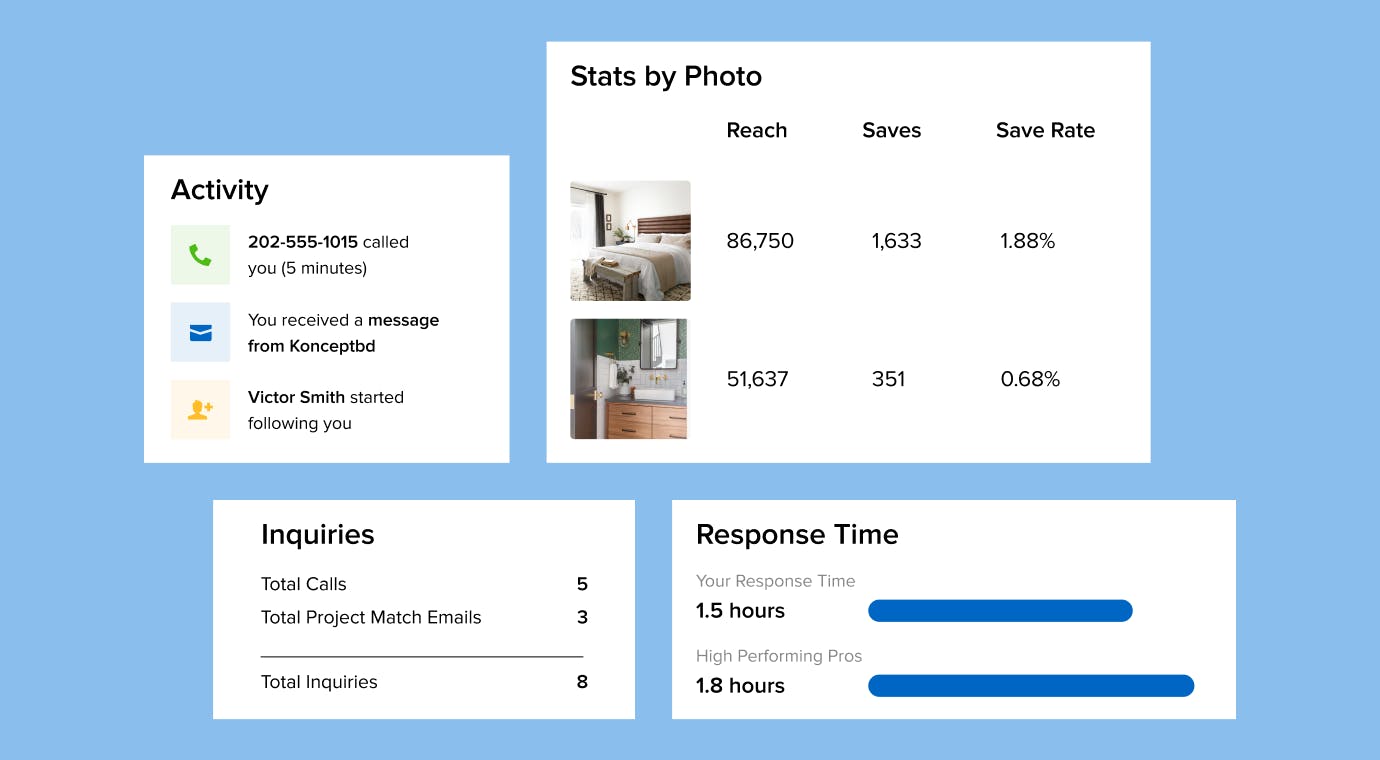 Get clued-up on your reach with Insights and Analytics.
Marketing strategies work because of the data that fuels them. Any business in any industry has to put in the work to know what their clients are looking for and how they're looking for it. Otherwise it's just a shot in the dark. The Houzz Pro Insights Dashboard helps shed light on the engagement with your profile so you can understand just how your marketing efforts are working. 
Houzz Pro lets you know how many visits you've had to your websites, the number of impressions you've received, and how many times your photos have been saved to Ideabooks, a tool used by millions of homeowners. By being able to see who views your profile, and which photos are viewed and saved more than others, you'll learn what prospective clients like best. In this way, you can tailor your portfolio to generate more interest with certain popular designs, or take photos from specific angles that seem to have caught the public eye before. You can clearly see what works and what doesn't and be able to make informed decisions from there, in order to fuel your business online.
Join the conversation by commenting or asking a question below. The Houzz team reads every single comment, and we'll get back to you by email if you need us!

Want advice delivered to your inbox?
Unlock industry insights and updates for contractors and design pros
By signing up, I agree to the Houzz Terms of Use and Privacy Policy and that Houzz may use my information to contact me about relevant content, products, and services.