How to Manage Client Communication More Efficiently With The Client Dashboard 
Save hours spent on the phone with clients. Give them easy access to a private portal branded with your logo and company information that includes all your communication history, project details, timeline, financial documents, project progress photos, and more.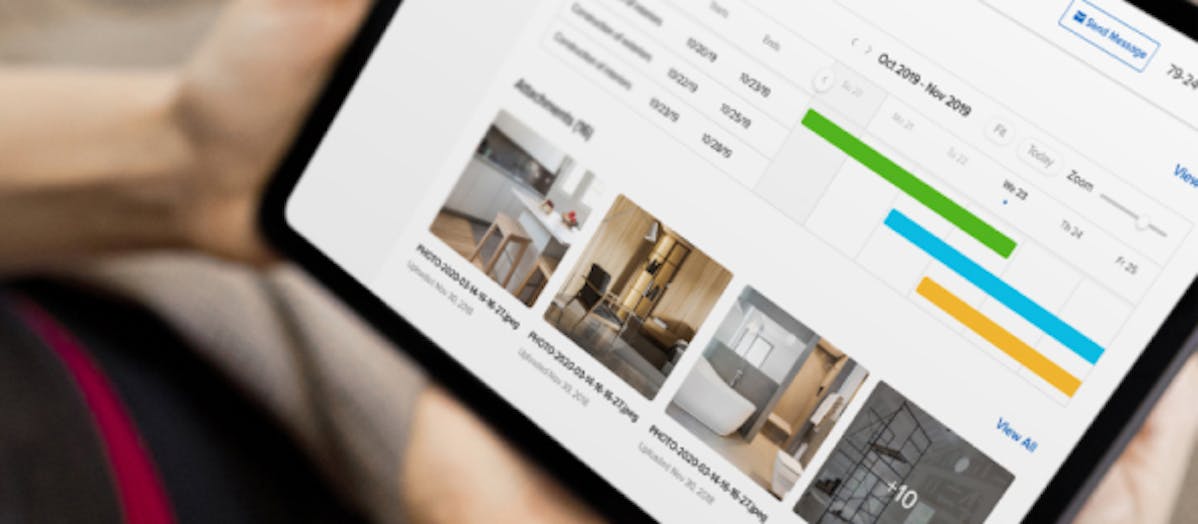 Home renovation spend is on the rise and client expectations are soaring. Our research shows that 2 out of 3 homeowners want better communication with pros and regular status updates on projects.
Keeping your clients informed throughout a remodeling project often eats up valuable time, between all the phone calls, emails, WhatsApp and text messages. The Houzz Pro Client Dashboard tool was built specifically with this in mind. Houzz Pro subscribers are successfully using it to streamline client communication, track requests and approvals, while making a great impression.
 "Clients can go to the dashboard on their own without calling or texting me, which saves me time. They can go there and have everything they need. They feel supported and in control." Bryan Payne, Many Mansions LLC
Timeline & file sharing: Stay in control
The client dashboard is a private portal where your clients can access the project details and specific files you shared with them, on desktop or mobile:
Your clients will be able to access and review any estimate or proposal that you've sent. If the proposal is sent with attachments – those files will also appear on their dashboard.
Files uploaded to a project are set as private by default until you decide to share them with clients. Files attached to an estimate or proposal are shared on the client dashboard only after you've sent the document over. 
Drafts, purchase orders, or any files attached to a PO are never shared. By default, these files will never be shared on the Client Dashboard.
You can easily check the status of each file added to a project. Go to Files > Click on "See All". The "Share With" column shows you who was granted access to each individual file added to the project, and you can edit these permissions at any time.
Daily logs are a great way to update your client on project progress. Review any new daily log created by your subs and click on "Share" to push them over to the client dashboard.
Share a project timeline and be proactive about client communication and project delays. The timeline is a visual tool that will help you easily communicate the project schedule and milestones with your client while making a great impression. Share it with internal employees, clients and subs.
You can choose whether or not to show the financial details: Select what you want your client to see: total outstanding, total paid, total retainer balance, or the total available credit. 
Tips for using the client dashboard
1. Tell your clients to bookmark it! You can share the client portal over email or via a link. The link is unique to each project and each client. 
2. Send it to yourself and play with it. Create a test project, add files, and share the client dashboard with yourself so you can try it out.
3. Preview before sharing. You can use the "preview and share" button or copy the unique link and paste it into an incognito window to see what your clients see.  Check which specific files and documents you shared with them.
Watch our tutorial video to see how to preview and share the client dashboard.
Remember, you can stop sharing the client dashboard at any time.
Keep everything in one place
The client portal is also a great tool for business owners and their teams to manage projects and client communication in one central location. All the communication history, files, estimates are saved in one place, so one person can pick up where another left off.
The Houzz Pro client dashboard and project management tools are essential in the home remodeling industry where inevitably things have to move around sometimes, and professionals and their team have to keep track of so many details at once.

Want advice delivered to your inbox?
Unlock industry insights and updates for contractors and design pros
By signing up, I agree to the Houzz Terms of Use and Privacy Policy and that Houzz may use my information to contact me about relevant content, products, and services.