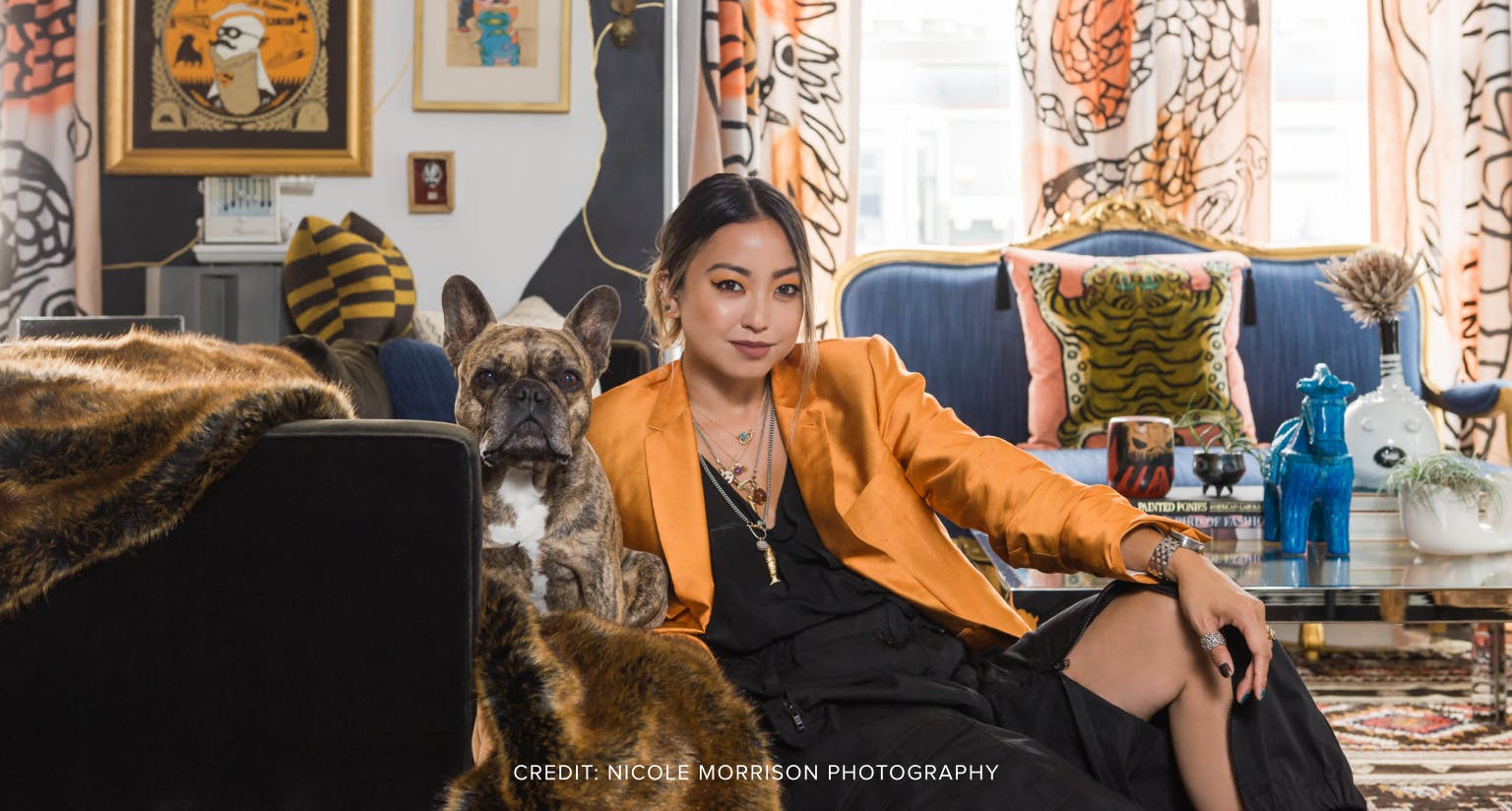 When interior designer Noz Nozawa (pictured above) of San Francisco left her marketing job in 2014 to found her eponymous firm Noz Design, she proved a valuable lesson to everyone unhappy in their career: You can change jobs to do what you love. 
Nozawa's love of design started at an early age. She recalls spending her childhood building houses with Legos and browsing the home design section of bookstores. "When I was a little kid, I was pretty much obsessed with homes. It was all I ever thought about," she says. However, with pressure from her parents to pursue a more stable career path, Nozawa went into business, specializing in marketing. After landing a marketing position at Houzz and spending a lot of time talking with designers, she realized two things: "One, it was incredibly clear that I would way rather do what they were doing. And two, the majority of the people I talked to were career switchers," she says.
This gave Nozawa the courage and determination to take a risk and do what she'd always wanted to do: become an interior designer. Seven years later, her colorful interiors are sweeping the Bay Area, and she's been recognized by multiple publications as an emerging designer to watch. "The really cool thing about where I'm at is the confidence that I've grown into as a designer, which is incredibly relatable to anyone who's breaking into this industry," she says. "The imposter syndrome is very real. You look around at people's portfolios that are so much shinier than yours, and you're just staring at stuff that you want to do, but there's no clear path to get there."
Nozawa's vibrant colors and bold pattern choices aren't the only things making a mark on the industry: Her flat-fee pricing model has been met with a few raised eyebrows in the design community. But she aims to prove it can work. With her model gaining popularity, Nozawa has demonstrated that you can scale your business while still remaining true to yourself. 
While some would describe Nozawa as a maximalist because of her colorful interiors, she disagrees. "I don't over-furnish homes; I don't overdress them; I don't over-decorate them," she says. "Every single thing has a justification, and in that way, very ironically, I think like a minimalist." For Nozawa, every piece that ends up in her client's homes needs to serve a purpose. "If it doesn't have a utility, if it doesn't evoke a memory, if it doesn't spark joy from a previous trip, if it doesn't symbolize anything, then I don't want you to have a random bauble on your shelf," she says.
This principle reflects what Nozawa believes is the point of design: to "make a client's everyday life at home better, more functional, and more in the service of their busy lives." She says a misconception exists that the point of design is to "make it pretty." "It always goes back to function," she says. "What we love, aesthetically or otherwise, still needs to serve the client or else it's a failure of a design."
Having worked at Houzz, Nozawa has seen the way technology has revolutionized the design industry. One improvement has been in the ability to communicate ideas to clients. For example, Houzz Pro gives users the ability to scan a room and create 3D floor plans with a smartphone, which creates an easier and more realistic visual for clients than the time-consuming drawings of the past. Nozawa says not only does technology like this save designers time, but it democratizes the design process. "Your living room should not have to cost more because your living room is hard to draw," she says. "Sitting there and drawing it is not the thing that you're paying us to do. I want you to pay me for my ideas, how my team and I think about space planning and problem-solving and creativity."
Technology also has made information more easily accessible to designers. A champion of pricing transparency, Nozawa salutes the way it empowers consumers. With the advent of the internet and the ability to search by image, clients can learn more about the products they're buying. "I'm a huge believer in [the idea that] more information means more empowered consumers, which means greater spending," she says. Transparency also fosters trust among clients, which will ultimately benefit a designer's business. "I think a big part of my success to-date is a result of how I've aligned my business practices and client services with the fact that clients can keep me honest on my transparency," Nozawa says.
Nozawa is concerned with sustainability in design and believes technology will play a pivotal role in moving the industry onto a more sustainable path. "Information access can be a strategic tool for our industry, and [we can] use it to educate consumers on why things cost what they cost," she says. "There's been a powerful movement against fast fashion, because people have increasingly learned that fast fashion is horrible. It enslaves laborers who are working in these sweatshops. It's horrible for the environment, it's wasteful, and there's a move toward more slow fashion, where people buy fewer, better-quality things. If you can do that for clothes, you can do that for furniture; you can do that for materials that go into homes."
Working in California, a state prone to earthquakes and now wildfires caused by rising temperatures, Nozawa has seen firsthand the effects of climate change on the design industry. "What is anyone's appetite going to be to invest in homes that might burn down that you can't afford to build back? It's a little scary," she says.
Nozawa believes that designers have a role to play in promoting sustainable practices. "I think we need to educate consumers to understand what their responsibility is too," she says. "I don't want you to throw your couch away in three years. I want you to take care of your things. I want you to teach your kids to not ruin things," she says. "Clients need to stop thinking only about value and price. They need to also think about the impact of their choices, and that's the industry's responsibility to help educate clients to think more holistically."
Technology hasn't just improved communication and access to information; it's also a great tool to revolutionize the way you run your business. From generating leads and sending out invoices to communicating with clients and marketing your services, technology can streamline many otherwise time-consuming tasks. For those hesitant to adopt solutions such as software — for example, Houzz Pro — Nozawa says this: "Get over it. Change is hard. We're hardwired to not want change, to not want to have to learn something hard, to not feel uncomfortable — but nobody ever got anywhere by just staying comfortable."
Join the conversation by commenting or asking a question below. The Houzz team reads every single comment, and we'll get back to you by email if you need us!

Want advice delivered to your inbox?
Unlock industry insights and updates for contractors and design pros
By signing up, I agree to the Houzz Terms of Use and Privacy Policy and that Houzz may use my information to contact me about relevant content, products, and services.