The Houzz Pro task management tool was recently released for all subscribers and has already become one of the most popular features in Houzz Pro. Using tasks is an easy way to stay on top of key activities in your projects, communicate and assign specific to-dos to team members and clients, and note and follow-up on unfinished tasks you identify on the job site or anytime during the project.
Create and Assign Tasks to Clients and Team Members
You can create a tasklist for each project on desktop or mobile. This tool allows you to keep track of your to-do list for each project. It is also an easy way to communicate what needs to be done with your team. Team members will be able to see their tasks listed under each project, add more details, attach files and mark them as done once the task is completed. Clients will see tasks in their dashboard underneath the timeline.
Creating a new task on Houzz pro is easy: select the project associated with the task and fill out the details. You can add a due date, attachments (photos, documents), and can choose to assign the task to a client or team member.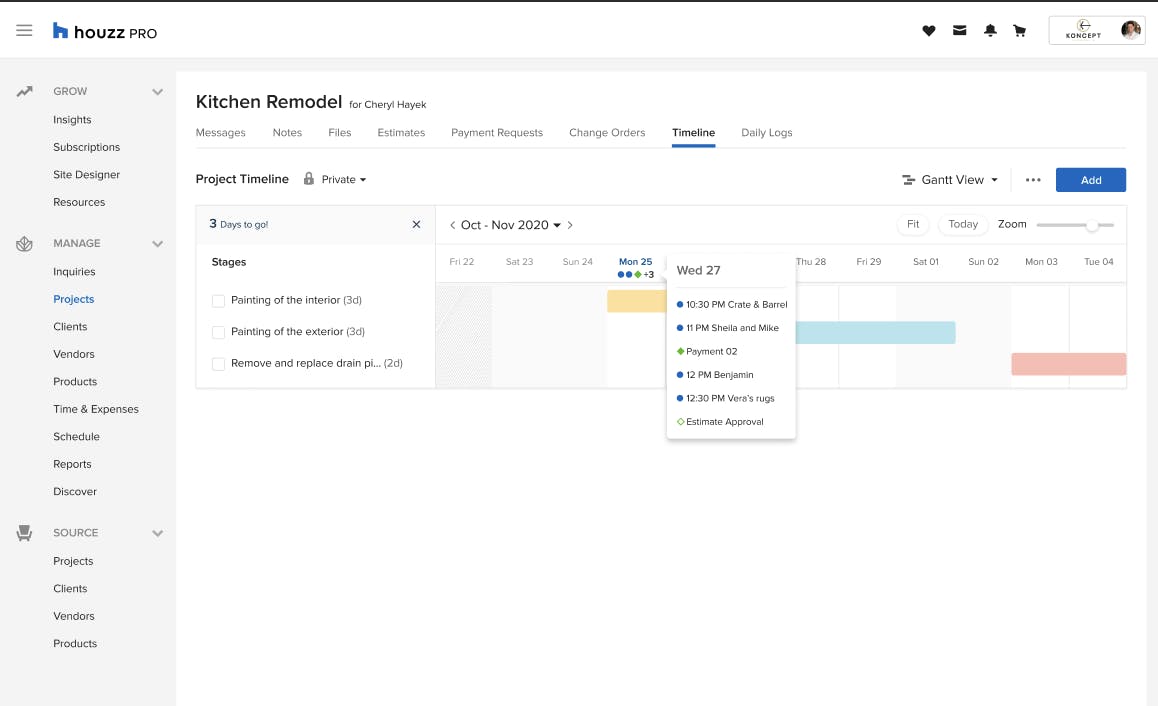 Show Tasks on the Project Timeline
In a recent survey, we asked homeowners on Houzz what could improve their experience when working with pros. 2 out of 3 homeowners asked for better communication with pros and for regular status updates on projects. The Houzz Pro timeline is a visual tool that helps you easily communicate with clients the tasks, milestones, and due dates of each project. Each task you create will automatically show up on your project timeline.
You can easily switch from the "Calendar view" to a "Gantt view" by clicking on the drop-down arrow on the upper right next to "Calendar view". Then click "Share Client Dashboard" to share the timeline or calendar with your client.
Create a checklist on the go
Now you don't need to open a separate app to track your to-dos! With the Houzz pro app, it takes just a few taps to quickly add tasks and attach photos from the job site. You can also quickly assign outstanding tasks to your team members to make them aware of any unfinished work.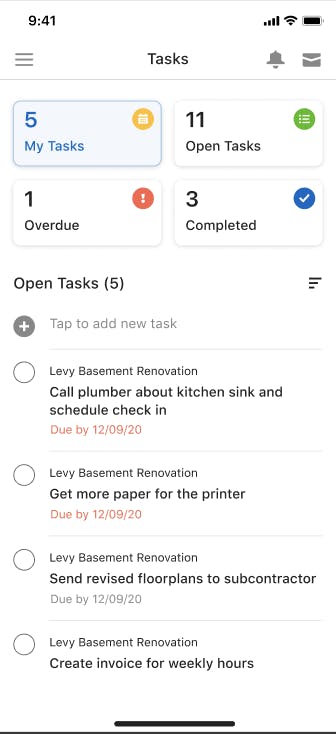 Tracking tasks across projects on desktop & mobile
Tracking tasks across multiple projects? Easily access a global view of all your tasks on Houzz Pro where you can review and update their status at your desk or in the field. It's also a great way to keep everyone from your team in the know about what is outstanding, making it easier to keep everything on schedule and your clients happy.
Join the conversation by commenting or asking a question below. The Houzz team reads every single comment, and we'll get back to you by email if you need us!
More From Houzz Pro Learn