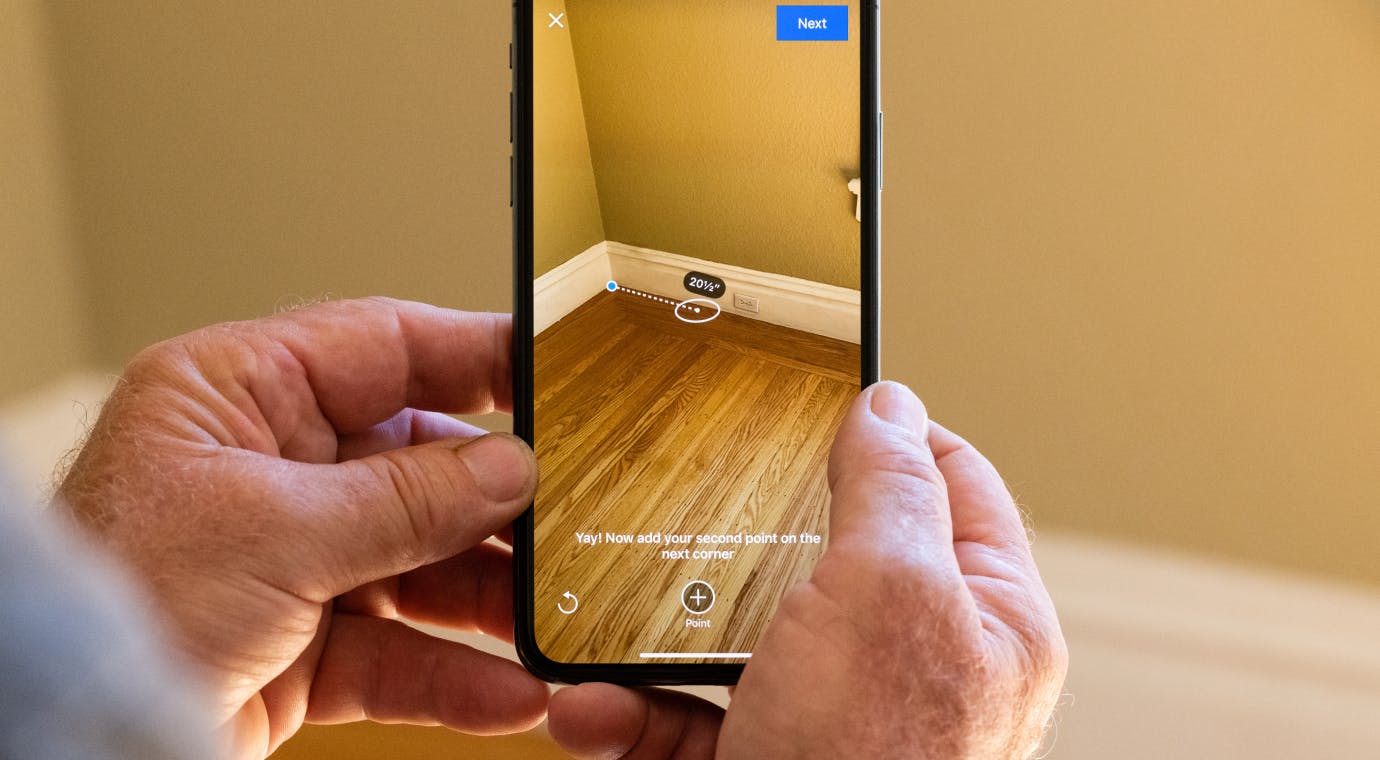 We live in a visual world. Printed pages are being replaced by moving images; checks are being replaced with mobile payment apps; and manual drafting is being replaced by time-saving digital programs. Similarly, complex 2D designs have been upgraded into easily explorable and shareable 3D imagery. Real estate industry has long been using floor plans to excite buyers, in fact over 55% of them consider floor plans very helpful in their decision making. For design or construction professionals, when working on a space, the 3D floor planner tool is what will set you apart from the competition because just like in real estate they reduce clients misunderstandings, ensure the proportions and overall ideas make sense, and get clients excited to carry forward with the project.
With Houzz Pro 3D floor plan drawing software, you'll create 3D floor plans in minutes using your mobile phone!
Ditch the tape measure! Use your device to create your base.
No need to get on your hands and knees to measure dimensions. The built-in room measurement tool in the Houzz Pro app works with the camera in a smartphone, tablet or other device. Simply move your device from side to side and scan the floor to capture the length of each wall, door, and window. This will create the base of your floor plan instantly. How neat is that?
"I can do my designs, 3D floor plans and mood boards all in Houzz Pro, so it really streamlines my day. I'm not having to go from tool to tool to tool."
Lina Campbell, Lina Norell Designs
Overcome the imagination gap. Add in furniture, products and other features.
Bring your design to life by adding in real details. From bespoke wall colors to tile, carpet or wood flooring, the house floor plan maker makes it easy to customize the elements that you or your clients have chosen. You can choose from our standardized furniture products to show size and scale, or place real products you recommend from your Houzz library. Clients will love seeing real or selected elements in their space, and being able to interact with your vision.
Drag and drop dimensions. Make it realistic.
Once you've added in your elements, go ahead and resize items to match your exact product dimensions. Input the proportions for walls and ceiling heights, and resize windows, doors and furniture to get it as exact as possible. This way, your client can fully understand size relationships of all the products in their future or remodeled home. This will also increase communication and consent between you and your client, ensuring they are happy with each decision.
"With Houzz Pro, I can make a floor plan on the app; with similar products you need to be on a laptop."
Alisha Curry, Innteriorly Iconnic
Get your clients excited with 3D Walkthrough and Dollhouse views.
At any point in the process,  you can generate a 3D look at the space with just a click of a button. Choose either the Walkthrough view, which takes you on a virtual tour through the space, or view your design through the Dollhouse perspective which is seen from above. Once your floor plan is ready, impress your current or prospective clients by sharing the link with them so they can experience the closest thing to the finished product; and from all angles, too. 
Allow your clients to be present and active each step of the way, as well as make your life easier.
Try Houzz Pro 3D Floor Planner for free today. 
Join the conversation by commenting or asking a question below. The Houzz team reads every single comment, and we'll get back to you by email if you need us!