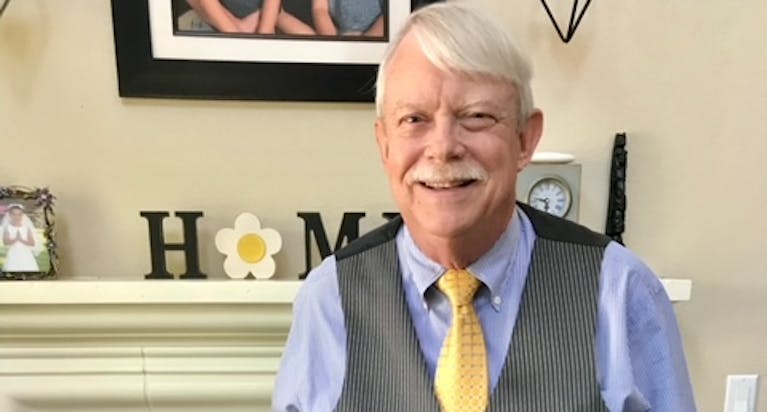 Robert Littlejohn's career has spanned two continents and lasted almost half a century. Over the years, he's pivoted with the times and taken advantage of the new crop of digital tools — proving that you're never too old to learn new things. That spirited mindset and ability to adopt new technology have allowed his latest and perhaps most loved business venture, color consultancy, to thrive. Here he shares his hard-earned wisdom.
From Remodeling Stores in Australia to Refreshing Homes in America
Having studied architecture, business and psychology at the University of Texas at Austin, Littlejohn launched his career in retail design and construction. But the bigger world was calling for the American, and in 1972 he set off for Australia with a friend. There he met Dennis Durham, who would become his business partner. They spent many years remodeling retail stores together in the Land Down Under, and that experience in visual merchandising eventually led them to designing homes. "One day we renovated a dress store in Queensland, and one of their frequent customers came in and said, "Oh wow,  who did this? I want them to do our house," Littlejohn says. When  the designer eventually returned home to America after 37 years with Durham, the pair continued their foray into home design.
Littlejohn says it was "probably one of the worst times to come back" because of the Great Recession of 2008 and "all the credit crunch." But the unfavorable economy led them to their next business idea. "People were spending a lot more time at home, because they didn't have the money to go out," Littlejohn says. "So ​​we came up with the idea of  'home refreshings.'" He and Durham would advise on and construct feature walls, or rearrange the art and furniture, "essentially making all that time spent at home more enjoyable,"  Littlejohn says. "Then we just rolled on from there with all the referrals."
A Solo Second Act in Color Design and Consulting
When Durham passed on in 2017, Littlejohn began to run their company — Interiors Unlimited in Auburn, California — as a one-man-show. "I'm still getting over the loss of Dennis," he says. "Fortunately, he taught me an awful lot throughout our time together. He was amazing." Today, Littlejohn works not just as a design and color consultant but as a sourcer of furniture, lighting, fabric and accessories. He still offers "home refreshing" services as well. 
Color has become Littlejohn's specialty, as he's grown into both an expert and a fanatic. "Color is everything as far as I'm concerned," he says. "It's one of the most important factors of an interior design job. Positive, happy colors will affect your attitude and your mentality  — like using reds and oranges in restaurants because it's conducive to eating. Or using calming colors like greens and blues in bedrooms to help you feel relaxed and go to sleep." 
Littlejohn has noticed that "generally speaking, people pick the colors first" when designing. "When I'm doing color consults, I'm coming into an already existing house. They've got everything there, so I know what I'm working with," he says. He will then ask the clients specific questions about what they want, but he also urges people to move out of their comfort zones. "I've been very successful with that, and most people have said, 'Oh, I was a bit worried at first, but wow — I just love this color now!'" he says.
Embracing Modern Technology and Planning Ahead
While Littlejohn has been in the design world since the 1970s, his young heart and open mind keep his outlook fresh. "I'm 70!" he says, laughing, "but I don't feel that way. I look in the mirror and I see this old man staring back at me. But I don't feel it." Indeed, Littlejohn has never let his age hold him back from moving with the times.  Before fully embracing Houzz Pro and all of its features, Littlejohn says, he was "still doing everything the old-fashioned way." But now he makes full use of Houzz Pro's features to connect with clients, manage leads, and even refer clients to other professionals. He enjoys how easily it is to integrate the software with QuickBooks, deal with invoices online and keep track of all his contacts to stay in touch, even though not all of those contacts become clients. He believes that designers, even new ones, should allow themselves to be picky and choose projects they really want.  
When asked for advice on adopting interior design business management software, Littlejohn urges professionals to simply go for it. "Learn it, because if you don't, you're going to get left behind," he says. Especially since the pandemic began,  he believes it's worth using digital tools to stay relevant and get the word out on your own unique specialties.  "All you can do is try to plan for the future," he says, "but then be ready to go with the flow."
Join the conversation by commenting or asking a question below. The Houzz team reads every single comment, and we'll get back to you by email if you need us!

Want advice delivered to your inbox?
Unlock industry insights and updates for contractors and design pros
By signing up, I agree to the Houzz Terms of Use and Privacy Policy and that Houzz may use my information to contact me about relevant content, products, and services.