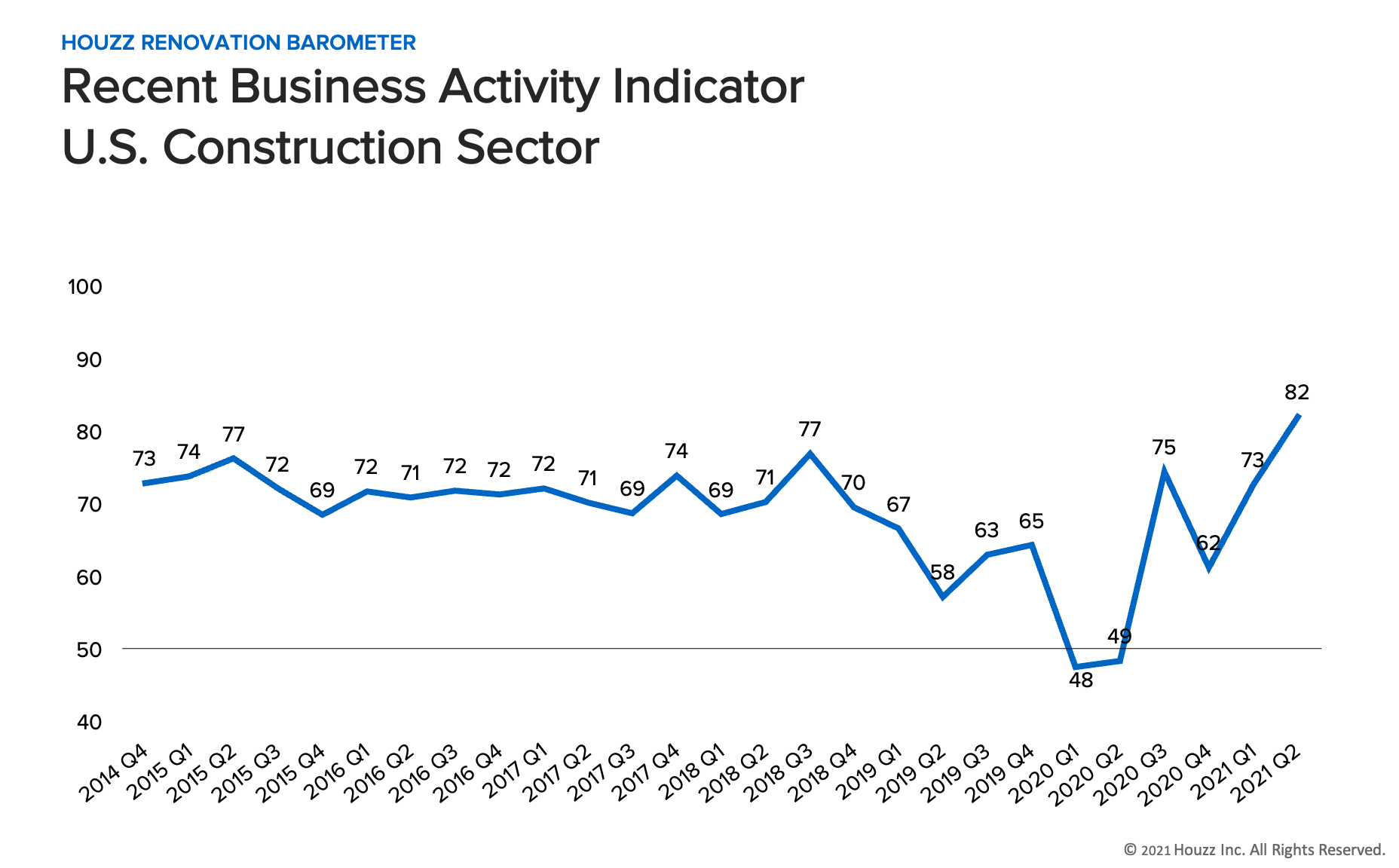 Spurred by soaring demand for new homes and efforts to catch up on project backlogs, construction companies are thriving. In fact, business activity in the construction industry reached its highest level in six years during the second quarter of 2021, according to the latest Houzz Renovation Barometer. Companies have reported both an increase in new project inquiries and a spike in committed projects. The activity boost has come with its share of challenges, however, including material and labor shortages as well as higher costs.
The Houzz Renovation Barometer is based on a quarterly online survey sent to a group of U.S. businesses with an online profile on Houzz. The Barometer takes the pulse of home renovation market conditions via three distinct indices that track expected, current and recent business activity in two related industry sectors: the construction sector and the architectural and design services sector. Since we began reporting these metrics in 2015, business activity in both the build-only and design-build sectors came in at a record-breaking score of 82* on the Barometer, up 9 points from Q1 2021 and 33 points year over year.
*\A score higher than 50 on the Houzz Renovation Barometer indicates that more companies reported increases than decreases.
"The residential construction and design industry has continued to thrive under strong demand," said Marine Sargsyan, Houzz senior economist. "In fact, our Expected Business Activity indicators are at some of the highest levels we've seen across both sectors since we began tracking the Barometer."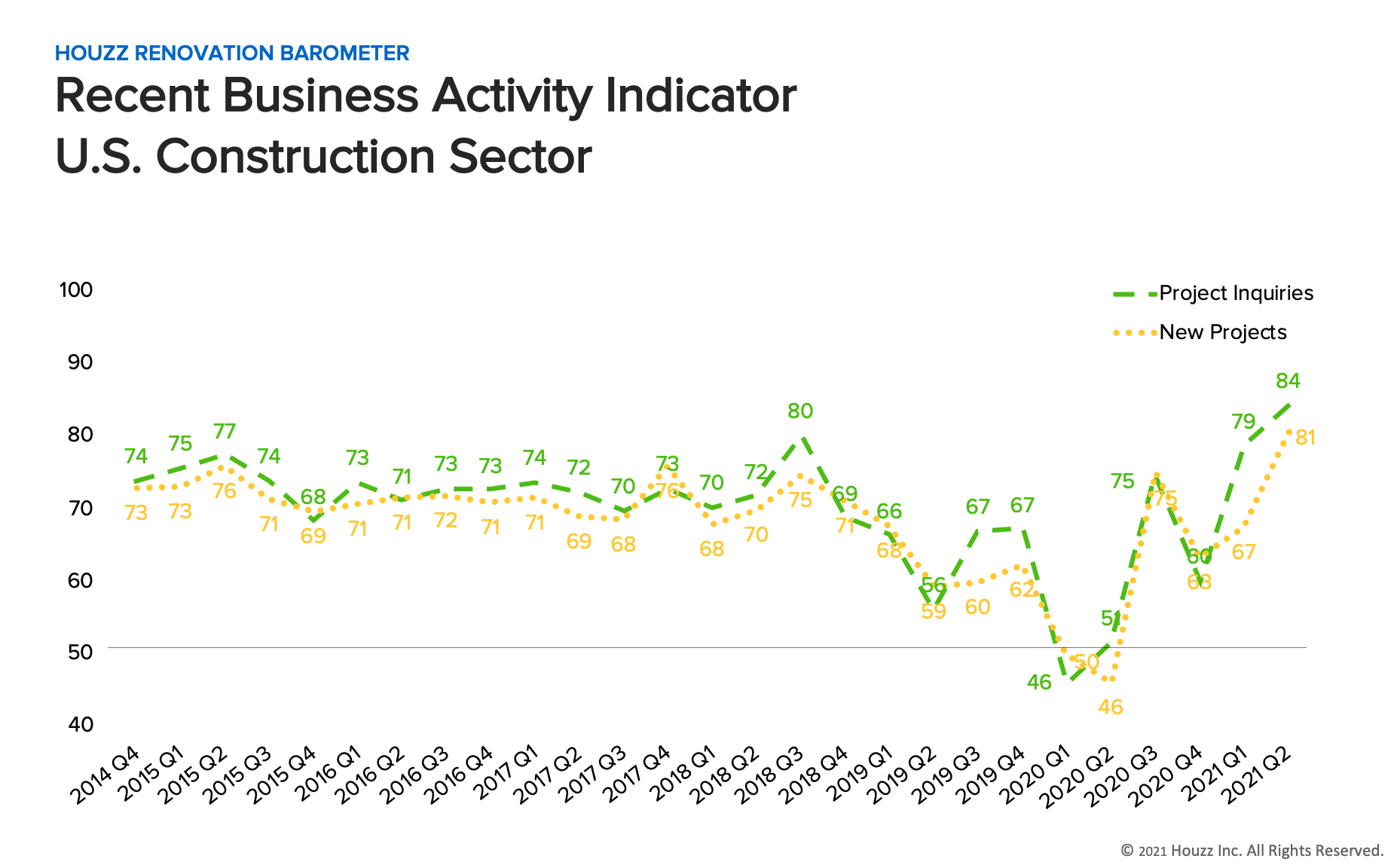 New Projects Drive Activity Spike
The rosy numbers indicate that building companies are rebounding in force since pandemic-related slowdowns in business in early 2020, and the trend shows no signs of slowing.
Both project inquiries and the number of committed projects spiked during Q2 2021, scoring 84 and 81, respectively. New projects took a bigger jump, however, increasing 14 points versus 5 points for project inquiries since the previous quarter, and a surge of 35 points since Q2 2020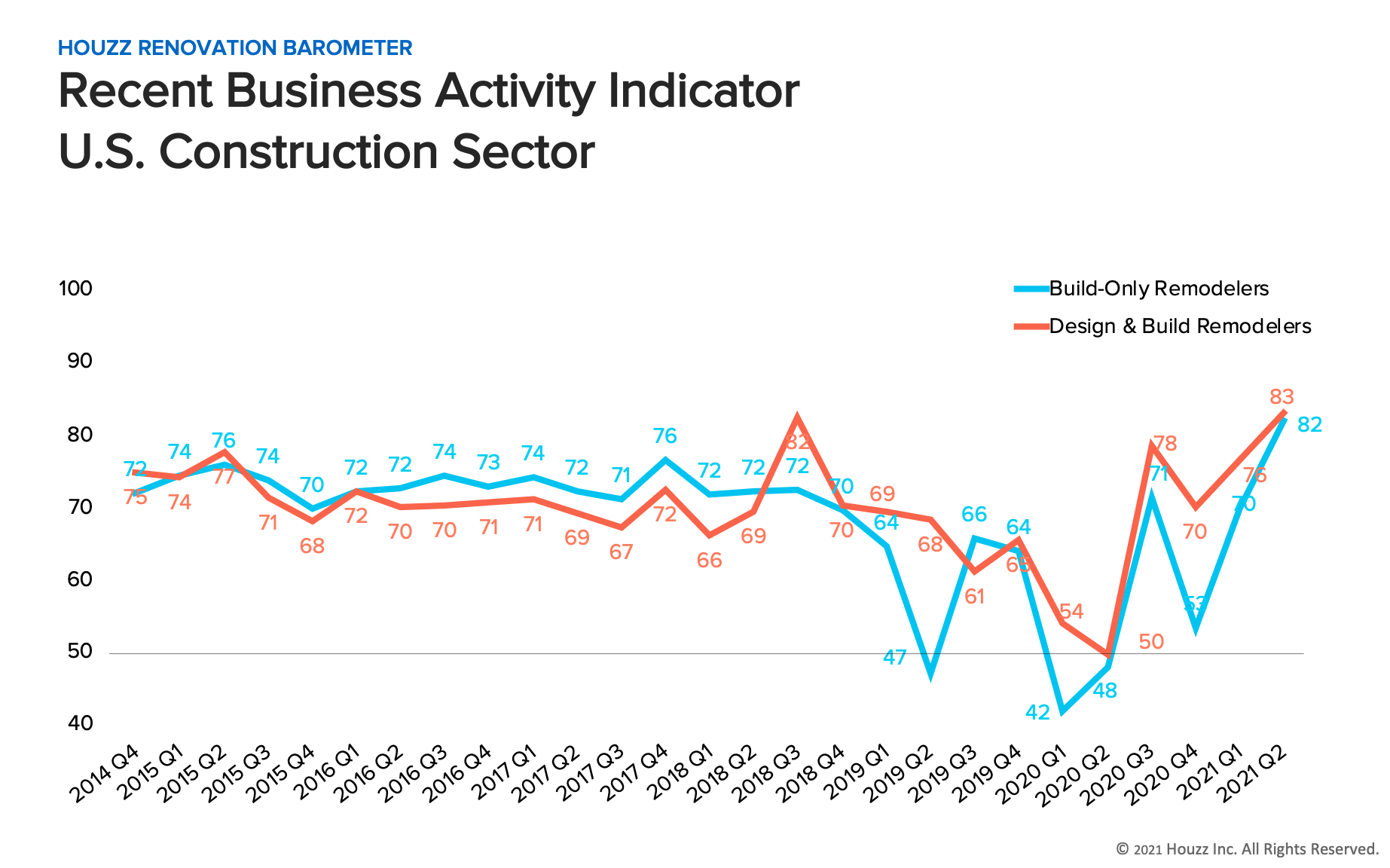 Similar Boosts for Builders and Design-Builders
Companies focusing solely on construction aren't the only ones enjoying the surge. Design-build firms scored an 82 on the Barometer for Q2, versus 83 for build-only companies. Those scores are up 12 and 7 points, respectively, since Q1. Year over year, the increases are 34 and 33 points, respectively — showing just how well companies are finding their footing again after pandemic-related lows.
Pipeline and Labor Issues Spur Problem-Solving
Given the unprecedented demand for new construction and design services, it's no surprise that the industry is also seeing material and labor shortages, along with higher costs and less predictable timelines. "More than 9 in 10 construction businesses (92%) report labor shortages, including carpenters, laborers, framers, cabinet specialists and plumbers," Sargsyan said. In fact, the shortage of cabinet specialists doubled from 2019. Shortages of plumbers, painters, framers, concrete specialists and flooring specialists increased 9 percentage points during that same time period. 
More than 9 in 10 construction businesses reported increases in costs for lumber, copper, steel and aluminum in Q2 as well. The price hikes stem not just from supply-demand imbalances but also from tariffs and other trade restrictions on imported goods. The price hikes are accompanied by product shortages: More than three quarters of businesses in the construction sector reported that product and material shortages and costs impacted their businesses in Q2.
Both construction and design-build companies are coming up with creative ways to handle the issues, including buying materials during more favorable pricing windows, adding pricing escalation and timeline flexibility clauses to contracts, and utilizing construction project and client management technologies such as the Houzz Pro to stay on top of estimates, vendor schedules, invoices, and so much more.
Moreover, about half of businesses do not believe that costs will continue to increase in Q3, according to the Barometer. With production facilities reopening and people returning to onsite jobs, that belief is based on solid indicators rather than hope. But regardless of whether costs continue to rise, stay stable or decrease, building pros anticipate positive results for the rest of 2021. "Favorable conditions prevail, and professionals are confident about business performance through the end of the year," Sargsyan said.
Join the conversation by commenting or asking a question below. The Houzz team reads every single comment, and we'll get back to you by email if you need us!