Say goodbye to those late nights spent agonizing over a set of building or remodeling plans, calculator in hand. Houzz Pro has launched Takeoffs, a tool designed to help you create accurate construction takeoffs up to 10x faster, so you can save time, win more bids, and stay on budget.
"By providing an easy-to-use on-screen takeoff tool as part of Houzz Pro, we're helping pros to efficiently manage and grow their businesses and spend less time on back-office work," says Alon Cohen, Houzz co-founder and president.
Completing a material takeoff is an essential part of creating an estimate for any new build or remodeling project that involves construction plans. To help you save time and be more accurate, we have integrated takeoffs into Houzz Pro. Simple and easy, it feels just like measuring from a set of paper plans. Except that our software does all the calculations and heavy lifting for you, speeding up the process exponentially. 
"This accurate takeoff system has increased my turnaround rate by 70%. Previously I was losing time printing plans and spending money to employ a guy to bid 4 jobs a day. "Now, I do it all myself," said Cruz Hernandez of Cruz Hernandez Concrete Construction, LLC.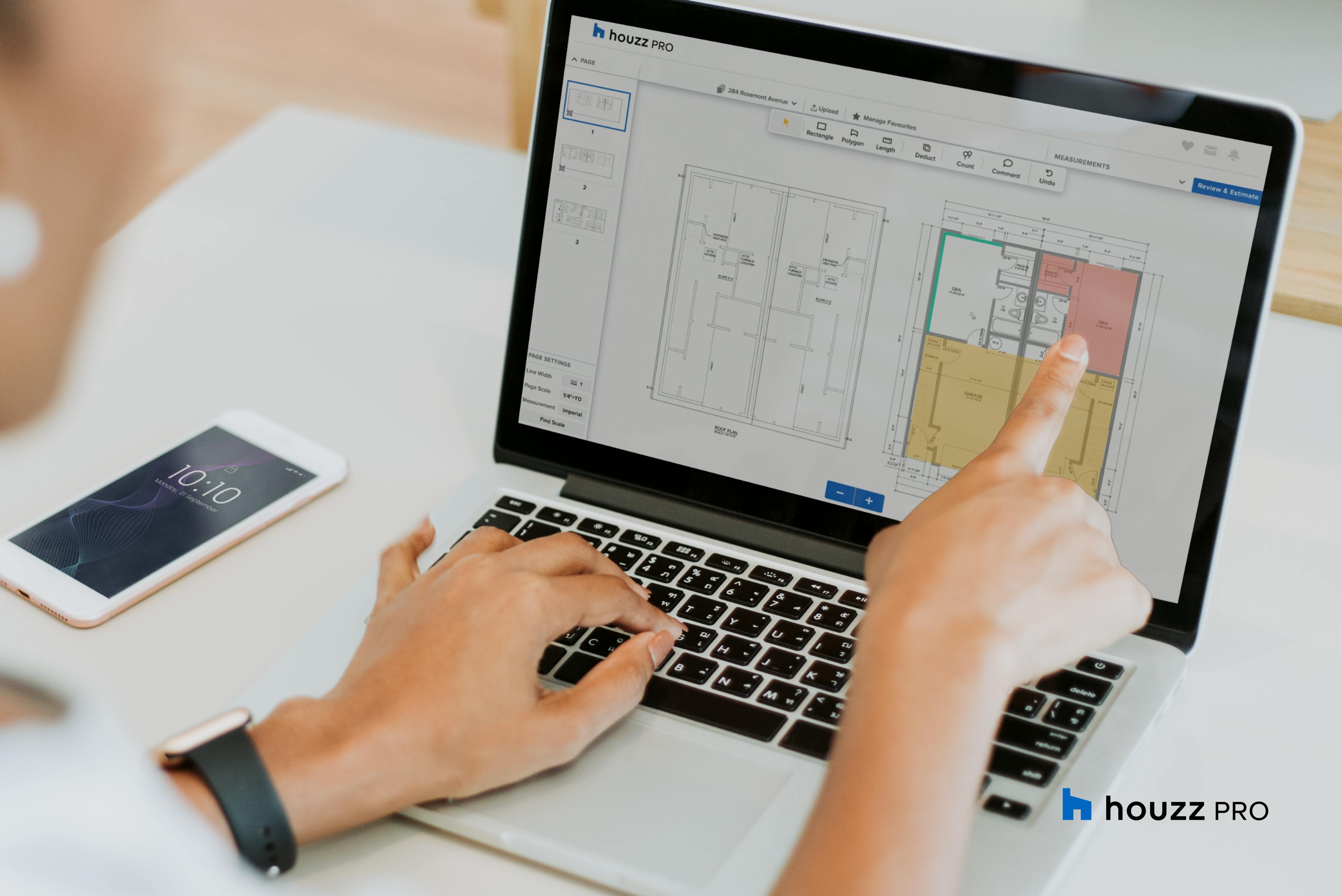 Houzz Pro Takeoffs saves you serious time, and it improves the accuracy of your cost estimates – no matter the project's size. Takeoffs identify how much materials to buy. Under-buying causes jobsite delays and extra trips to the store. Over-buying eats away at your profits, leaving you with materials you can't use or have to store at cost.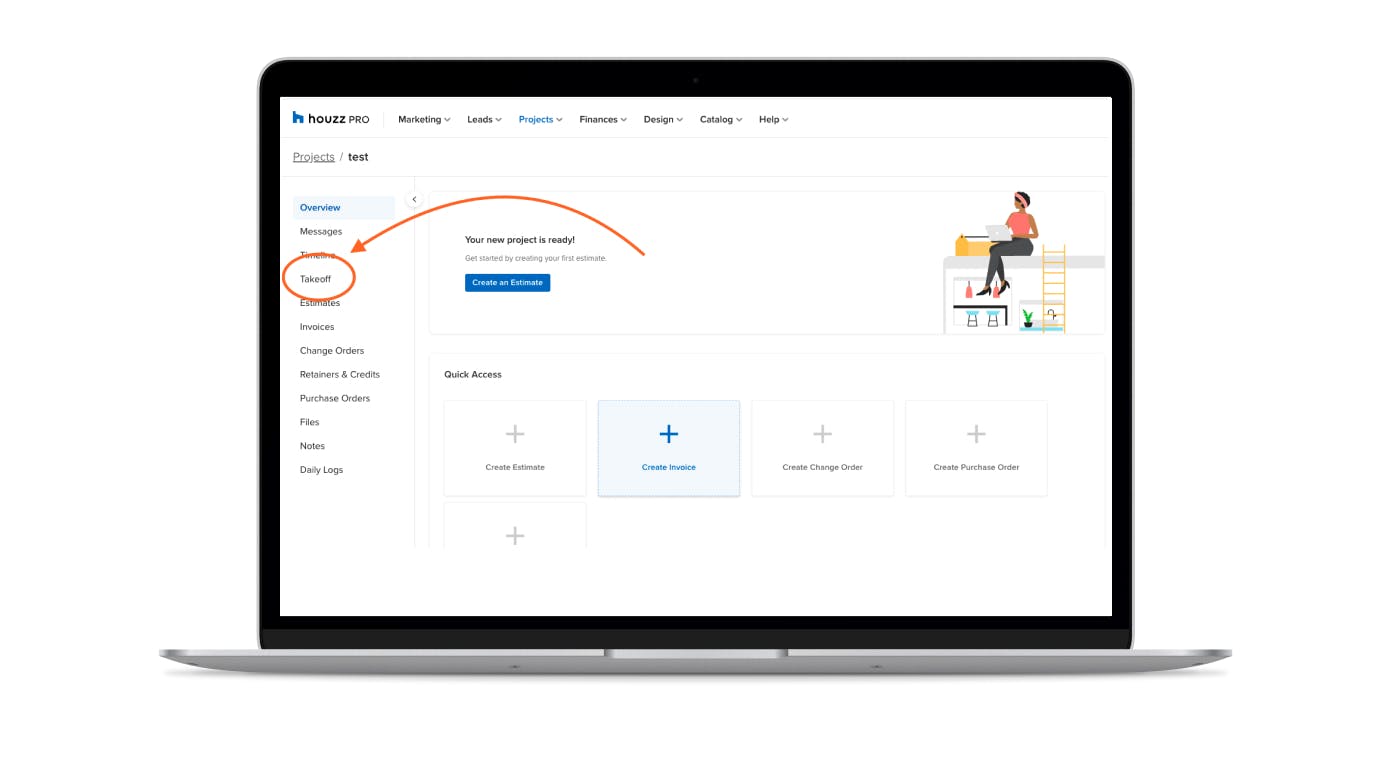 To try Houzz Pro Takeoffs let's take a look at how it all works
Step 1 - Sign in to your Houzz Pro account and Create a new project or open up an existing one, you'll see the new 'Takeoff' option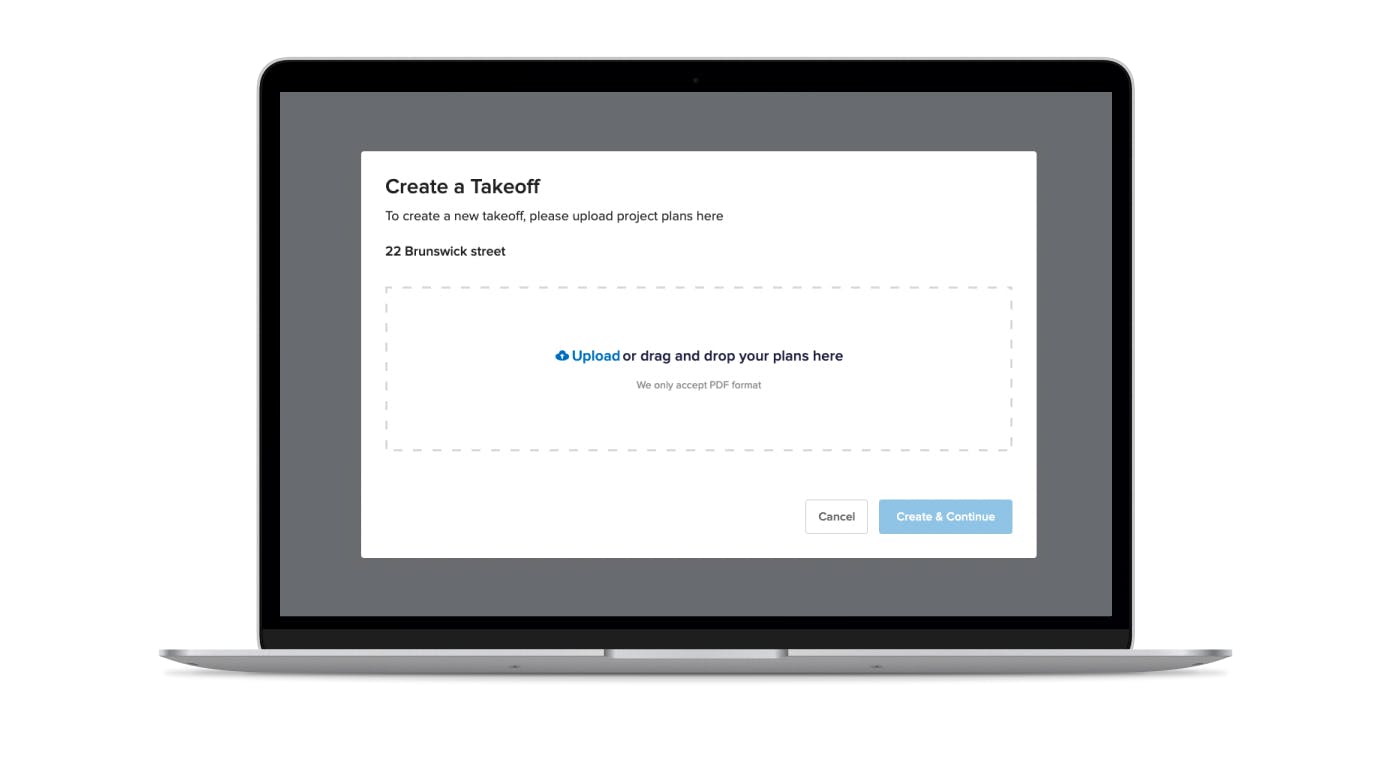 Step 2 - Upload your construction plans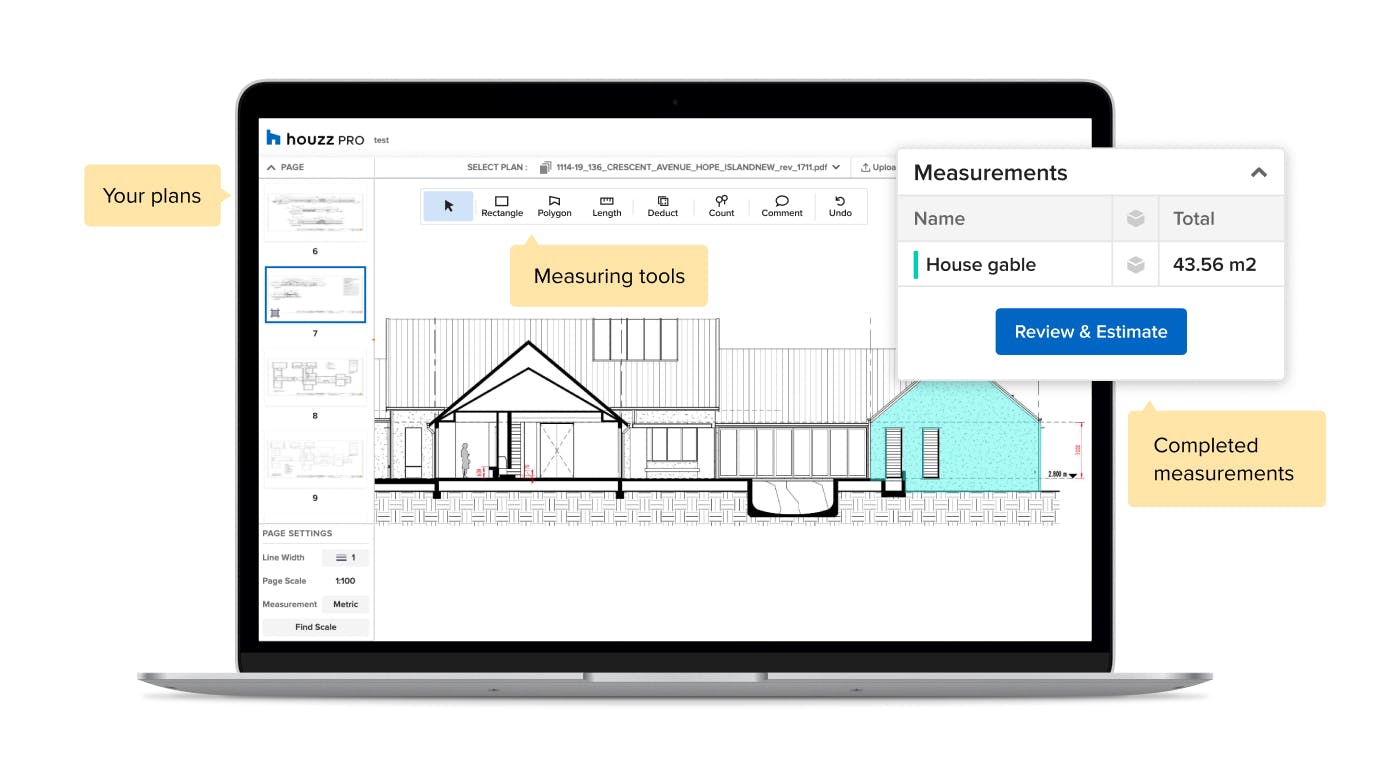 Step 3 - You're ready to start your takeoff, it's that easy!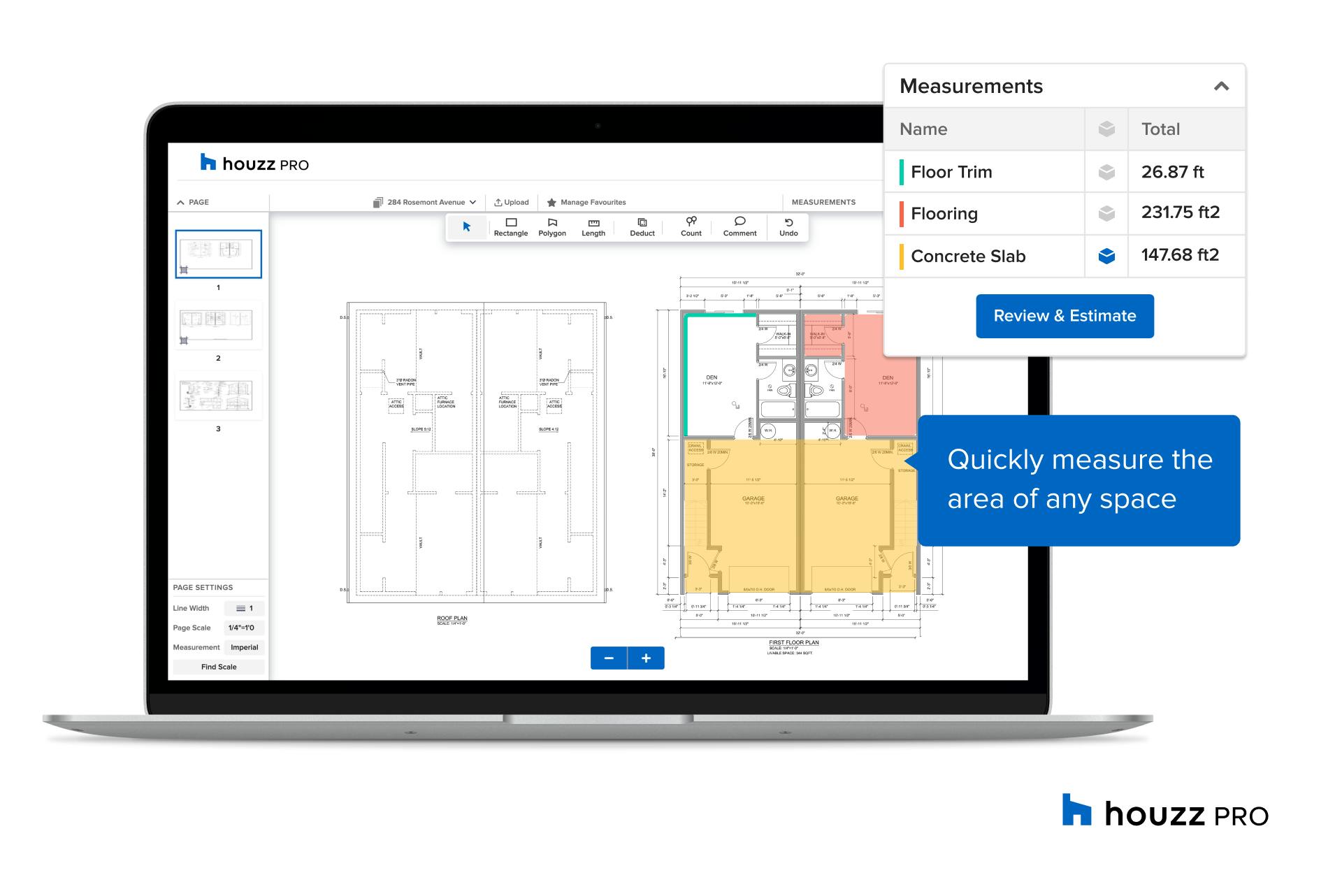 Tips on using Houzz Pro Takeoffs
Houzz Pro Takeoffs will allow you to measure and count everything you need to put an estimate together. Measure the area needed for a concrete slab, add the depth to get the volume needed. Find the length of walls from a plan, add in the height to give you the total area for items such as siding, framing or drywall. Quickly measure the roof area, add in the pitch factor to get the actual area of the roof, these are just a few examples, the possibilities are endless.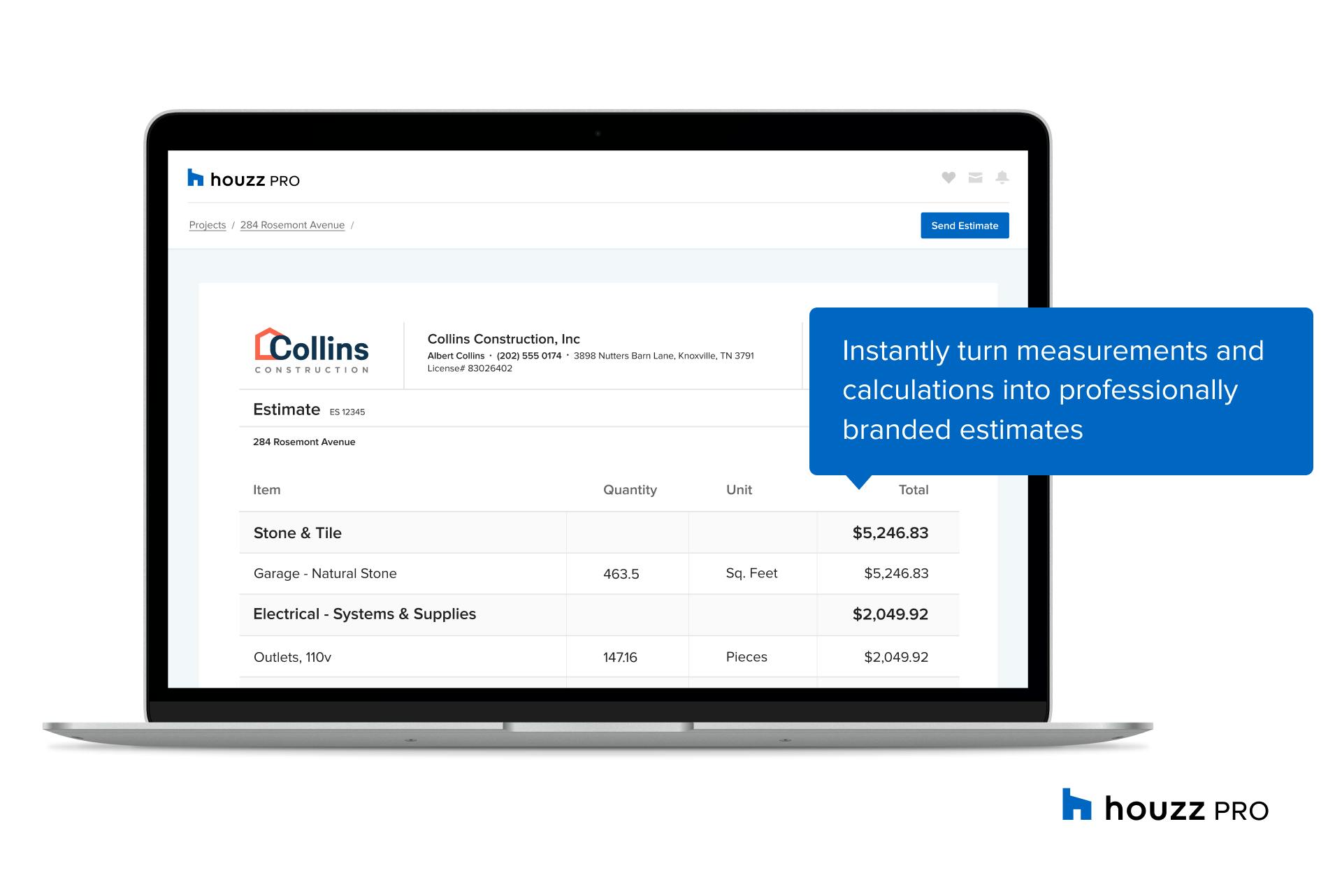 When you're finished measuring, click through to 'estimate' where you can add your costs and use the efficient Houzz Pro estimating feature to send out a professional quote on company letterhead.
We also give you the option to send the marked-up plans so you can show the client how much effort has gone into preparing the estimate. This is sure to set you apart from competitors, wow your clients and win you more jobs.  
"Houzz Pro Takeoffs cut my time spent estimating in half. It gives me more time to run my business and be with my family," said Kory Robison of Robison Home Builders, Orem, Utah.
To sum it up, utilizing Houzz Pro Takeoffs will help you save time and win more bids to help maintain positive client relationships and protect your business reputation. Takeoffs are part of every Essential or Ultimate Houzz Pro plan. Start your Free Trial today and revolutionize the way you run your construction business. 
Join the conversation by commenting or asking a question below. The Houzz team reads every single comment, and we'll get back to you by email if you need us!

Want advice delivered to your inbox?
Unlock industry insights and updates for contractors and design pros
By signing up, I agree to the Houzz Terms of Use and Privacy Policy and that Houzz may use my information to contact me about relevant content, products, and services.