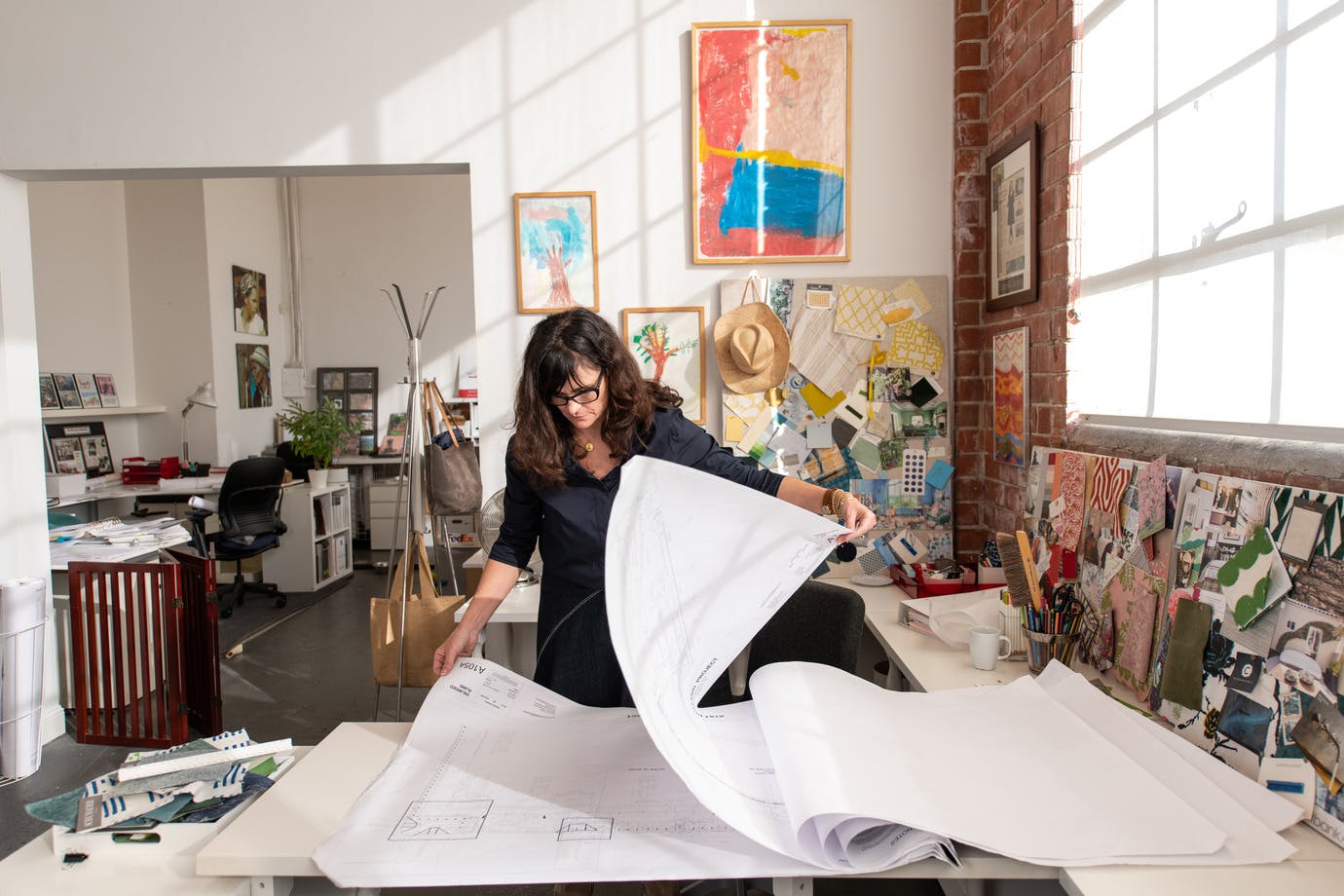 The main difference between an interior designer and an architect is that interior designers focus on designing the aesthetic and human aspects of an interior space (i.e. how it will look and how it will be used) while architects focus on designing the actual structure of a building or space (both inside and out). While an interior designer and architect have some overlapping areas of responsibility and common similarities in their training, these two careers are very distinct.
We'll delve into far more details about being an interior designer vs. architect in this article, covering everything from education and qualification requirements, to salary, job outlook and work environment differences and more. Click a link below to jump to the section you're most interested in: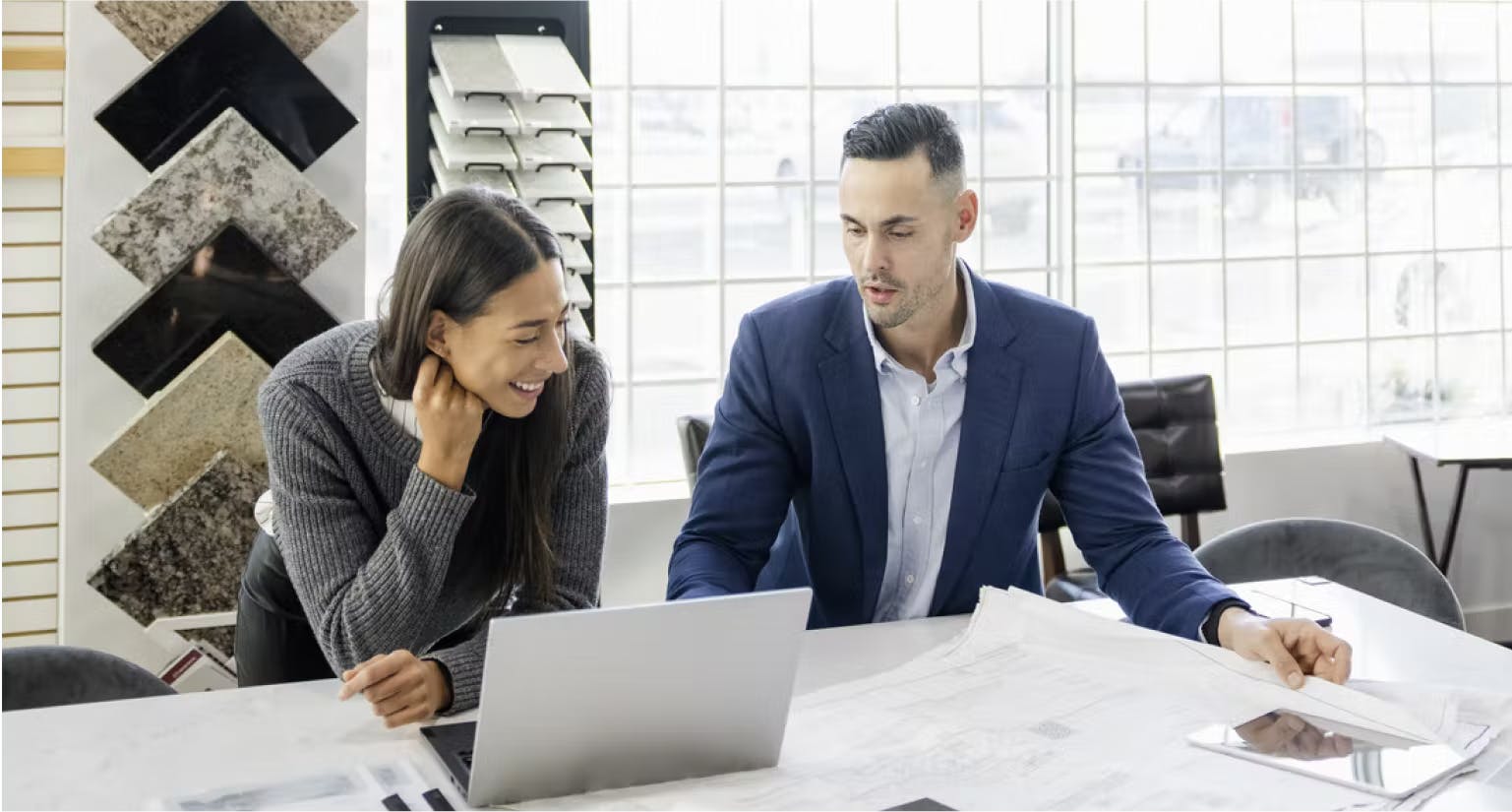 How to choose between interior design vs. architecture
Beyond the basics, what is the difference between an architect and interior designer? Let's dive in further. While aesthetics are essential to architectural design, architecture is a highly technical field involving the structural design or redesign of interior and exterior buildings and spaces. This work involves complex measurements, designing the placement of rooms, drafting blueprints, using computer-aided design software, incorporating the interstitial space of a building for mechanical systems such as heating and cooling in designs, ensuring that the building is structurally safe and working with contractors and builders to achieve these ends. And to be an architect in the US, for instance, a license is required while it is not to be an interior designer.
So, is an interior designer an architect? The short answer is no, though there are some shared traits. Interior designers are primarily focused on the aesthetic aspects of interior spaces and understanding how the space will be used to make it both visually appealing and functional. This type of work includes selecting furnishings, decor, artwork, lighting, fixtures, flooring materials, window treatments, paint, wallpaper, rugs, carpeting and even indoor plants to create a cohesive design that achieves the client's visual and practical objectives. An interior designer might also have aesthetic specializations for interior spaces, like color consultation or lighting design, that an architect wouldn't necessarily specialize in. While an interior designer may address certain architectural aspects of a project (such as removing a wall) if they've taken training in this area, they will need to consult with a building contractor or architect to ensure safety in these cases. 
Still, whether working in interior design or architecture, there are key commonalities amongst these two roles. Both careers involve working with clients to achieve a design vision, collaborating with various stakeholders (contractors, vendors, etc.), project management and overseeing the implementation of one's designs in real form. What's most alike in both professions, though, is the attention to aesthetics and artistic detail. While architecture is concerned, in part, with the look and design of the building or space itself, interior design focuses on the look of what fills each room inside and brings a space together — both careers require creative talent, artistry and a passion for design.
If these aspects of being an interior designer or architect resonate with you, ask yourself what you're most drawn to. Is it focusing more on the creative details and finishing touches of a room or space, or does taking a more high-level approach and designing the entirety of a building or interior space appeal to you more? Which skills do you currently have or feel you can develop to be successful in one career path or another? Read on to learn more before deciding on a career in interior design or architecture to see what's right for you.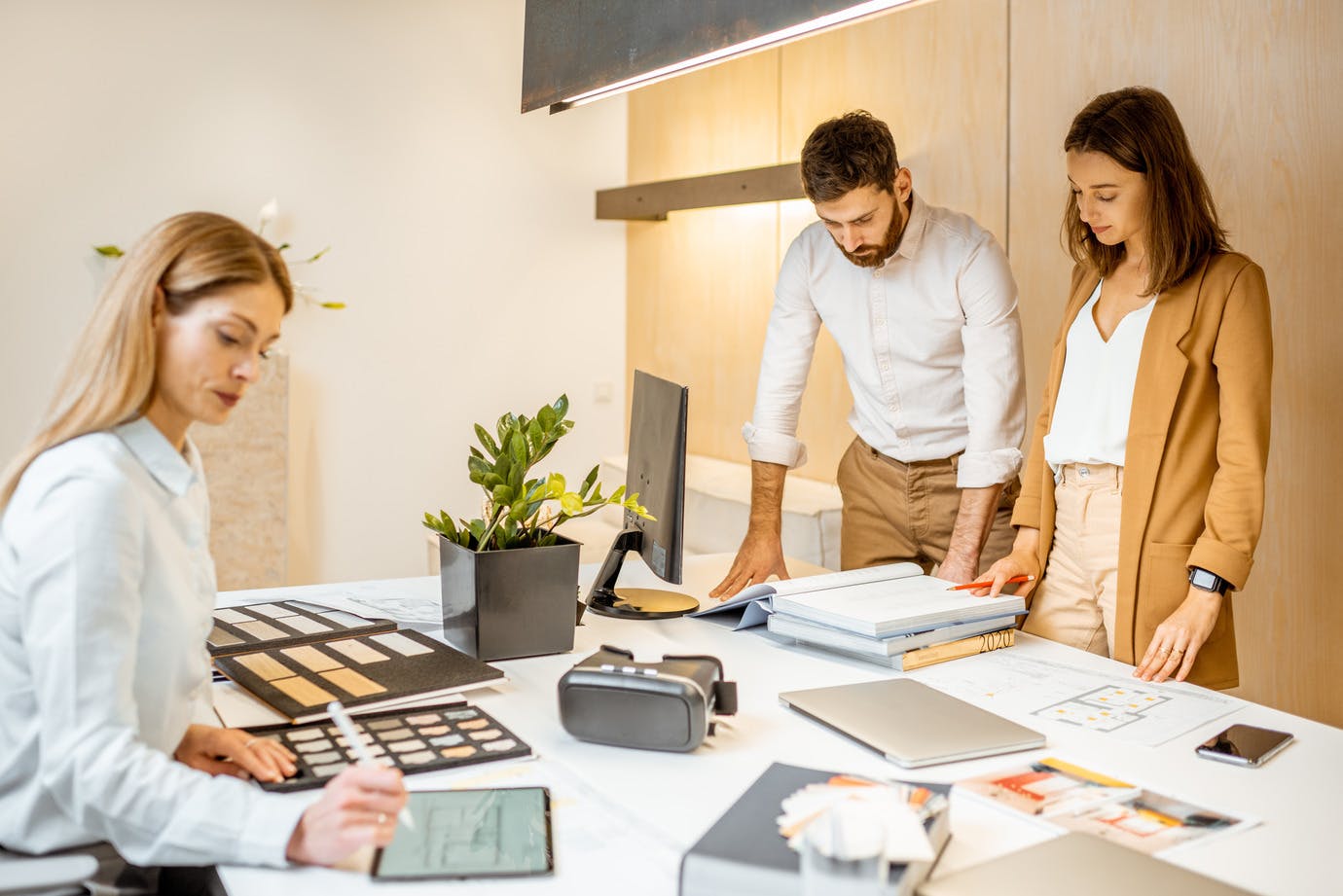 Are interior architects and interior designers the same thing? 
To put it succinctly, interior architects and interior designers are not the same, and it's very important to know the difference. So let's explore the ins and outs of what's meant by the terms interior designer vs. interior architect.
Interior designers who refer to themselves as interior architects will have some education and training in architectural studies, such as building construction, codes, structural theory and other courses. However, unless they've received their bachelor's degree in architecture and are registered as a licensed architect, these designers can not technically refer to themselves as "architects." While they may be able to consult and initiate designs on architectural matters, their work will still need to be overseen to assure it is structurally sound by a fully trained and licensed architect. 
Architects who use the term "interior architect" on the other hand are expressing their trained and licensed qualification in architecture with a focus on the design and construction of interior spaces. Their expertise may also overlap with interior design if they've pursued sufficient training in this area and desire this additional focus in their work. 
You might also be wondering, do interior designers work with architects? In terms of a project's workflow, interior architects are typically involved in all project phases to ensure structural integrity and assess the execution of the design in real time. Interior designers, meanwhile, contribute their efforts toward the end of a project once the space has been completed. Still, an interior designer and interior architect will collaborate along the way so that the interior designer can develop their concept for the space within the confines of the architect's plan and layout. If, however, there are no architectural changes being done to an interior space or the space has already been completed, then an interior designer wouldn't need to work with an architect in these types of projects.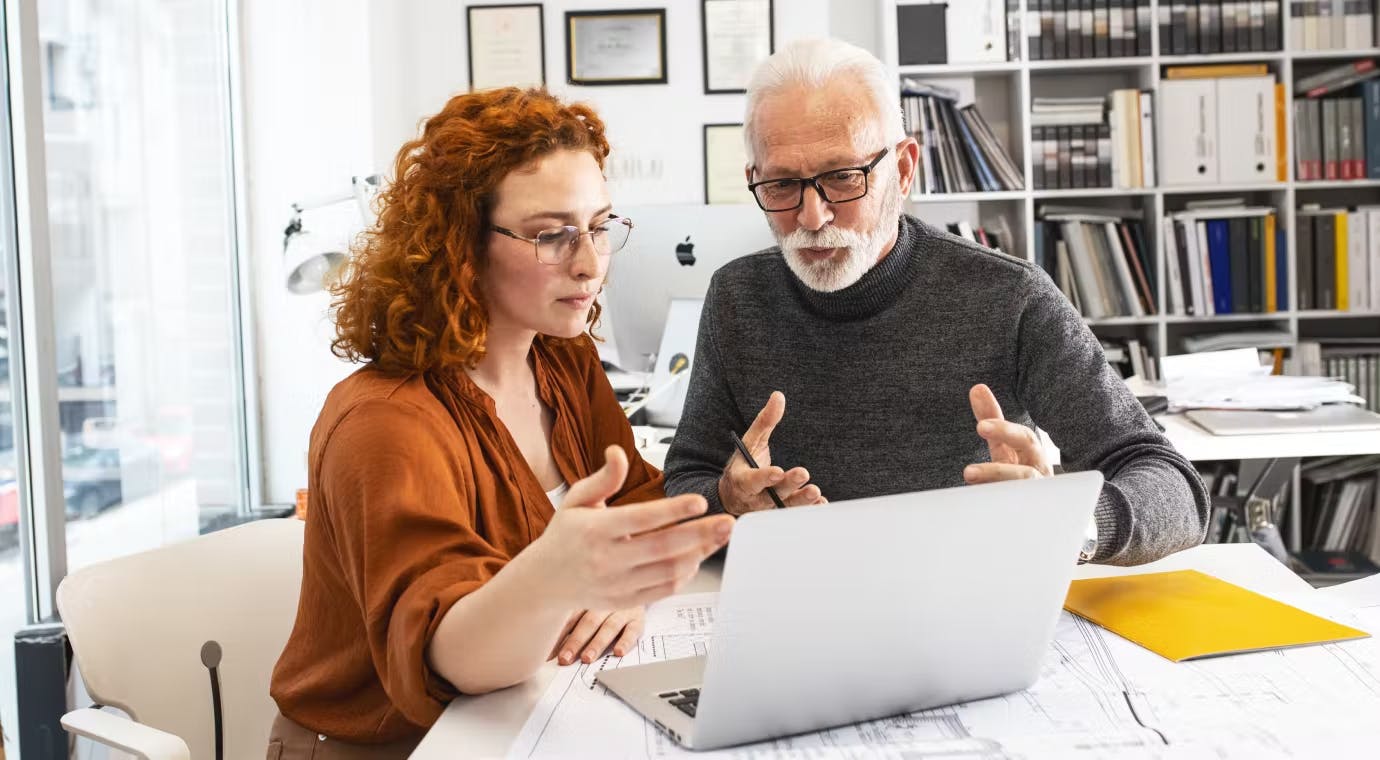 Education difference for interior designers vs. architects
Here are the key interior designer and architect differences regarding educational requirements for these career paths.
Interior designers
Becoming an interior designer requires no formal education or a degree. While pursuing an associate, bachelor's or master's degree can help advance one's career, particularly when desiring to work in larger firms, it's possible for you to become an interior designer without a degree or start your own business through your own professional development. If you're interested in a more formal route to interior design education, check out these top interior design education programs.
Architects
In the United States, architects are required to obtain an undergraduate degree in architecture, called a B. Arch., which typically takes five years of study to complete. Those wanting to pursue a master's degree in architecture, an M. Arch., must first possess a bachelor's degree in any field. Completing an M. Arch. takes approximately two to three years.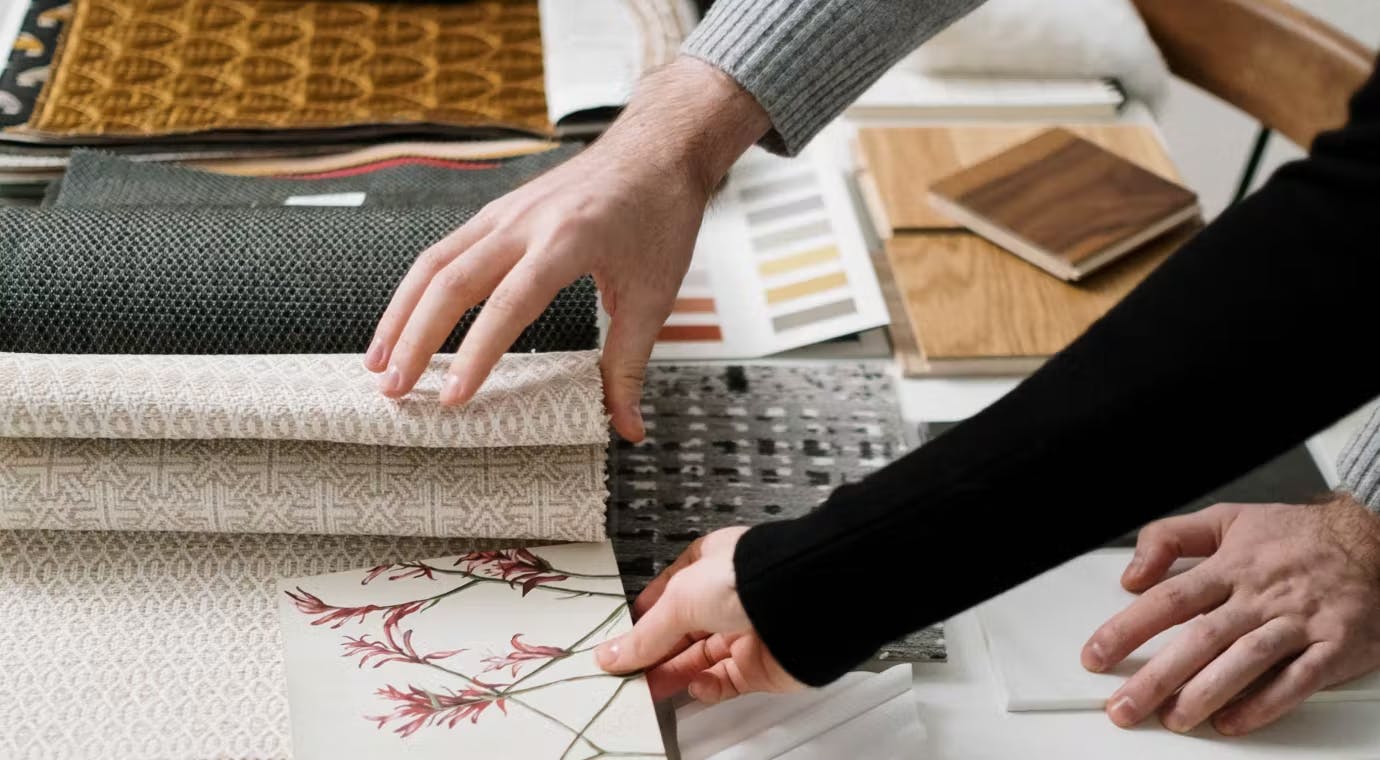 Qualification differences between architects and interior designers
When deciding to be an interior designer vs. architect, it's important to also know the different qualification requirements or preferences.
Interior designers
While a license isn't needed to work as an interior designer in any U.S. state, several states, Washington D.C. and Puerto Rico require that you are registered if you'll be working unsupervised in commercial spaces. About half the states also offer the option to become certified or registered as an interior designer. Though this isn't required, doing so can help you stand out in the field, increase job opportunities and client confidence. In addition to state licensing, you can also seek national certification, such as by the National Council for Interior Design Qualification, or in certain areas of expertise like sustainable design. Get the full scoop in The Ultimate Guide to Interior Design Certification. 
Architects
Beyond the education, there are a few more qualification requirements to becoming a fully fledged and licensed architect. Aspiring architects will also need to complete an internship under the guidance of a licensed architect, pass the Architect Registration Examination, then once all state requirements are met, submit an application with proof of all details included. Like interior designers, architects can also pursue certification in niche areas of focus to enhance their specializations.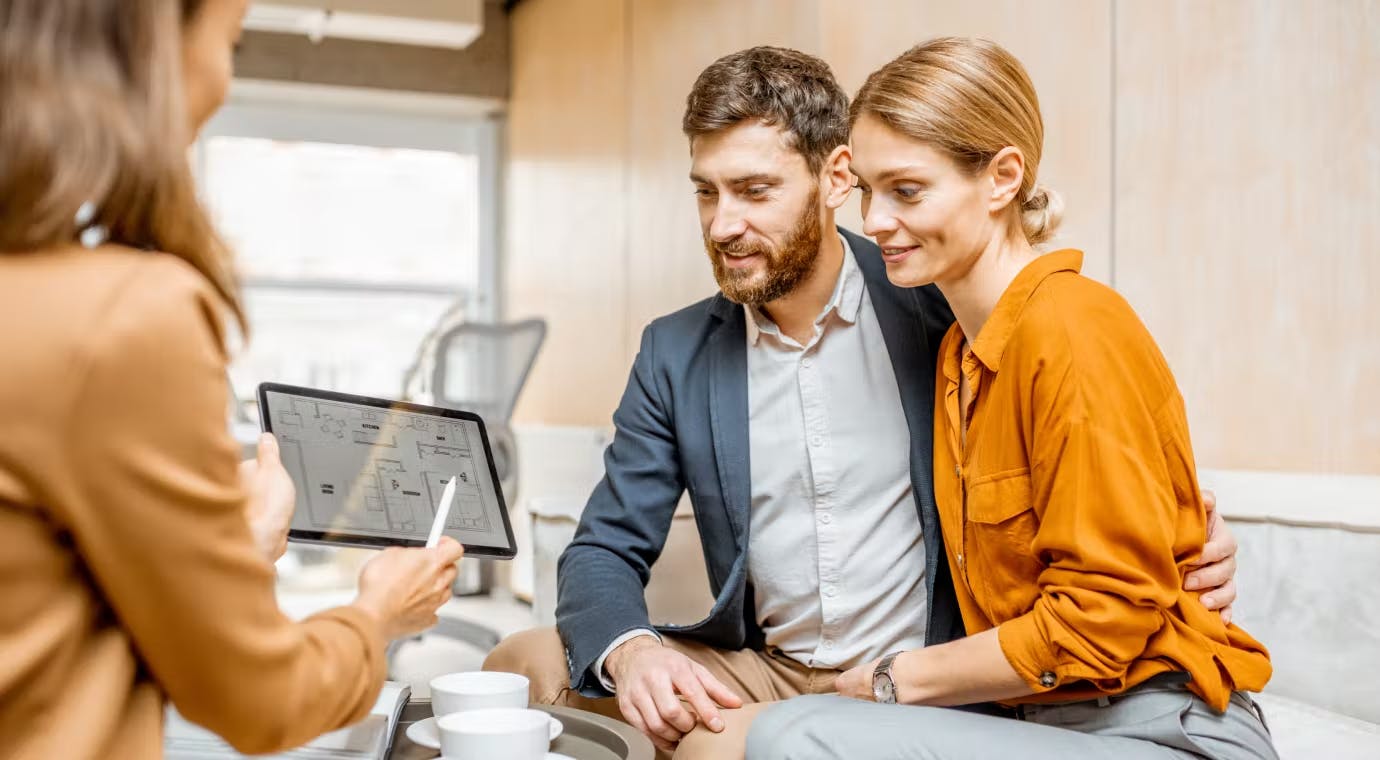 Interior designer vs. architect salary comparison
In terms of an interior designer vs. architect salary, it makes sense that an architectural career will typically compensate more in the long term given the educational and licensure requirements. Still, interior designers can earn substantially well throughout their career depending on their specializations, whether they work for themselves or in a larger firm, where and how they market themselves and their services and so on. 
According to Indeed, the average base salary for interior designers in the U.S. is $54,666. For architects, the average base salary in the U.S. is $106,300. View What is an Interior Designer's Salary in 2022 for even more details.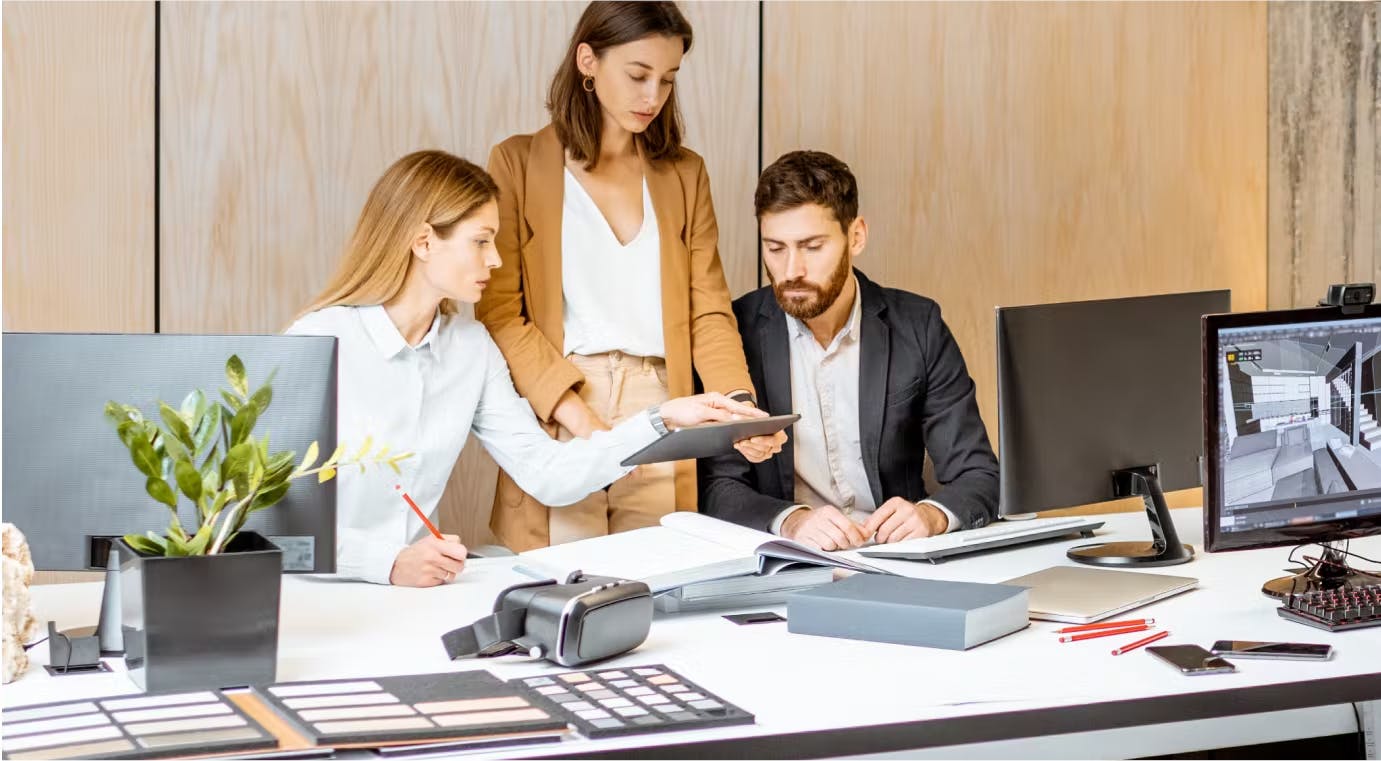 Interior designer vs. architect roles & responsibilities
Interior designer responsibilities
Meeting with clients to assess their design and functional needs, aesthetic preferences, budget and timeline
Sketching or using computer-aided design software
Project planning and project management
Sourcing and ordering materials, furnishings and decor
Collaborating with various stakeholders (architects, contractors, etc.)
Designing and implementing a visually appealing and functional interior space
Architect responsibilities
Meeting with clients to assess their design and functional needs, aesthetic preferences, budget and timeline
Sketching, measuring, drafting blueprints, using computer-aided design software
Meeting building codes, regulations and ensuring structural safety
Project planning and project management
Collaborating with various stakeholders (engineers, contractors, plumbers, roofers, etc.)
Designing and implementing a visually appealing, functional and structurally sound building or interior space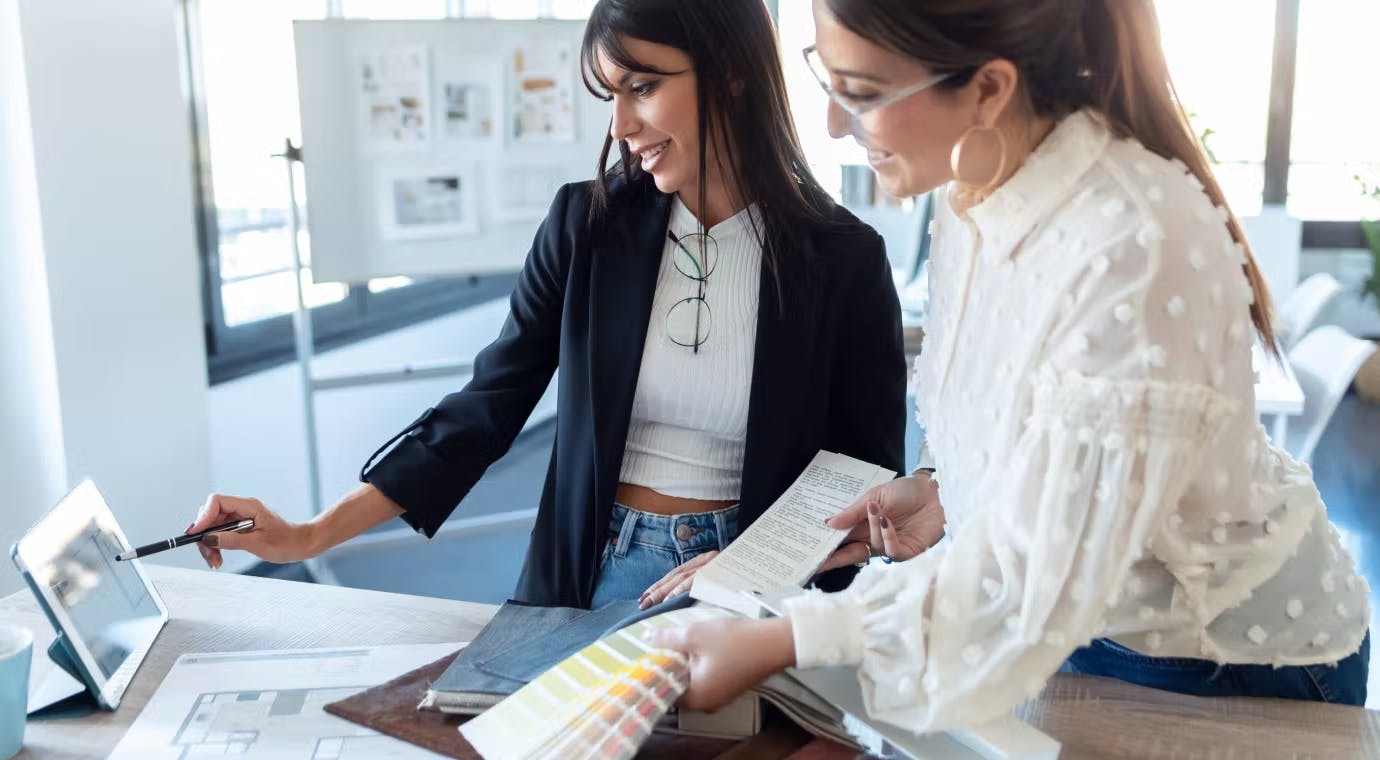 Do interior designers and architects have different work environments?
Interior designers and architects definitely have some overlap in their work environments with some differences. Architects typically spend half their time in the office, designing and planning, and the other half on the job site working directly with builders and construction professionals. Interior designers also spend about half their time in an office doing design work and project planning, while also spending a good deal of time meeting with clients, vendors, sourcing materials and then finally working on or overseeing the actual installation of their design within the space. View Where Do Interior Designers Work for a more detailed breakdown of work environment options.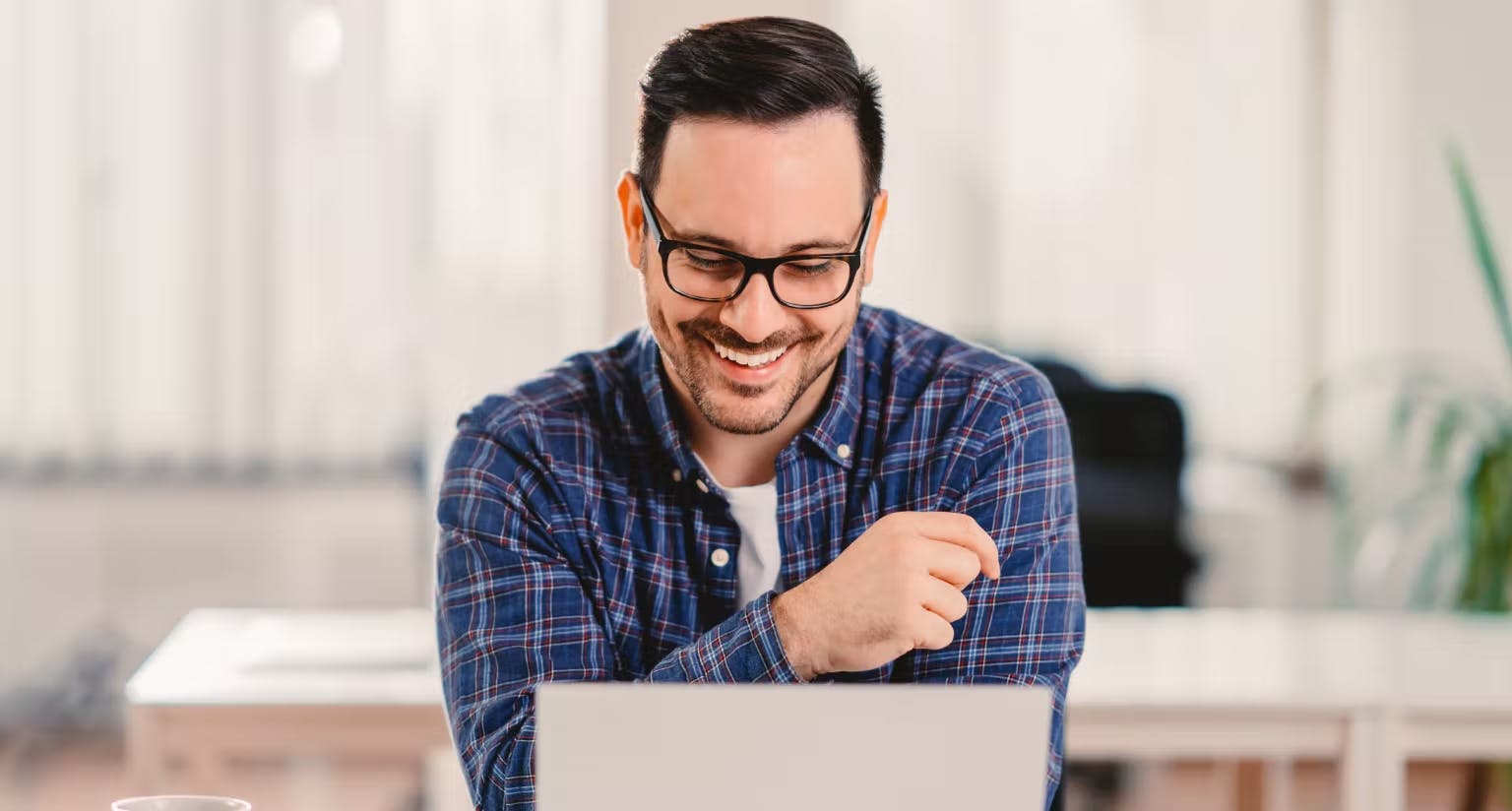 Do interior designers have a better job outlook than architects?
When it comes to the job outlook of interior designers and architects, the difference is very slight. The U.S. Bureau of Labor Statistics projects that through 2030 there will be little or no change (0%) in the job outlook for interior designers. Architects on the other hand will experience slow growth (3%) through 2030. Check out Are Interior Designers In Demand? to learn more.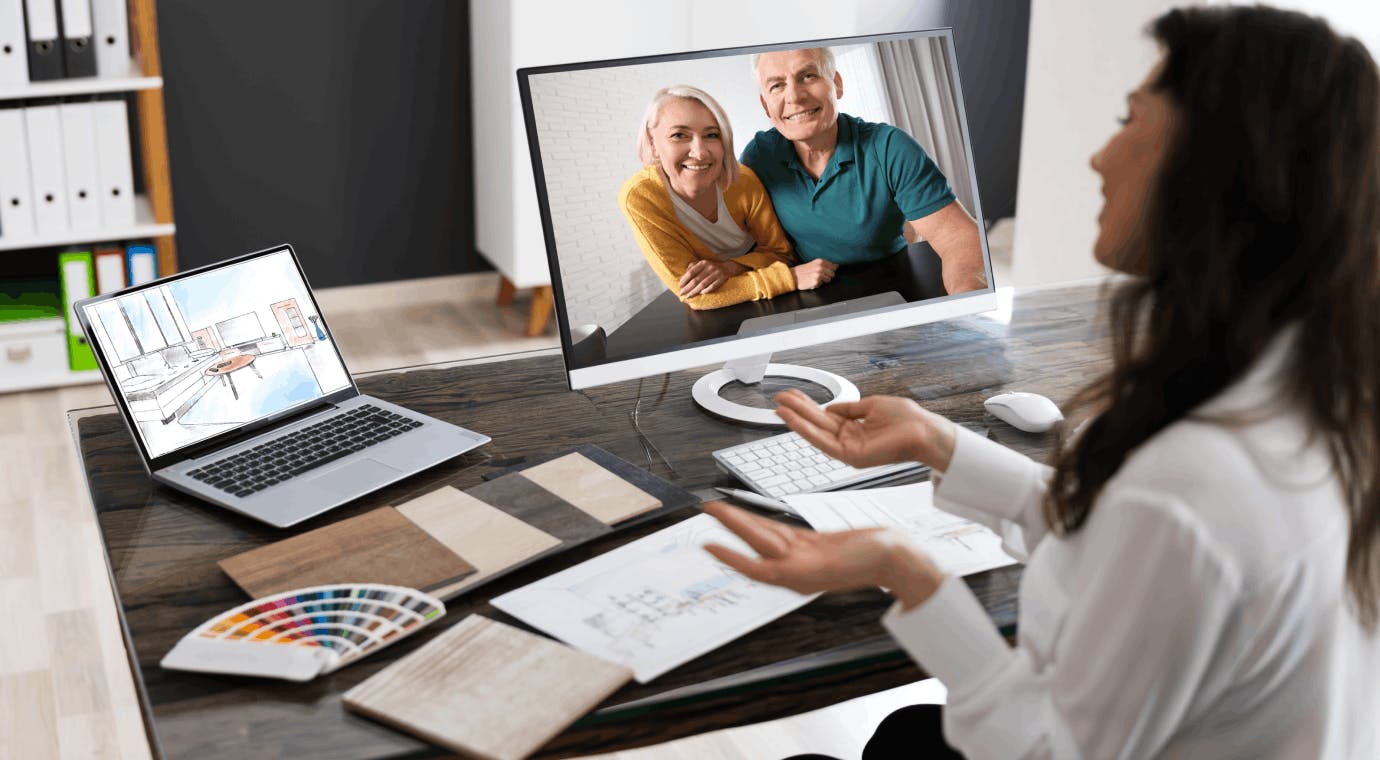 Conclusion
Whether you decide to become an interior designer or architect, you'll be in a highly creative and rewarding field that allows you to express your talents and passion for design. As you consider your choice, revisit the differences in education, qualification, responsibilities, salary, job outlook and work environment we covered to see what's best for you and your goals. 
Read Interior Designer vs. Decorator: Which Is The Career For You? to learn more and continue exploring your career options.
Join the conversation by commenting or asking a question below. The Houzz team reads every single comment, and we'll get back to you by email if you need us!

Want advice delivered to your inbox?
Unlock industry insights and updates for contractors and design pros
By signing up, I agree to the Houzz Terms of Use and Privacy Policy and that Houzz may use my information to contact me about relevant content, products, and services.