If you're considering becoming an interior designer, it's helpful to know the types of work settings you'll be in and what your options are — whether working at a firm, retail business or working for yourself. In this article, we'll describe the various work environments that interior designers work in, including roles and responsibilities and approximate hours worked. We'll also cover whether interior designers work from home and what the work environment is like for an interior designer who travels. Get started by listening to real pros as they discuss their work environment in the video above.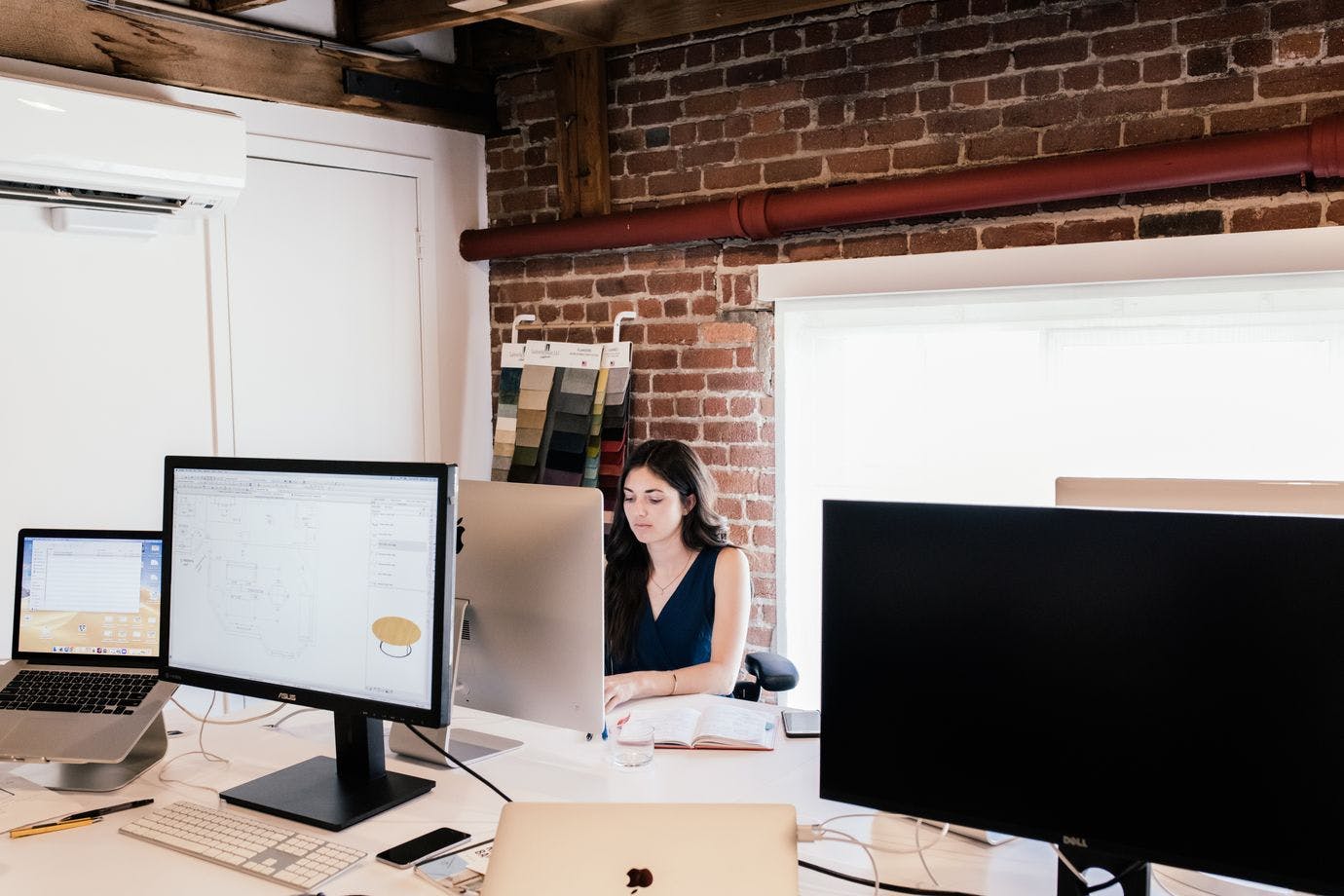 Interior Design Firms
When starting to discuss where interior designers can work, it should be noted that the vast majority of interior design professionals surveyed by Houzz in 2022 reported working in an interior design firm. Here was the full breakdown:
Interior design firm 91%
Design-build firm 2%
Architectural firm 0%
Retail corporation 1%
Wholesale trade company 0%
Other 6%
92% of those that work at interior design firms also reported being an owner of the firm.
Interior design firms can vary in size, from smaller studios with just a few designers, to mid-sized firms with anywhere from 20 to 40 or so people, to larger firms with up to 100 or more designers. You can also anticipate a range of work environments depending on the size of the firm. These can include anything from less formal open offices with shared communal space to vast office suites in multistory buildings with conference rooms, cubicles or designated office spaces, a cafeteria, etc. No matter the size, the office setting where interior designers work will almost always be pleasant and up to contemporary standards for lighting, technology needs and ergonomics.
Most interior designers will work between 41-50 hours per week, though a good portion of this time may be spent away from the office meeting with clients and contractors or obtaining materials. Other responsibilities may include making floor plans, shopping at wholesale retailers, creating presentations and presenting to clients, drafting proposals, and helping to install or oversee the installation of furnishings. 
Architectural firms
Interior designers working for architectural firms can find themselves working with anywhere from just 10 or so colleagues to hundreds or well over a thousand, depending on the firm. The office environments between interior design firms and architectural firms will be similar, as well as the hours worked each week. The same goes for roles and responsibilities, though interior designers in these firms may work more closely with their architect colleagues. In very large firms, interior designers may spend less time with clients, on the project site or obtaining materials themselves as these tasks may be designated to account managers, project managers, assistants or others within the firm. Read our take on how interior designers work with architects if you're curious to hear more about the interior designer-architect relationship.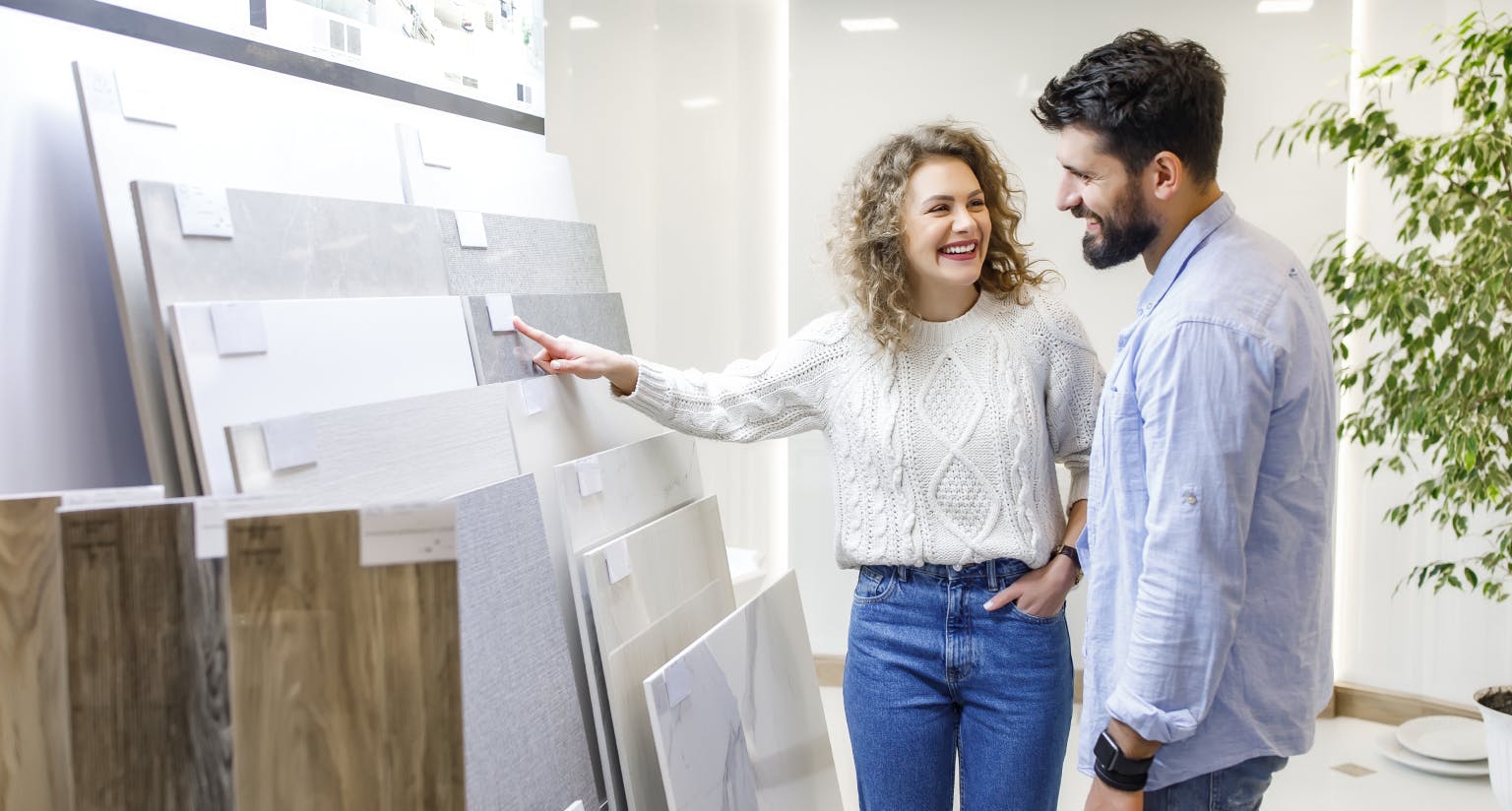 Interior designers may work at retail businesses
Wholesale trade companies
The environment for interior designers working at wholesale trade companies will typically be in a larger warehouse space and showroom to accommodate and display the retail products sold and that also includes offices where designers can engage in focused work. Responsibilities may include wholesale showroom design, lighting design, colorist work, sales management and more. Hours typically worked are 40 per week including some weekend work. 
Furniture stores
Interior designers working at furniture stores will work on site in a retail environment. Responsibilities can include retail store design, retail visual merchandising, home design consulting, colorist work, lighting design, sales management and more. The hours typically worked in this environment are 40 per week including weekends.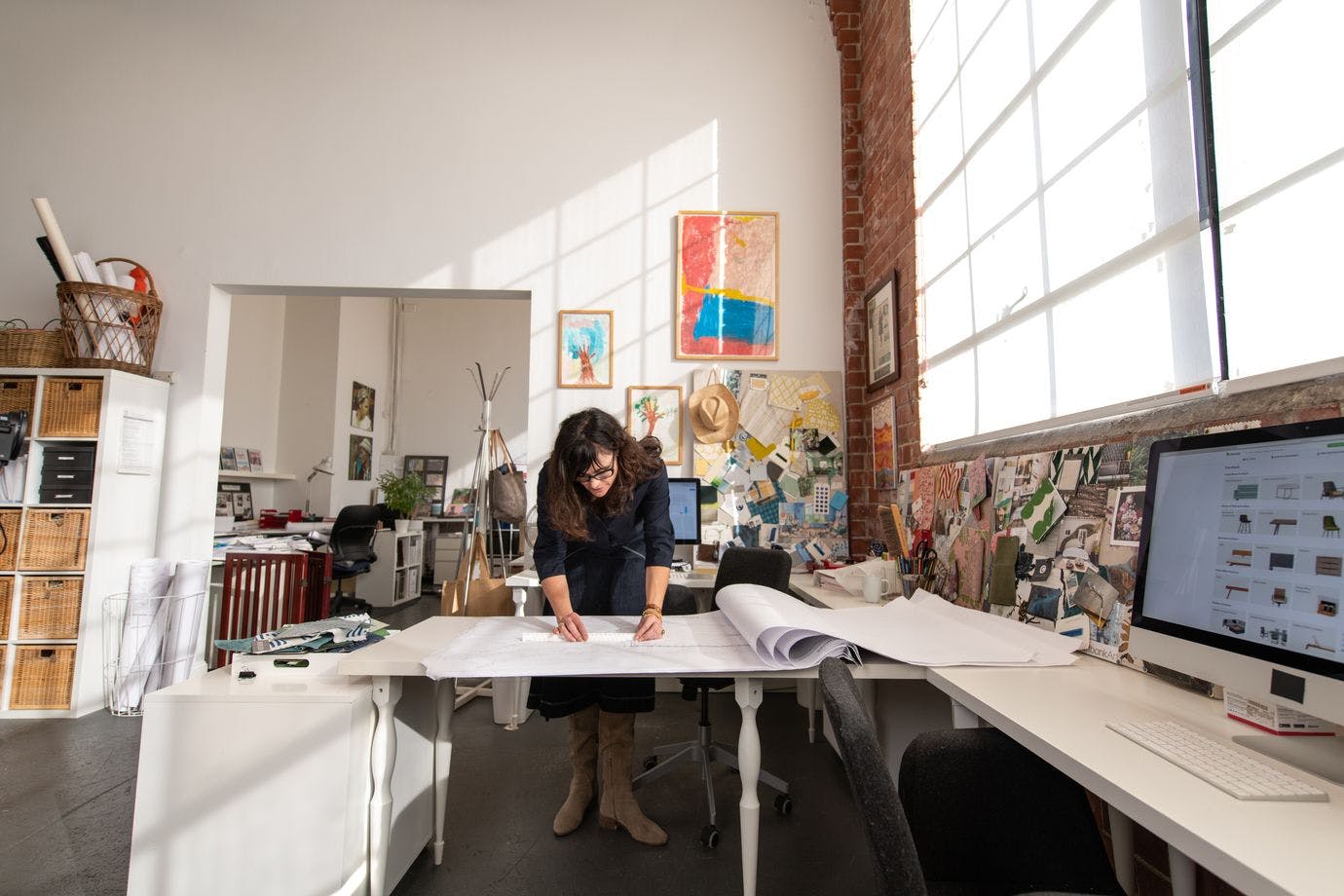 Interior designers may work for themselves 
Freelance interior designers who are self-employed can work in a variety of settings: their home office or studio, a shared coworking space, at their favorite coffee shop, and also on site with clients, contractors and shopping for materials. For freelance interior designers who employ other designers or staff, work will typically be done together in an office, though hybrid work (at home and in office) may also be an option. Having other team members means that some employees may be on site meeting with clients, while another designer shops for materials and so on, so there will be times when you work alone and work together. 
Whether self-employed and working by yourself or if you employ other people, interior designers who work for themselves clock around 30-50 hours each week according to a 2022 study conducted by Houzz. They are responsible for design work, as well as the day-to-day operation of their business, marketing, IT, accounting, taxes and more. If employing others, managing human resources and payroll will be other necessary tasks.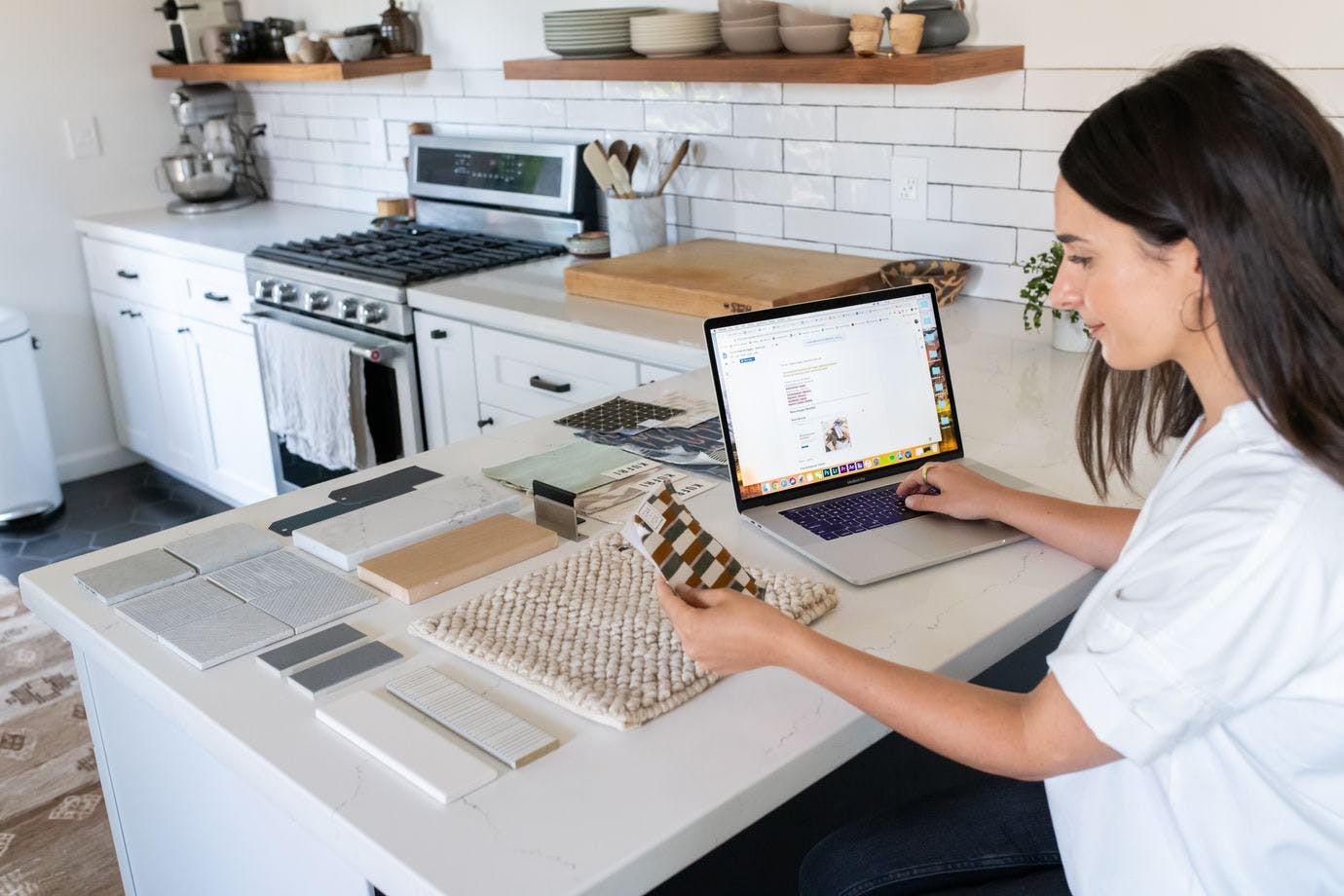 Can an interior designer work from home?
In this era of remote work, you may be wondering, "Do interior designers work from home?" The short answer is yes. Some interior designers work from home and have the option to do so, though this can vary depending on your work setting and type of business. 
Interior designers who work for themselves have the most flexibility in terms of working from home. Designers who work for larger interior design or architectural firms may be able to take a hybrid approach, working in the office some days or for a portion of some days, then at the office the remaining time. Designers who work for retail businesses may have the least flexibility with working from home due to the more hands-on nature of this setting and need to be at the company site or store. 
No matter which type of setting, however, most interior designers will spend some time outside of "the office" meeting on site with their clients, procuring materials and performing other duties.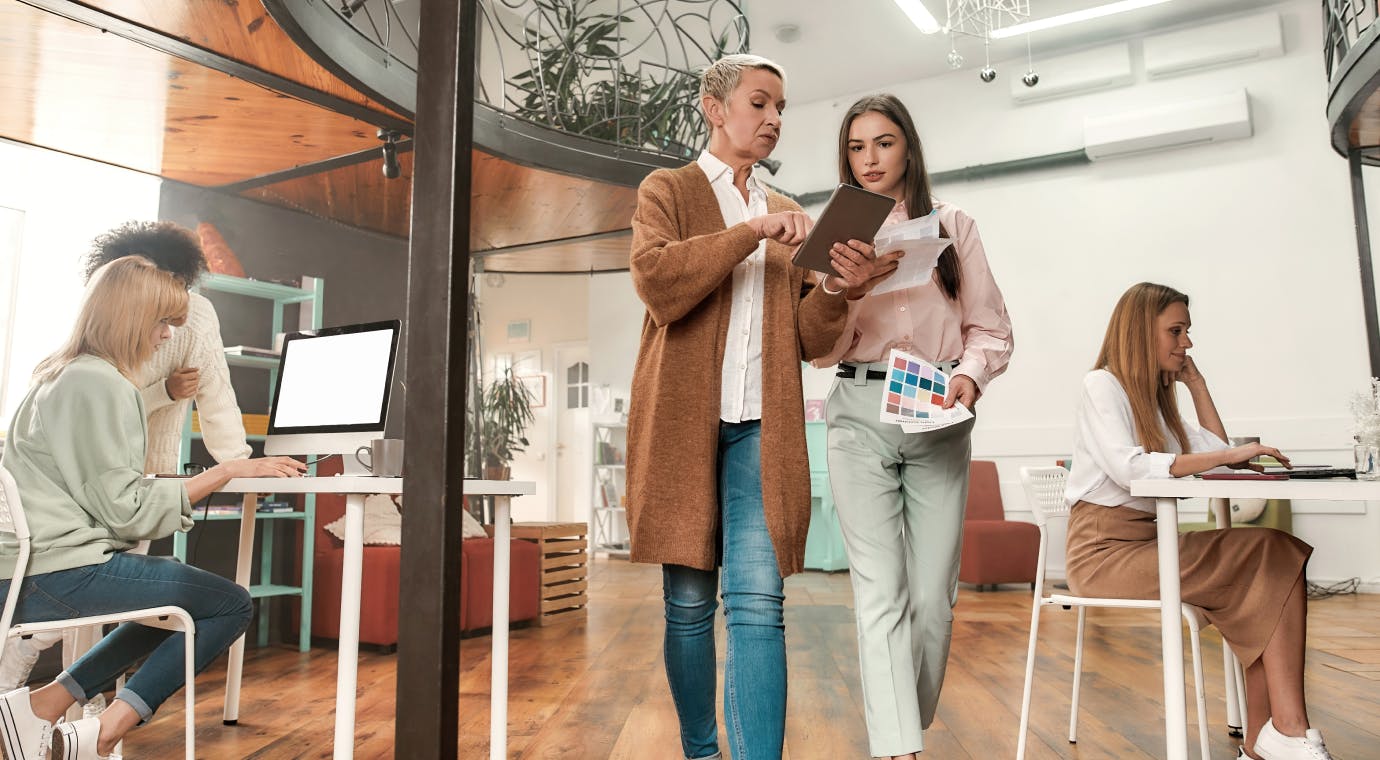 What is the work environment for an interior designer who travels?
Depending on what position an interior designer holds, the types of clients they serve and where they work (for a firm, retail business, self-employed, etc.), additional travel may be involved. 
Traveling to see clients
Self-employed interior designers and those who work at firms will typically travel within their city/town or region to meet or work with their clients on site. Some interior designers, if they're in high demand or work for a high-profile firm, can also travel outside of their state or even country to see clients. Designers who work retail may usually meet clients in the store or wholesale company setting and less frequently travel to see clients on site. 
Traveling to trade shows
Retail interior designers can travel to trade shows to set up exhibits, displays and facilitate trade show marketing and sales. Self-employed interior designers or those who work at firms typically travel to trade shows to view the latest trends, build partnerships and more. Trade shows are often at a distance — either in another city or state — and take place throughout the year.
Traveling to visit manufacturers
Interior designers who work in larger firms and self-employed designers may travel to meet with manufacturers and view their products. Interior designers who work in retail settings can also travel to meet with manufacturers if their role requires procurement. Where designers travel depends on the location of the manufacturer, so the distance and setting can be varied. For most designers, this kind of travel will be within the same region or state. 
Traveling to showrooms or design centers 
Self-employed interior designers and those who work at firms will often travel to showrooms and design centers for procurement of furnishings and materials. The distance traveled will vary based on the needs of the client and clients served by your business or firm.
Traveling to conferences
All types of interior designers may sometimes travel to conferences to present their work and network with colleagues, though presenting will typically be more common for more senior level designers. Conferences can take place anywhere and provide great opportunities for learning and advancing your interior design career. Explore our list of Interior Design Communities and you're sure to find information on communities that host conferences where interior designers may travel to.
Conclusion
Now that you know more about where interior designers can work, you'll be able to make an informed decision for yourself and your career. Delve even deeper into the time commitment required per day and per week as an interior designer in our next article, How Many Hours Do Interior Designers Work?
Join the conversation by commenting or asking a question below. The Houzz team reads every single comment, and we'll get back to you by email if you need us!

Want advice delivered to your inbox?
Unlock industry insights and updates for contractors and design pros
By signing up, I agree to the Houzz Terms of Use and Privacy Policy and that Houzz may use my information to contact me about relevant content, products, and services.