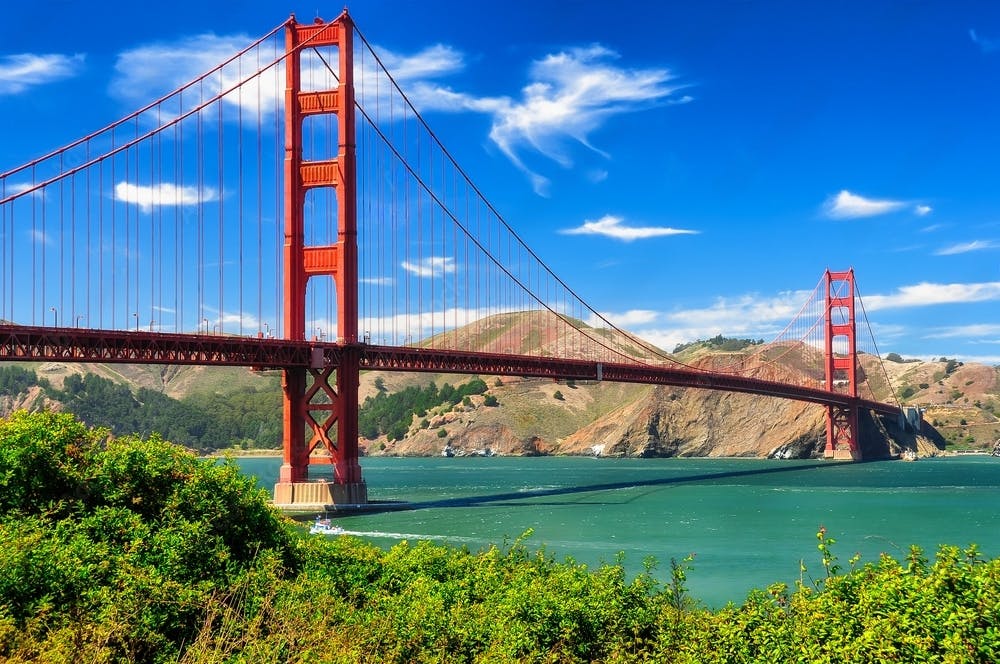 Looking to work as a general contractor in the state of California, but not sure where to start? With requirements and regulations varying from state to state, it's easy to get confused and overwhelmed. We've broken down everything you need to know about how to get a general contractor license in California. 
Who issues a general contractor license in California?
The California Department of Consumer Affairs Contractors State License Board (CSLB) is the governing body for general contractor licensing in California. 
Do I need a contractor's license in California?
The CSLB requires any business or individual looking to make alterations or constructions to any structure in California to obtain a license, only if the total cost of one or more contracts on the project exceeds $500.
What are the different types of general contractor licenses in California?
California has multiple types of contracting licenses you may apply for:
A: General Engineering License
B: General Building Contractor License
C: Specialty Contractor License
Most general contractors should apply for Class B: General Building Contractor.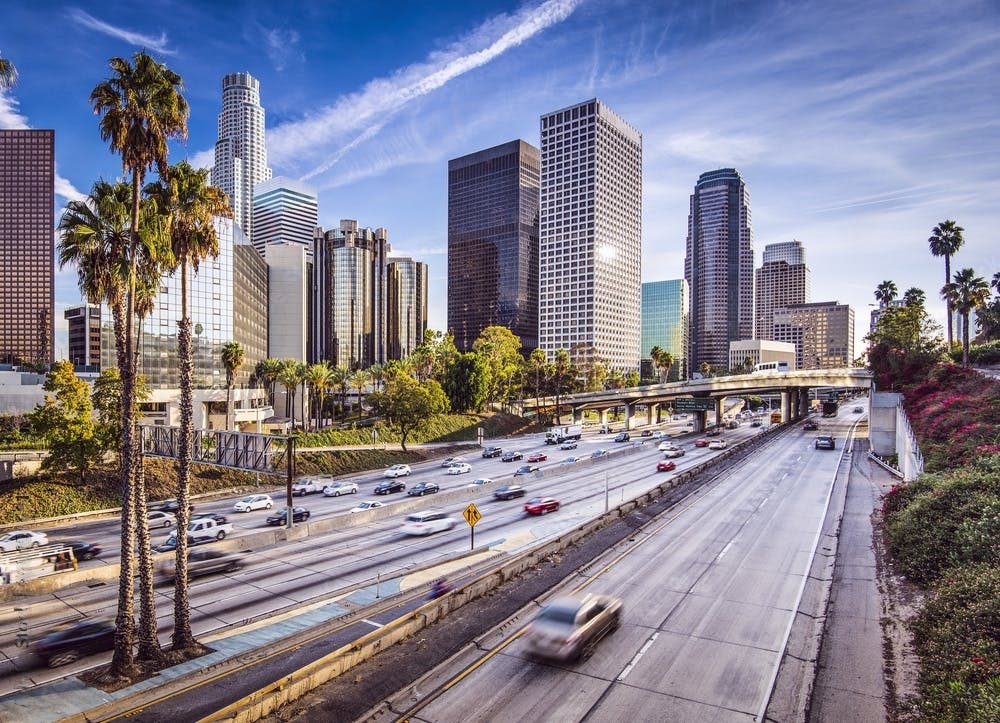 How to get your general contractor's license in California step-by-step
1. Meet the basic requirements
Each applicant must meet the California General Contractor's Licensing requirements, which are as follows:
Be over the age of 18 years old
Have a valid Social Security number or  individual taxpayer identification (ITIN).
Have at least four years of verified industry experience, like working as a journey person, foreperson, or supervising employee. 
If you don't meet the  requirements above, you may supplement it with the following California general contractor license experience requirements:
Up to 1.5 years credit for receiving an Associate of Arts degree from an accredited institution.
Up to two years credit for receiving a four-year degree in economics, business, math, physics or degrees related to trades or crafts related to construction.
Up to three years credit for a Certificate of Completion of Apprenticeship in a contacting-related field.
If you do not meet the above requirements, you may choose someone who does meet these requirements to represent you as your Qualifying Individual (QI).
2. Applying for your exam
Complete the examination application by easy-fill online, or printing and filling out the PDF or order
Mail the application (unless filled out online), along with the non-refundable $330 application fee and certificate of work experience, to the CSLB's headquarters at:  
Contractors State License Board
P.O. Box 26000
Sacramento, CA 95826
3. Take your exam 
Around 3 weeks after submitting your application, you will receive a Notice to Appear for Examination. To prepare for  the California Business and Law exam, check out the official California Business and Law Exam study guide. If you fail to pass or appear for the examination, you will need to pay a $60 rescheduling fee. 
4. Complete a background check
You will also receive a FingerPrinting Live Scan packet, which enables you to submit your fingerprint for comparison by the California Department of Justice and the Federal Bureau of Investigation. If you have committed a crime this doesn't mean your application will automatically be denied. Each case will be reviewed individually, considering factors such as the date and severity of the crimes or evidence of rehabilitation.
5. Submit fees and bonding documents 
Once you have passed your exams, you'll receive a bond and fee notification from the testing site, and the following will be required:
Payment of an initial licensing fee of $200
A California business license and Tax ID  for LLCs or Corporations. Register your business with the Secretary of State. Find out more info here. 
A contractor bond or cash deposit of $15,000
Bond of Qualifying Individual (if needed) of $12,500
Completed asbestos open-book examination
Certificate of Workers' Compensation Insurance or Certification of Self-Insurance of Workers' Compensation from the Department of Industrial Relations.  Find out more info at the the Department of Industrial Relations Division of Workers' Compensation page
Exemption from workers' compensation, if no employees
Fingerprinting requirements
LLC Employee/Worker Bond (if needed)
LLC liability insurance (if needed)
A week after passing your exam, you will receive a wall certificate, which must be displayed in your main office, and a pocket card, which you must carry with you at all times.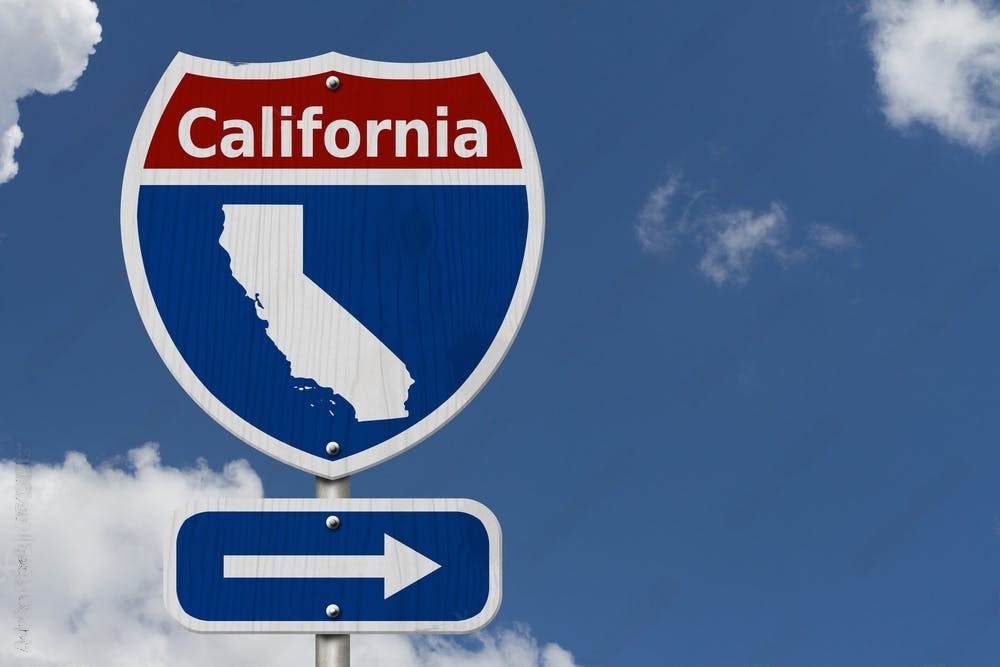 How much does licensing cost in California?
At minimum, it will cost ~$15,000 to become a licensed general contractor in California.
Examination Application Fee — $450.00
Initial License Fee (Valid 2 Years) — $200.00
Live Scan Operator Fingerprint Processing Fee — $49.00
Exam Rescheduling Fee (if needed) — $60.00
A contractor bond or cash deposit of $15,000
Bond of Qualifying Individual (if needed) of $12,500
Additional Live Scan Rolling Fee (if needed)
Tips for passing the California general contractor licensing exam
Plan your visit to a testing center ahead of time so you know where to go and aren't rushed 
Find an exam study guide to complete practice test questions and familiarize yourself with the material that will be covered
Take online practice tests or classes to prepare
Find a few minutes a day to dedicate to studying 
Penalties for unlicensed contractors in California
Practicing without a general contractor license in California will result in hefty fines. First time offenders may face a potential sentence of up to six months in jail and/or a $500 fine, plus potential administrative fines ranging from $200 to $15,000. Repeat offenders may face a fine of between 20% of the contract price to $4,500, plus 90 days in jail.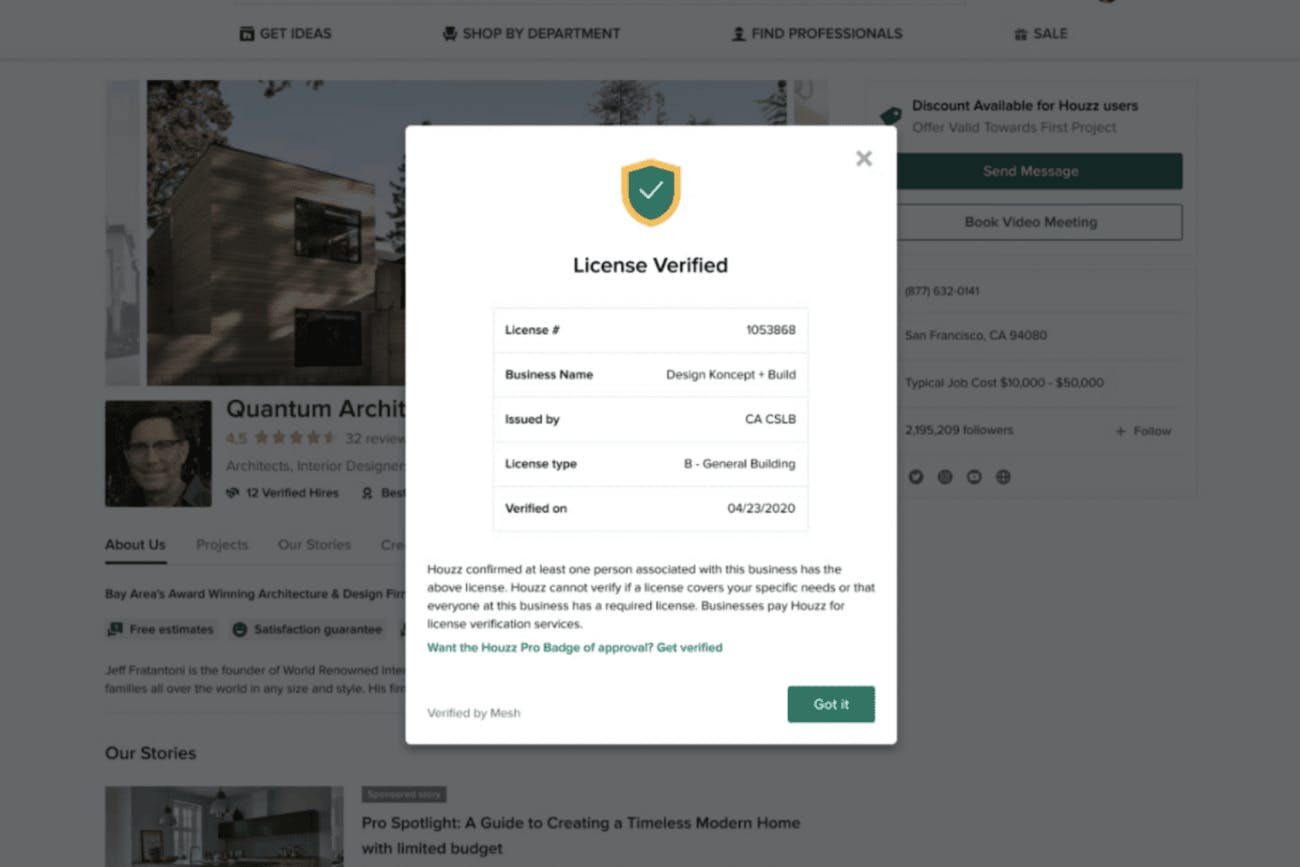 Leveraging your license on Houzz
Now that you know what the requirements are for a general contractor's license in California, it's time to start thinking about how you can promote your license to potential clients.
Everyone who's anyone knows the value of a blue checkmark on social media. That's what the green Verified License Badge is for businesses on Houzz Pro. With one glance, this Badge helps you:
Let homeowners know that your business is licensed by state industry experts.
Stand out from the competition while homeowners consider who to hire
Add credibility to your company name, providing peace of mind to future clients
Here are the steps you can take to add a verified license to your Houzz profile. If you haven't created a free profile on Houzz, sign up today and make a bigger impact with your business' online presence.
Join the conversation by commenting or asking a question below. The Houzz team reads every single comment, and we'll get back to you by email if you need us!

Want advice delivered to your inbox?
Unlock industry insights and updates for contractors and design pros
By signing up, I agree to the Houzz Terms of Use and Privacy Policy and that Houzz may use my information to contact me about relevant content, products, and services.