Homeowners continue to put a high value on updating their bathrooms with a renewed emphasis on making this hard-working room an oasis that is both stylish and functional, our the 2022 U.S. Houzz Bathroom Trends Study shows. 
The survey of 2,570 U.S. homeowners on Houzz shows that while some bathroom trends remain constant, including a strong preference for tiled floors and more spacious showers, there are intriguing shifts in what consumers are seeking in both aesthetics and practicalities.
Think textured wood as the new white, storage friendly vanities in favor of free-standing sinks, a trickling down of the demand for rainfall shower heads — and perhaps even a rethinking of the common wisdom that a bathtub is a must — have to enhance home resale value.
Doubling Down on Bathrooms
"Bathrooms have always been a top room to renovate and we're seeing that homeowners driven both by aesthetic desires and functional necessities, are doubling down on their investment in these private sanctuaries," says Houzz Staff Economist Marine Sargsyan. "While the cost of products and materials has increased due to inflation and supply chain disruptions, renovation activity remains strong, propped up by high home equity and homeowners' desire to stay put given limited housing supply."
The national median spend for primary bathroom projects increased nearly 13% in 2022 to $9,000, while higher-budget projects in the top 10% of spending saw a 17% jump, to $35,000 or more. Those doing a major bathroom renovation, which includes a shower upgrade, spent three times more on their renovation than those doing a minor renovation: $15,000 versus $5,000. 
Additionally, large bathrooms, those that are 100+ square feet, command a large median spend at $20,000, which is twice as expensive as renovating bathrooms that are smaller than 100 square feet.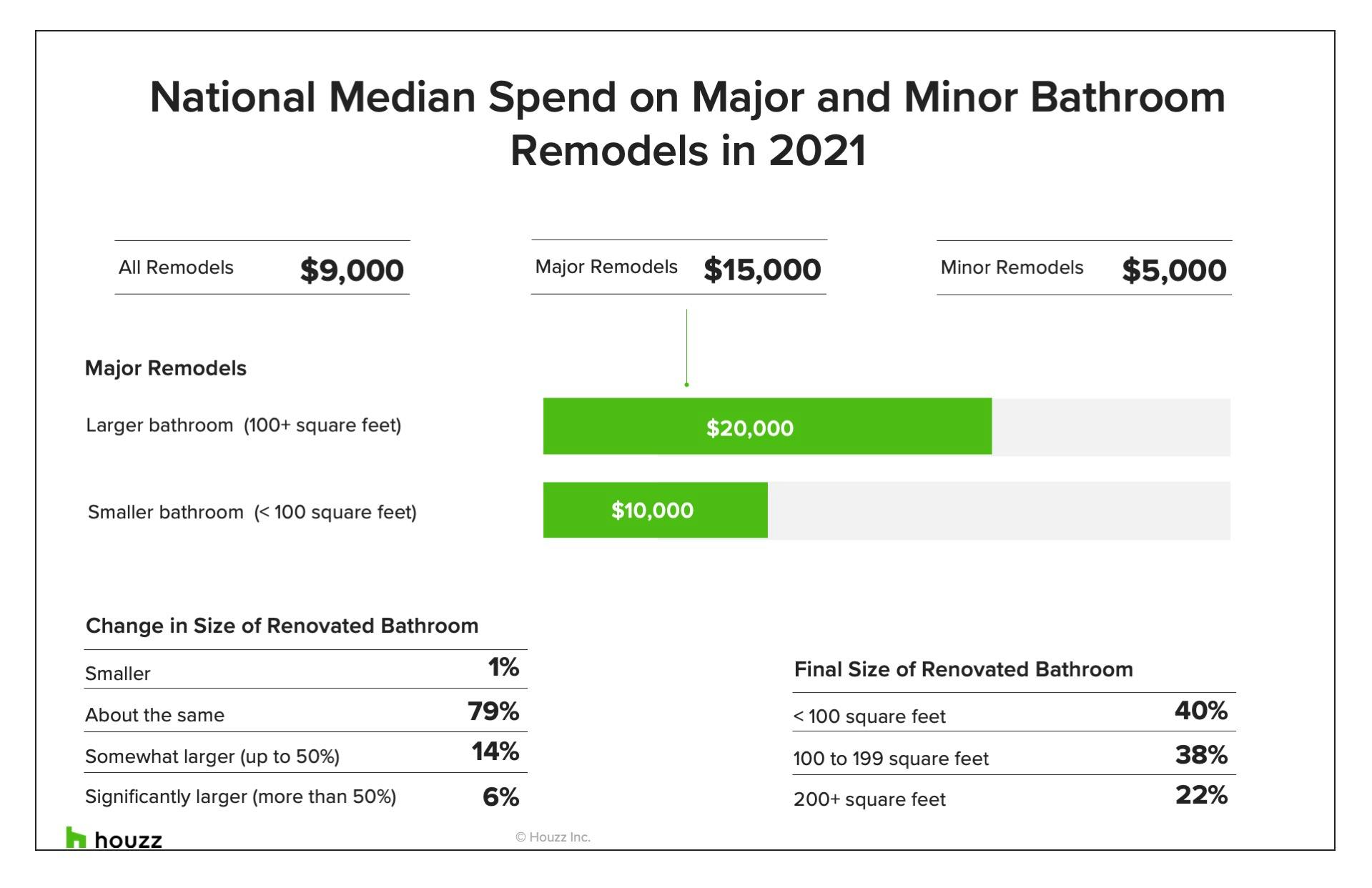 Here are more highlights of the 2022 Bathroom Trends survey and observations from San Francisco Bay Area designer Alisa Hofmann on what her clients are seeking in their bathroom space.
Dated Design Motivates Makeovers
Being exhausted by the outdated design in their current bathroom is the biggest reason homeowners decide to take on a bathroom renovation with 48% of them citing that as their top motivator. A total of 33% said they decided on a refresh because their aging bathroom was breaking down. 
A total of 28% of respondents said they finally have the financial means to take on the project, which is the same percentage of those who cite a desire to increase the resale value of their home as their top trigger. Making the bathroom more accommodating was a renovation reason for 24% and a total of 22% said they had recently purchased a home and sought to personalize the bathroom.
Where the Budget Goes
Style
Considering that outdated style is the top trigger for bathroom renovations, it's not surprising that nearly 9 in 10 renovators (87%) change their bathroom's style during a bathroom project. Transitional style, which combines the old and the new, contemporary with traditional elements, is now the top choice with 25% of homeowners preferring it, followed by modern and contemporary which rank at 16% each.
Home systems
Upgrades to home systems not only remain the most frequent bathroom enhancement, they are growing in popularity. A total of 62% of homeowners who have recently made a bathroom renovation or plan to soon include some type of home system addition or upgrade, up 3 percentage points from 2021. 
Nearly 3 in 5 homeowners (59%) add new ventilation fans as part of their bathroom system upgrades. A total of 14% opt for new radiant heat and 9% install tankless water heaters
The other most popular major changes made during bathroom makeovers are:
Increasing the shower size – 51%
Changing the bathroom layout – 45%
Moving walls – 41%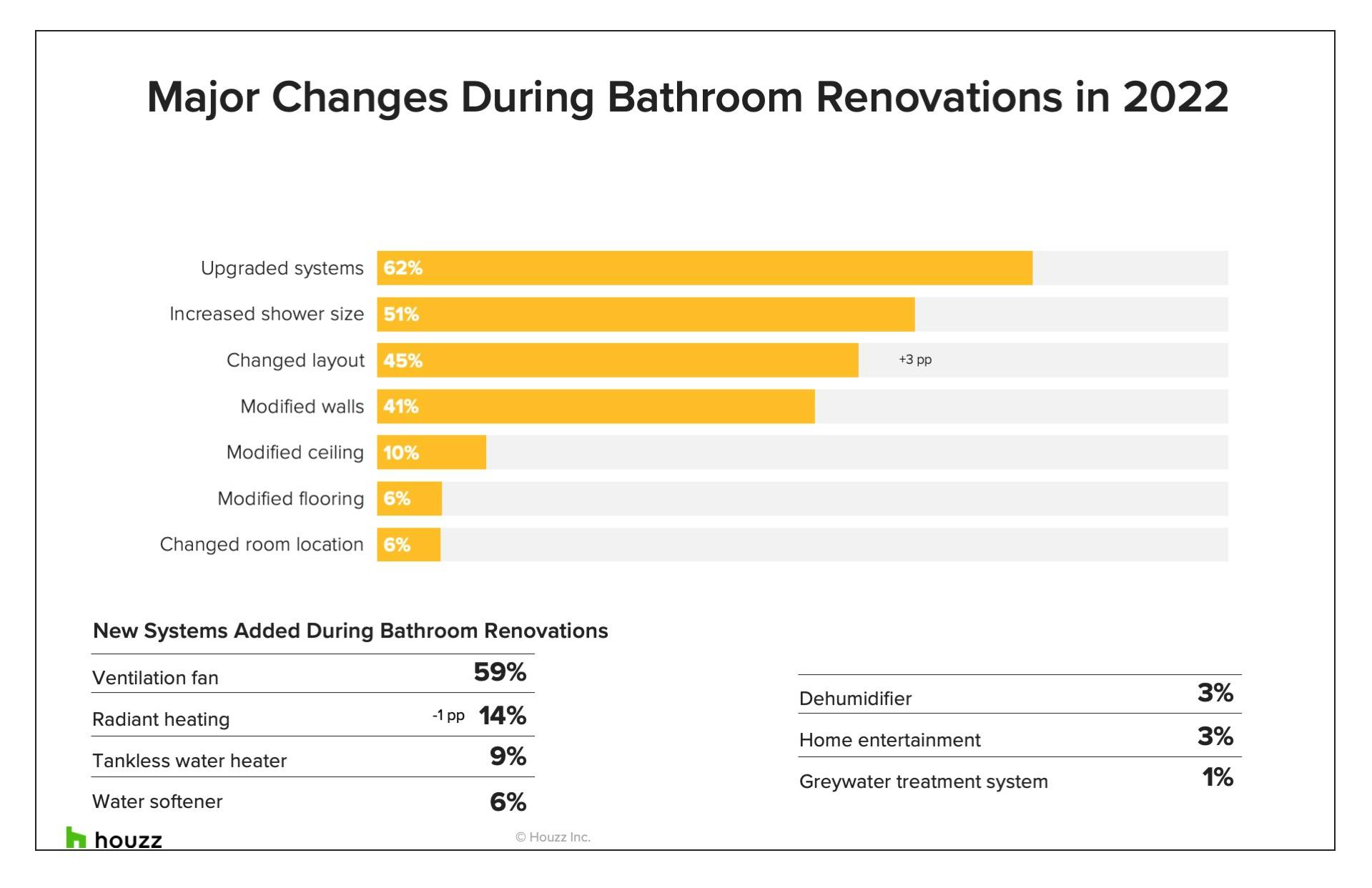 A Vanity Shakeup
Vanities are increasingly becoming focal points with 76% of homeowners upgrading their vanity cabinets during a primary bathroom renovation. And when they do so, a total of 61% prefer replacing them with a custom or semi custom option.
White remains the number one color choice with 32% of homeowners choosing it for their new vanities, but wood is now in a tight race for surpassing white with 30% of homeowners opting for some type of wood texture and tone. Gray is the next favorite vanity hue at 14%.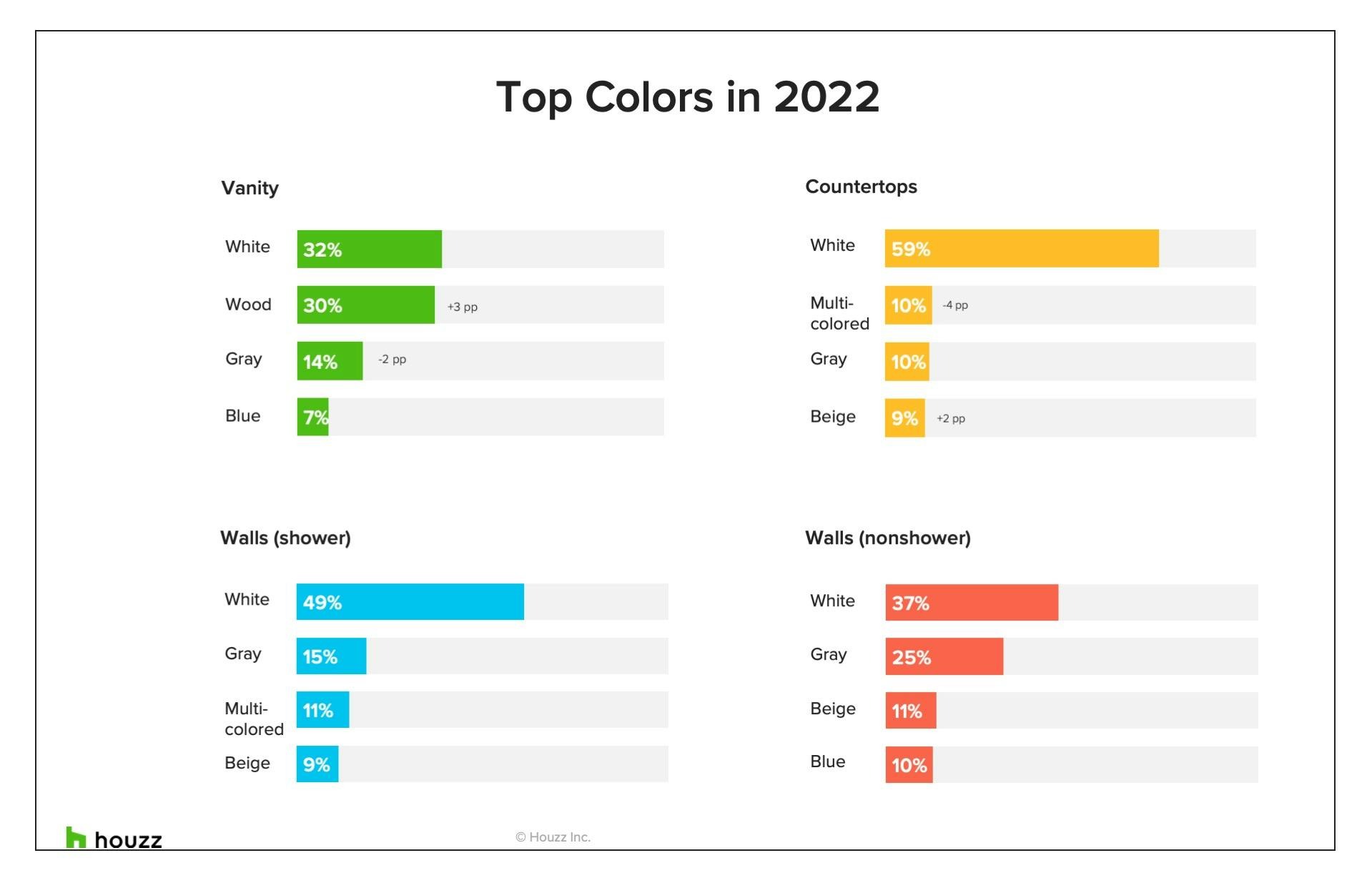 Hofmann, principal designer at Design Set Match says there are several reasons for these shifts. "Wood vanities are coming back strong for various reasons — durability and maintenance being the first draw for families with young children," she says. There is also an aesthetic desire around wood. "Style savvy homeowners are being drawn to a visual and tactile grain texture that can be found in oak as well as wood looks in high quality textured laminates."
Storage is King
Hofmann is not surprised by the drop in the preference for freestanding vanities, with only 26% of renovating homeowners choosing that option, according to the survey. Homeowners want to make the most of their limited space, she says. 
"Prefabricated freestanding and floating vanities don't offer as much storage possibilities as custom sized vanities in most cases," she says. "In the San Francisco Bay Area we have many tiny bathrooms. With storage at a premium, every inch counts," she says. 
Faucets Get Smarter
Today's overall rising demand for smart homes is reflected in bathroom choices too. The share of homeowners seeking high-tech elements in faucets (50%) has now surpassed the share of those opting for the same in toilets at 39%, showers at 8% and bathtubs at 8%. More than a fifth of homeowners now have no-fingerprint faucets in their upgraded bathrooms, contributing to the rise in popularity of high-tech faucet features. 
Touchless faucets are also popular in today's post-COVID era, Hofmann says. "We have had increased requests for sensor faucets as well as pressure activated ones from Tapmaster that can be operated at the toe kick with the touch of a shoe or connected to the cabinet door from with a lean of the knee," she says.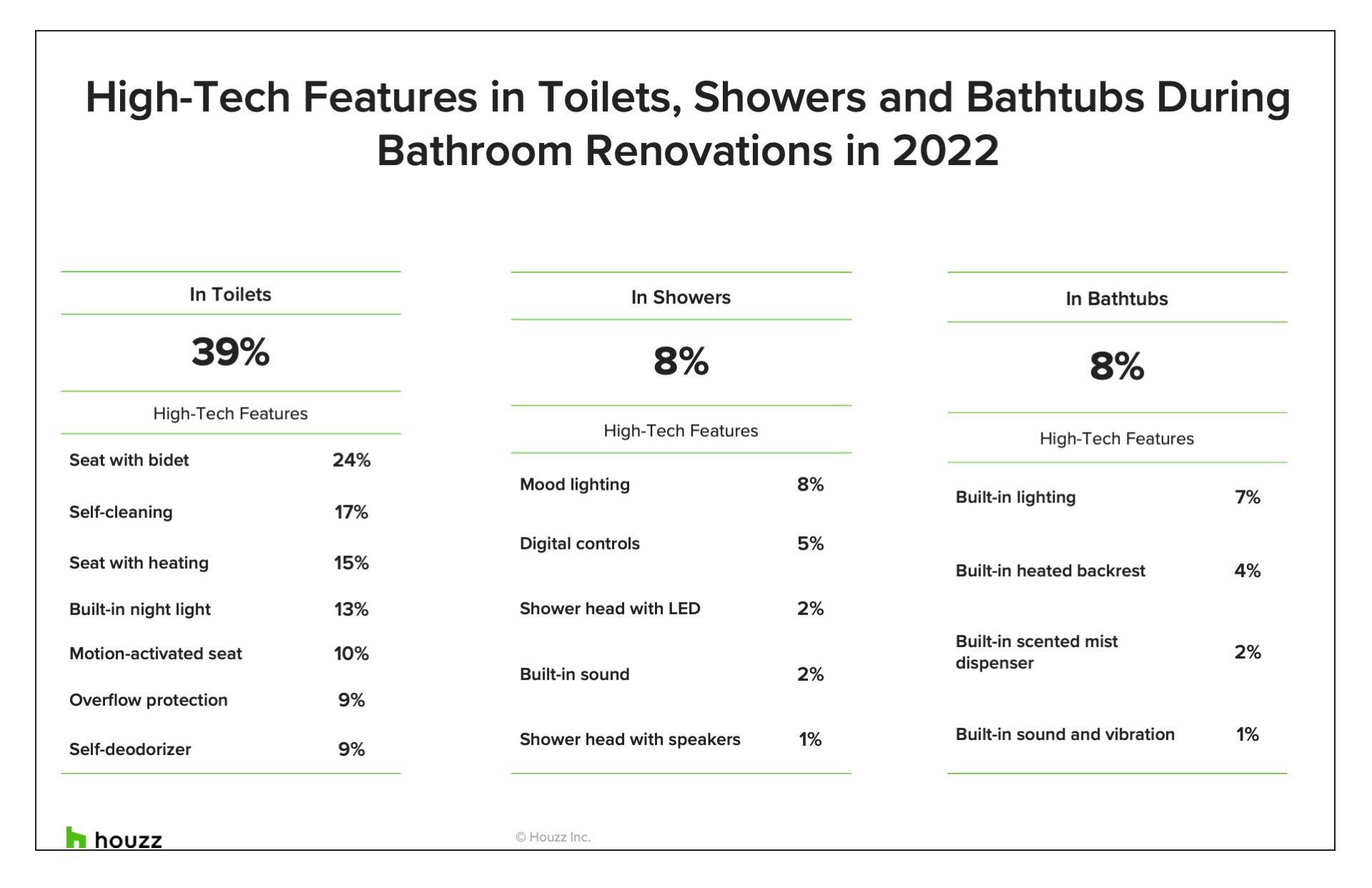 Other high-tech features homeowners are incorporating into bathroom upgrades are: 
Seat with bidet – 24%
Self-cleaning – 17%
Seat with heating – 15%
Built-in night light – 13%
Motion-activated seat – 10%
Overflow protection – 9%
Self deodorizer – 9%
Shower Surge
The desire for spacious, relaxing and efficient showers continues to rise. Already popular shower upgrades are becoming even more common during bathroom renovations, up by 2 percentage points year over year and now at 84%. When removing a bathtub, 78% enlarge the shower, with 40% of those making it at least 25% larger. More homeowners in 2022 also are relocating their shower following a bathtub removal, with 23% doing so, an increase of 6 percentage points.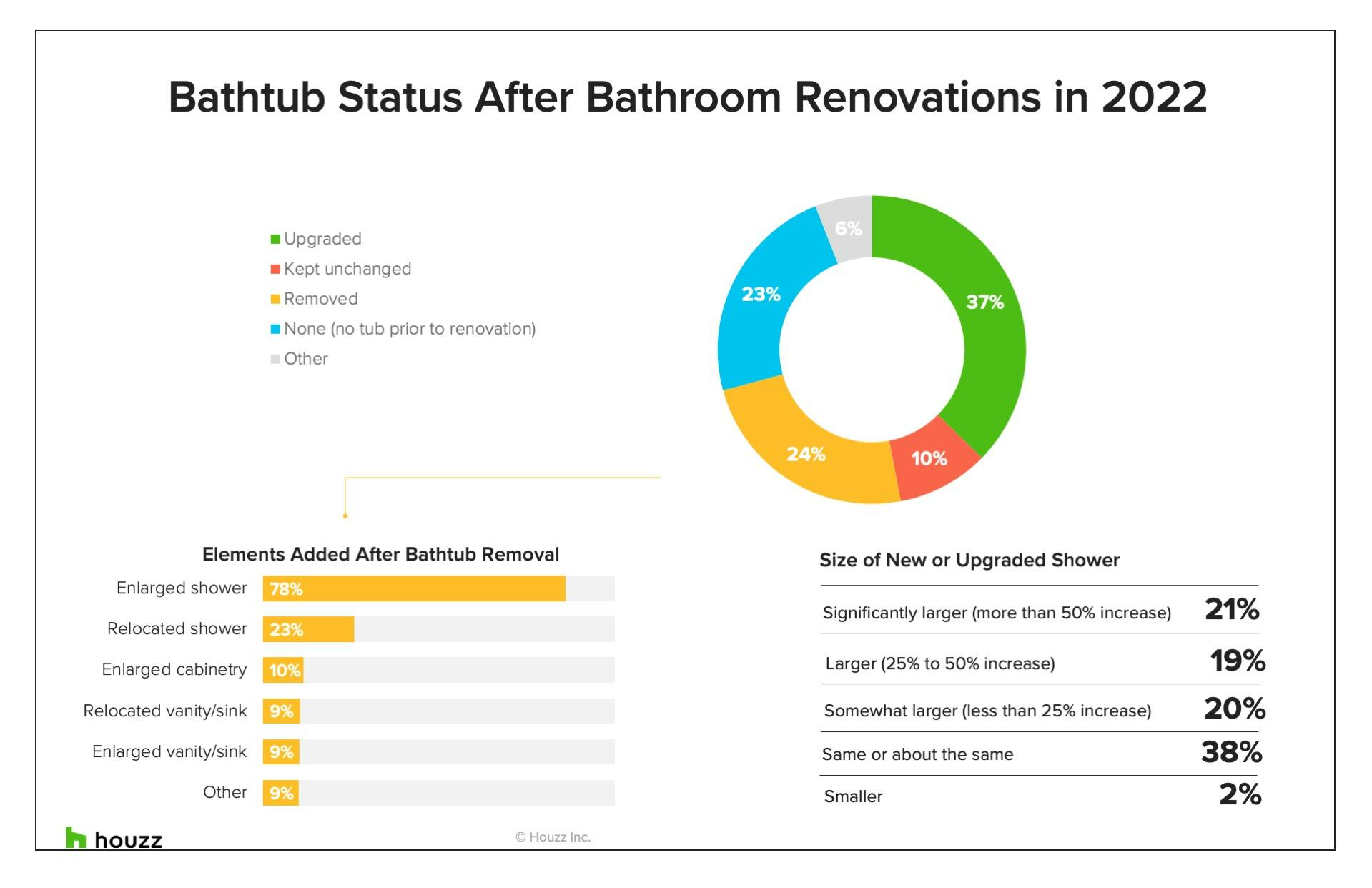 Three-quarters of homeowners incorporate premium features into their showers, but fewer selected a rainfall shower head (52%) or dual shower (19%) this year; the percentages are down by 3 and 4 points, respectively.
One-piece toilets have increased in popularity at 30%, while double-flush toilets at 15% are down by 4 percentage points.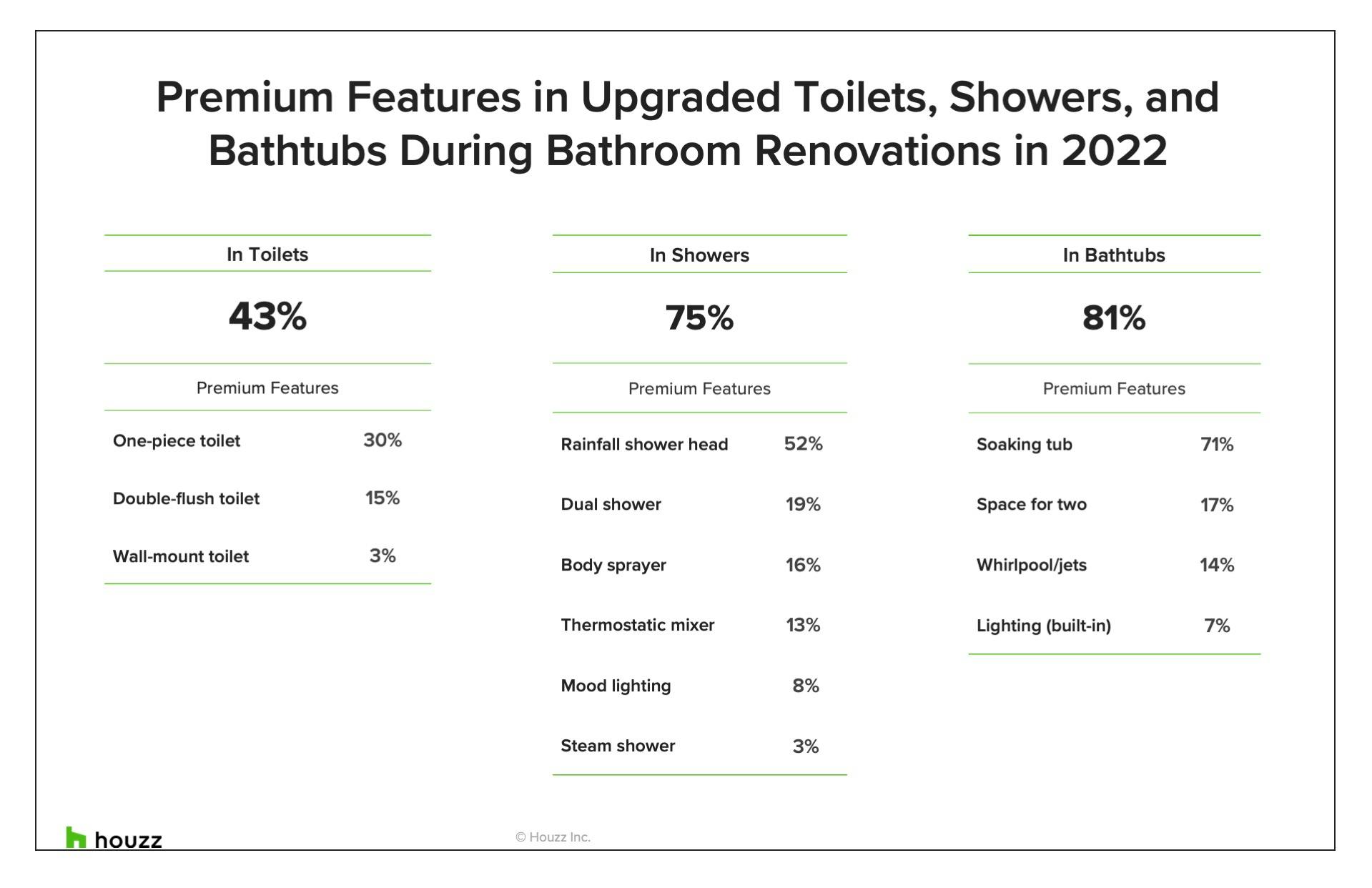 To Soak or Not to Soak
Over the past four years, freestanding flat-bottom tubs have continually become more popular, being chosen by 50% of renovators in 2019, 53% in 2020, 54% in 2021 and 58% in 2022. The second-most-popular style is an alcove tub, selected by 1 in 4 homeowners. Regardless of style, 54% of homeowners opt for a tub made of acrylic; fiberglass came in a distant second this year at 16%. Only 1 in 10 renovators chooses cast polymer, a combination of engineered natural stone, polymeric materials and resins.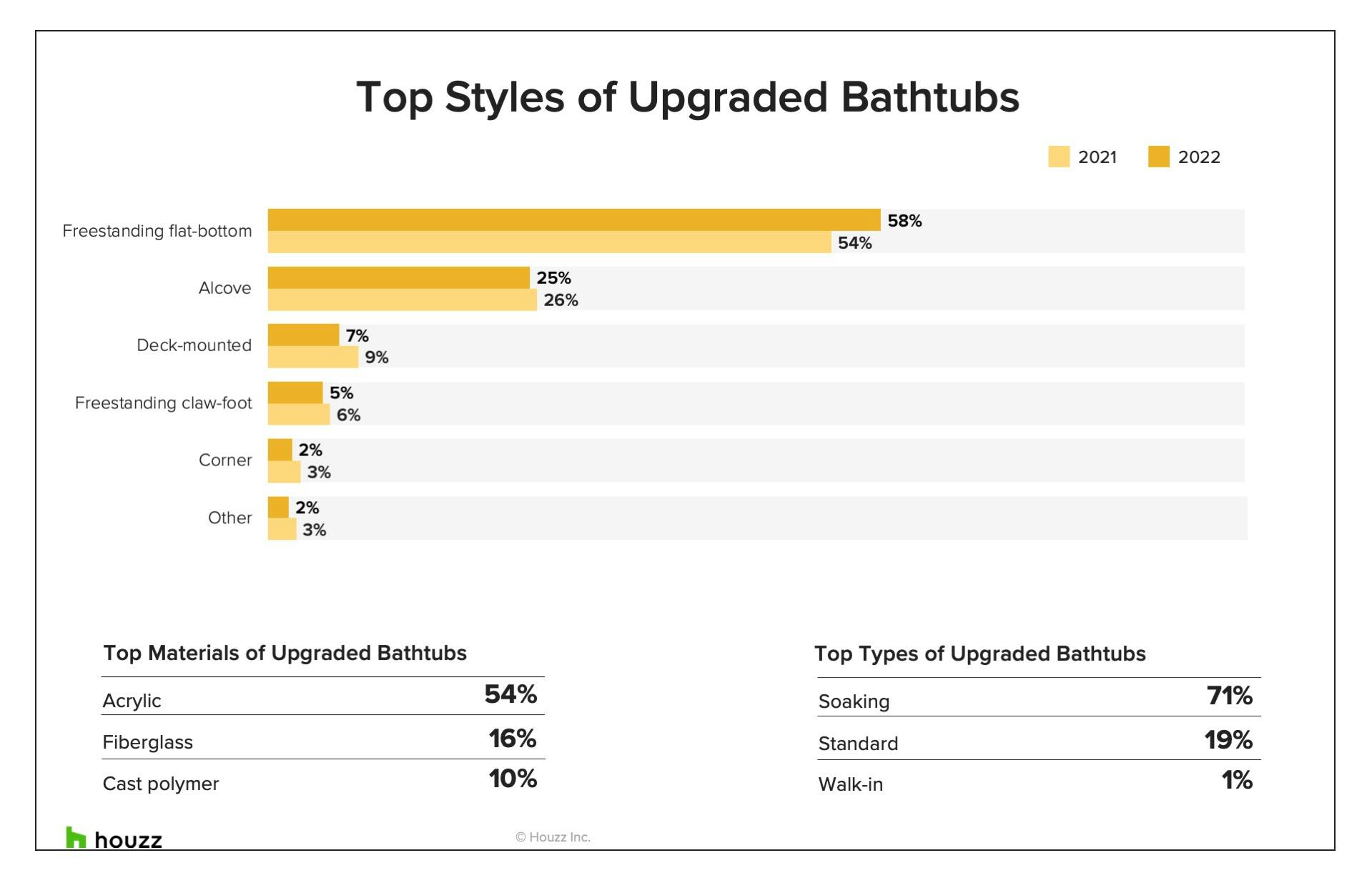 For upgraded bathtubs, soaking versions remain the top choice at 71%. 
Tub choices typically depend on the size of a home, individual preferences and the family makeup, Hofmann says. "One of the main questions we ask when helping to select a tub is whether or not adults in their home like to soak in a bath or if it is for children or resale,'' she says. "More often than not only a small tub for children or resale is the reason, and we are able to save money with an alcove tub," she says.
In homes with more than one bathroom, homeowners usually keep at least one soaking tub, she says. If there is an adult in the house who fancies a soak, "it will need to be deeper, and taller and if there is room, feel luxurious in a freestanding option."
Some homeowners opt for no tub at all. "The rumor is that everyone needs a bathtub for resale value, but for adults without small children, a shower that is easy to walk into is more appealing," she says. "With severe droughts in California, more of our homeowners are removing tubs altogether in situations where there is only one bathroom so that they can take full advantage of universal design principles and save water too."
Most Homeowners Call Pros
By far, homeowners entrust professionals with their bathroom makeovers with 85% relying on pros for help, the study shows. A total of 48%, hire general contractors, while 23% hire bathroom remodelers and 13% hire designers. Additionally, nearly 1 in 5 hires one or more specialty service providers when upgrading their bathroom.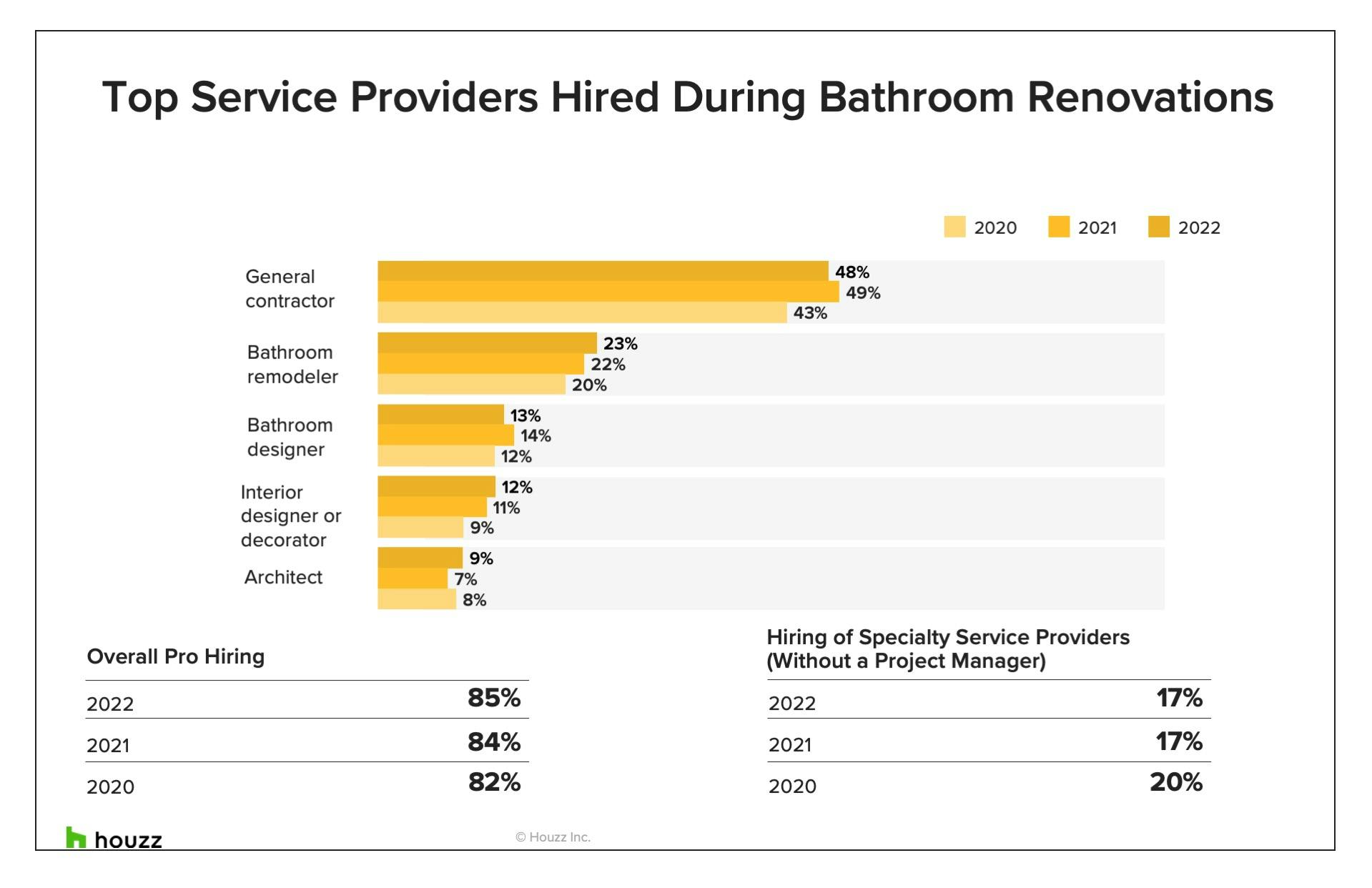 Rich Insights 
Houzz is an all-in-one resource for homeowners working on a home renovation or decorating project. Our vast and engaged user community provides unprecedented insights on the latest market trends based on their home improvement activity. We aggregate and share these insights with the community to give people greater confidence in the choices they make for their homes, and to provide home professionals greater insights into their clients' wants and needs. Houzz conducted an online 60 question quantitative survey of registered Houzz users regarding bathroom renovation projects, fielded between July 8 and July 26, 2022. 
Share your Bathroom Thoughts
What is the most surprising bathroom trend you are seeing? Let us know in the comments section below.
Join the conversation by commenting or asking a question below. The Houzz team reads every single comment, and we'll get back to you by email if you need us!

Want advice delivered to your inbox?
Unlock industry insights and updates for contractors and design pros
By signing up, I agree to the Houzz Terms of Use and Privacy Policy and that Houzz may use my information to contact me about relevant content, products, and services.