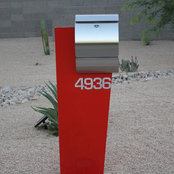 | | |
| --- | --- |
| | The Mailbox Doctor |
Commented: Mount for mailbox
Hi Rynae, I'm not sure how this customer mounted the stand. It is designed to be mounted in-ground with concrete or bolted to a concrete pad. I would guess they did an in-ground mount (dig hole abou...
Commented: what materials are the uprights made of
The Ryklin unit is $1400, unless you opt for a 2-tone stand. You can see all my prices and pictures on my website, www.mailboxmd.com. I also have a new stand which is not yet on my site, which looks...
Commented: I need a new mailbox
This unit costs $199.00 plus shipping (it can be purchased online at www.mailboxmd.com). I make it locally in the Phoenix area. Dimensions are 12" W x 17" H x 6" D at the deepest part. Glad you lik...
Commented: mailbox, house number combo...
Awesome looking house! Take a look at some of my curbside designs (www.mailboxmd.com). I can customize materials and colors to suit your home.
Joan Brett
reviewed
The Mailbox Doctor
November 16, 2018
Janet Britton
reviewed
The Mailbox Doctor
November 16, 2018
Craig Rosenthal
reviewed
The Mailbox Doctor
November 12, 2018
Turan Beamon
reviewed
The Mailbox Doctor
November 9, 2018