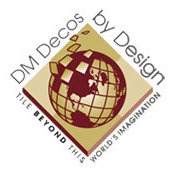 | | |
| --- | --- |
| | DM Decos by Design, Inc. |
Commented: What is price for pug door bell
Sorry for delay. It is $49.99 plus $10.00 shipping and handling. Please call me at 954-326-2702 to order. Best, David
Commented: whts it made from?
This product is part of a series of terrazzo-like engineered stone that includes numerous colors with recycled glass content. The material is composed of approximately 93% "grit", or chips, ...
Commented: Sinks
Hi Gillian, sorry for late reply. For whatever reason, Houzz didn't notify me I had something in my in-box and I didn't see it until now. If I can still help you, call me at 954-326-2702. All the B...
Commented: Can I remove the S from Hounds?
Yes, of course! So sorry for not getting back to you. I didn't even know this was in my in-box. For some reason, Houzz didn't tell me! Yes, I can help you no problem. Please call me at 954-326-2...