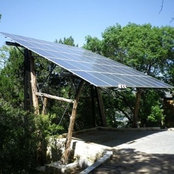 Elliot Johnson, AIA - Images Of...
| | |
| --- | --- |
| | Elliot Johnson, AIA - Images Of... |
Commented: What is the name/ manufacturer of this tile....thx
This is Vestige Natural Porcelain Tile - by Aparici - Carpet Vestige Natural Decor, 20x40. It requires a really good tile installer since the tiles vary so much. Aparici Tile Elliot Johnson, AIA
Commented: bathroom wall tile
As silverthread mentioned, I have seen it at Floor and Decor - so I don't know if you could order it form them and have it shipped to Canada, worth the try. Its a nice tile.
Commented: Kitchen Backsplash Tile
Hi Ameen, The builder says that its - Bliss by dale tile company, he did not state a color, but its white.
Commented: Floor
Hi Cindy, it is a stained and polished concrete floor. It is very impressive, this photo does it justice.