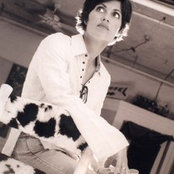 | | |
| --- | --- |
| | Studio Gina Villetti |
Commented: how was that countertop made with pictures
I had the photos printed onto handmade japanese printmaking paper and collaged with a professional clear basecoat called Setcoat. From there I applied a transparent layer of tissue paper with the sam...
Commented: Aaron Lopez
It's a special combination of professional plaster products formulated together in an artisan way. They are available and sold to professionals who have been trained to use them.
Commented: Dimensions
So sorry but I don't have any idea. This was a client of mine years ago in California and I can't recall. This was cement that I transformed into a wood and other plaster finishes.
Commented: Walls?
This is hand trowelled custom plaster with an embossed damask I intermittently created into the finish. They are hand-tinted and waxed. It makes a gorgeous old world look or with a more modern grap...
Studio Gina Villetti
is following
Sabina Emerson
and
Shelley Cossitt
5 days ago
Studio Gina Villetti
is following
Ynohtna Tdnarb
April 14, 2019
Studio Gina Villetti
is following
Wairimu Gitonga
April 14, 2019