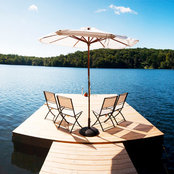 Landmark Horticultural Management
| | |
| --- | --- |
| | Landmark Horticultural Management |
Commented: Deck?
It is Mahogany, with a clear preservative.. if i remember correctly.. was Thompsons water seal.
Commented: Kayak launch
HI There, the bottom distance is about 6" on the inside, with the angle being about 35 degrees. I made it on the fly out of a ripped down 2 X 8 and some scrap 2 X 4's so I don't recall the exac...
Commented: I'm still growing stuff outdoors
we harvested spinach today. Yup, broke them out of the hardpacked snow and they look fine We took all the carrots and turnips last week before the snow. The collards we took last week as well. Her...