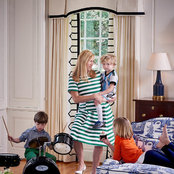 | | |
| --- | --- |
| | Leslie May Designs |
Commented: Need help with Breakfast Nook
In one of my projects, I had a breakfast nook with a round table too! That table you have in your pictures does look like it might be a little too big for that bench. Maybe if you find a bench that ma...
Commented: Help with paint color and carpet
I also think you should consider doing a light gray paint. I think it would look gorgeous with this dark floors and white trim. By painting it gray, it would also make it a lot easier on you in pickin...
Commented: Refrigerator color
You can never go wrong with a stainless steel fridge! It looks amazing and sleek with everything!! In the long run you will definitely be glad that you went with a stainless one rather than matching t...
Commented: Living Room furniture placement - need help
Between the two options, I would definitely go with option 2! Maybe you could also try putting the two Ratan chairs in the back corners so that you have less furniture to work with but they are still ...
Commented: Would this faucet and sink work
Many people have the combination of a oil rubbed bronze faucet with a stainless steel sink in their kitchen! I think it honestly depends on the countertops you have in your kitchen for if it would be ...