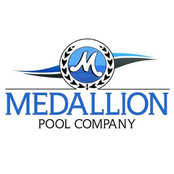 | | |
| --- | --- |
| | Medallion Pool Co. |
Commented: cleaning
Usually our techs do the balancing act and walk (or crawl) the outer shelf (or walk in the trough). We also designed it hydraulically to go to a high flow which usually washes the trough out pretty w...
Commented: what if a person falls from the end of the pool
Someone would have to really make an effort to get to a point where they could fall. In the shallow end, you can see an in-water bar/counter which acts as a barrier to keep people from the edge.
Commented: Dream landscape
Thanks. We spent most of a warm summer's evening in July waiting for those clouds to move and the sun to set enough to get the image. Most think it's photoshopped but it's really not!