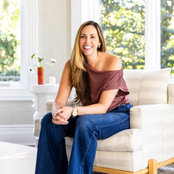 | | |
| --- | --- |
| | Nicole Forina Home |
Commented: Bigger ottoman or 2 coffee tables
You can find an ottoman that has an inset tray in the middle. Or an accent table that tucks under the sofa. The shelf on the bottom of the ottoman is also nice for storing blankets or remotes. Good lu...
Commented: Plan A or Plan B or..? Shower Design
Hi, Jean! I would definitely bring the ceiling down, at least in the shower area. In my professional opinion, Plan A works better. It allows in more light and I always feel like you can never have eno...
November 17, 2018

in Polls
Commented: Fireplace yes or no ?
Those wall fireplaces are tough to place. I think most times they can look a bit cheesy, very Vegas. I'd prefer to see a piece of art or a nice mirror.
November 17, 2018

in Polls
November 16, 2018

in Polls
Commented: Help me pick a bold color for my clawfoot bathtub
I'm with Jan. That paper has got to go! But you could replace with a type 2 vinyl that works in commercial applications. As long the steam from bathing has a way to exit quickly and properly, you shou...
November 7, 2018

in Paint