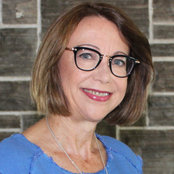 | | |
| --- | --- |
| | Primed By Design Inc |
Commented: Where is the wallpaper from? Love it
Hi Tonya, Thanks for your question - I love it too! This wallpaper is from Anderson Prints, Printers Guild Series, Ecochic 2 Collection. The pattern is # EC50210 and is called Skeleton leaves. The A...
Commented: what are the white shower wall tiles?
Hi, thanks for your question. The ceramic wall tile was purchased from Stone Tile International Inc. in 2010. It is called Whynot White 10.5x49.5cm (4.25x19.5"). This tile had a matte finish ...
Commented: Will this console table look good in my foyer?
Hi Tiffany, The style is good, but the colour is wrong. It will blend in too much with your flooring, carpeting and wall colour. I would love to see a dark piece that will complement your dark stai...
Commented: I need help in my guest 3/4 bath
Hi Yolanda, Nice job on the vanity and countertop. My suggestion would be to forego the framing for the mirror because you already have a lot of wood. It would be a much cleaner look to have a frame...
Commented: Bathroom ideas for vintage style bathroom
Lovely mosaic floor and traditional toilet. I would recommend adding wainscotting or a chair-rail to break up the "phone booth" feeling. One option would be to incorporate some ceramic or p...