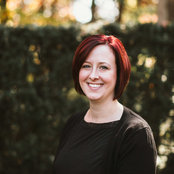 | | |
| --- | --- |
| | Red Door Design |
Commented: DOOR OR NO DOOR????
I agree with Ideahound. I would recommend that you do not put a door there, but rather finish it off as a nice cased opening. However, if you don't want noises from the kitchen audible in that hallw...
Commented: Fridge/freezer flush to counters
I agree that you can get a counter depth fridge for much less than 7-10 thousand! I would like to point out that a counter depth fridge still has doors that extend beyond the counter. And they're not...
Commented: Wood-look tile or luxury vinyl?
Don't forget about the possibility of putting heating under tile! That would provide great warmth during colder times. Not sure you can do the heated floors with vinyl. But on the other hand grout cre...
Commented: Need help please in picking wood cabinets
I agree with Nancy, the whole island should be one or the other. I've seen many kitchens with white perimeter cabinets and wood island and it looks great! Plus the lower island cabinets are going to b...
Commented: What carpet to use and a coffee table recommendation
Your rugs are too small, they're "floating" between furnishings instead of feeling like they tie furnishings together. But the traditional style of the first and third look lovely with your tradition...