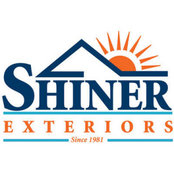 Shiner Roofing, Siding & Windows
| | |
| --- | --- |
| | Shiner Roofing, Siding & Windows |
Commented: Which roof? Cedar shingles or standing seam metal?
Very cute home! To keep the original look of the home, cedar shakes would look fantastic. Consider upgrading to DaVinci synthetic cedar shakes. The beauty of cedar shake, without the color change and ...
Commented: Up cycle some roofing to the bath? Good or Bad?
How old is that metal roof? Any chance it has lead in it? Find that out before you do anything else. Lead tests are cheap at HD. Assuming it's safe to use, why not use the metal roofing material as pa...
Commented: Need help choosing siding color
Siding and roof don't need to match, but definitely need to compliment. If you're going light on the siding, go dark on the roof, unless you are going for monotone, which isn't necessarily bad. Almost...
Commented: Making a beauty out of an ugly duckling
The transformation very much depends on your budget and comps. If there are funds available for upgrades, it's very possible. Put a new portico over the front entrance, new siding, replace old aluminu...
Commented: Exterior Remodel Advice
It's a beautiful home as is. To add more color, paint the front door. If it's in your budget, changing out the standing seam metal roofs over the garage and lower front window to a darker color could ...
Commented: Exterior shutters
Matching the garage door might be better here, to keep a consistent theme. We often see front doors that have a contrasting color, while the rest of the accents tend to match.