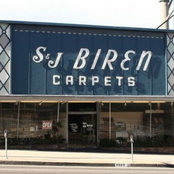 S & J Biren Floor Covering
| | |
| --- | --- |
| | S & J Biren Floor Covering |
Commented: Love the carpet!
Hi Alison, sorry to tell you that this product was discontinued by the mill. :( It sure looks amazing on the job, but like anything, they move out the old to bring in the new products. Here are a few...
Commented: what brand and color carpet is this?
http://www.crescentcarpetimporters.com/product/MALIBU/NAVY  This color has been discontinued but they still have three others you can find on this link.
Commented: HELP needed before 8-22-16 Monday
Hi Jan, thanks for the comments. It really isn't as jarring in person, I have had the same paint in the bedroom (and old bathroom) because I really do like that color and it feels spa like to me. I th...
Commented: Tuftex Carpet on Stairs
Hi LIndsey, that is a very good question! I wish I could say that this carpet is dog nail proof.... but it really depends on how long those nails are, how sharp, and what the little critter is doing w...
Commented: flooring and design needs
Hi Karryn, I sent you some info via email and via houzz.com mail, so hopefully that will help you with the project.