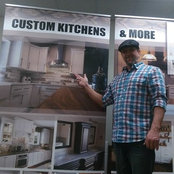 | | |
| --- | --- |
| | Kitchen Works LLC |
Commented: Help! The kitchen is off scale and to small...
Hi Natalie...During the course of my day, I had the opportunity to discuss your design with two of my colleagues. We go head to head with this kind of stuff everyday and this is what I would consider ...
Commented: Need feedback for kitchen design
I would agree with Lauren on all accounts. If possible, I never put a refrigerator at the end of a run against a side wall and if I do then careful calculations must be made for the side wall length...
Commented: Kitchen Problem
From a Professional's view, I would have to agree with Carolyn. As long as you like the the existing layout and function of this kitchen then I would suggest painting the cabinets. It's difficult for ...
Commented: POLL: Wood Floors in the Kitchen?
I love wood floors in the kitchen. My only issue is that I don't recommend setting the cabinetry on top of them. Set your cabinets first and raise them a little if you have to for dishwasher clearance...