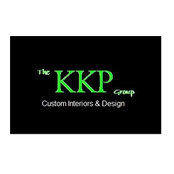 | | |
| --- | --- |
| | The KKP Group |
Commented: Our kitchen renovation
Hi Gail. The countertops are granite. The island was angled and we changed the shape to make it easier to gather around!
Commented: To paint the brick or not? I would LOVE to!
Your house needs to be balanced architecturally, you have a large pediment and thin columns, The front door is lost within the repetitive squares in the window shapes. I suggest, over the front door, ...
Commented: Wall above tub
Amy, Thanks for your question! Hope you like what you see! This is not tile or wallcovering, it is actually a faux finish. The techique is done with a series of coarse and soft brushes pulled throu...
Commented: Template?
Hi Nannette Marie... Thanks for your question... This is not a template. This pattern was derived from a fabric panel in the other section of the suite. My very talented partner took a section fro...