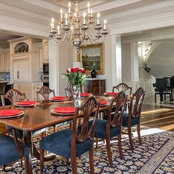 Toossi Oriental Rug Gallery
| | |
| --- | --- |
| | Toossi Oriental Rug Gallery |
Commented: This rug? I'm dizzy from searching!
If you have the budget, a handmade rug would be a much better investment. Machine made rugs like these will have to be thrown out once they get dirty as cleaning will cost more than the rug itself. On...
Commented: Colour choices
We have this beautiful handmade Persian wool rug that will work with your decor: size: 7x10 (ft). If interested in this rug please contact us for more information. www.rugs2c.com
Commented: Family rugs
Those 3 rugs are indeed all very old and antique genuine handmade Persian rugs from the city of Sarough. https://en.wikipedia.org/wiki/Sarouk_rug
Commented: Sofa color and Persian rug
I would suggest a lighter color for your sofa since your rug is dark. The contrast should help brighten up the room and make the room feel more open.
Commented: What's working and what's not working in this foyer?
I don't like the rug that much for your foyer, there are better color and design options that could work better in your home. The foyer should set the tone for your home so it would help to think abou...
Commented: Persian Rug
It depends on a variety of factors such the origin, size, materials used (wool/silk), the quality of the knots. I think yours might be a handmade rug from Pakistan or Indian - a new rug in perfect co...