MPN: KBC388WTCARR





Item 1 of 5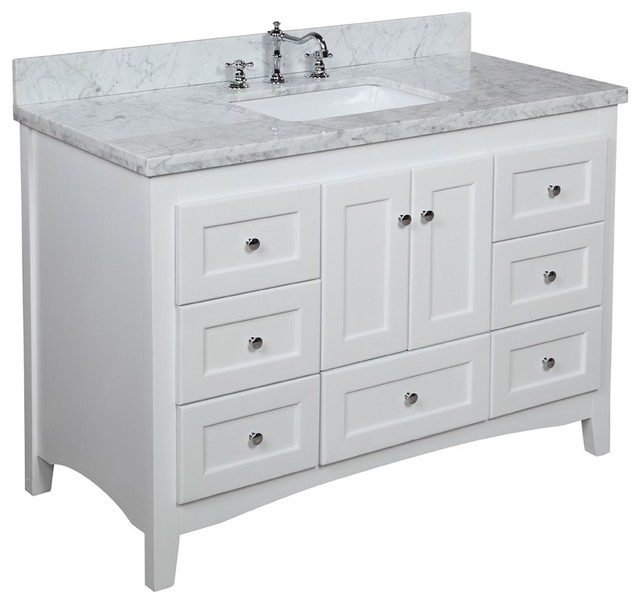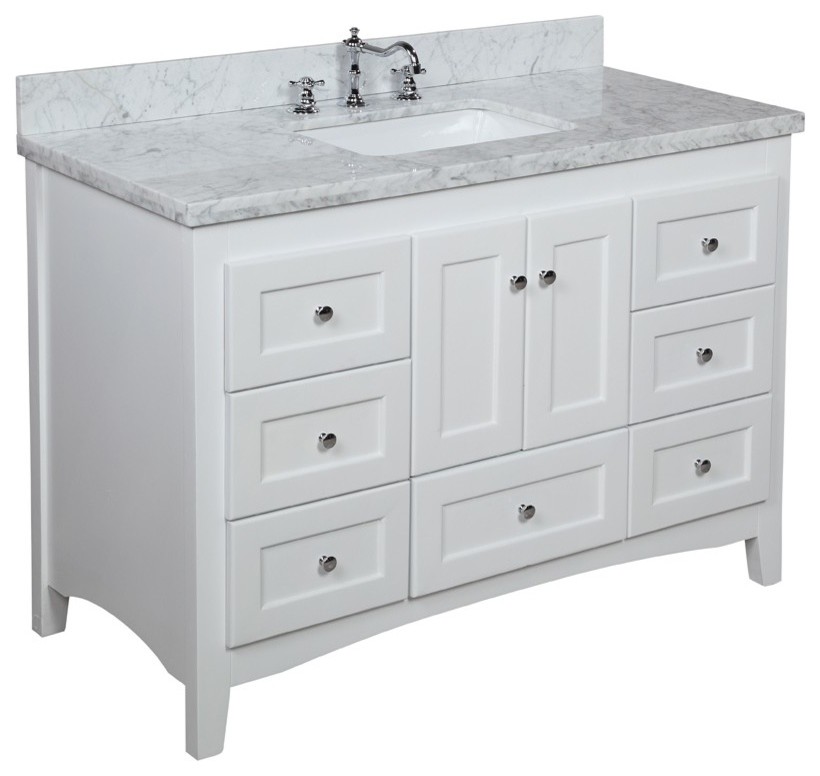 Frequently Bought Together
---
5 Stars

69%
4 Stars

20%
3 Stars

5%
2 Stars

3%
1 Star

4%












Item 1 of 12
Relevant
Newest
Oldest
Most Helpful
Highest Rated
Lowest Rated
Omg so pretty!! But hard to install!!

Wow. Amazingly packed and well prepared for shipping. This is a stunning piece. Quality and well represented in pictures and description. I love it!!! However I finally had it installed after storing it in the garage for a year. The piece is gorgeous but the bottom drawers created a tight space to put the p traps n plumbing. I would have purchased same 60 inch double vanity with only middle drawers so as to provide more space for plumbing and storage. I've come to see that the design piece while gorgeous, sturdy, and classic would have been better designed without the 2 bottom drawers. Also the amazing fixtures were indeed hard to tighten but my plumber did it with s very special wrench that just barely fit. But it sure is gorgeous. The install was an entire day!!

Abbey Bath Vanity

Very solid and built well. The counter top is beautiful and the faucet is good quality. However, the white paint is a little light in some areas and could have used another coat. As well, one of the drawers was built using out of square wood trim for the border, so it looks more like a trapezoid than a rectangle.

Expensive but good

I am pleased with the overall quality of the vanity. The finish seems very thick and durable. Doors and drawers close nicely and were well-aligned. Unit is real wood not particleboard. It came really well-packed; only problem was that some of the packing stuck to the finish on the door and had to be scrubbed off. It marred the finish a bit but you can't notice it at all in the bathroom lighting. Top and back splash were in perfect condition. I didnt use the "free" faucet that came with it so can't speak to its quality but it looked and felt decent.

Contractor's Opinions

To keep this short and sweet. The vanity looks good. If you are wanting this for a high end house I would pass. The vanity itself is a 9 out of 10 but the hardware is a 2 out of 10. Also if you plan on using the backsplash they provide I would pass on this all together. I bought 2 vanities and both back splashes were broke. They were willing to replace the backsplash, but they could only ship them in (2) sections. So a 60" vanity would have (2) 30" backsplash sections. That would mean the seam would be directly behind the faucet.

Great looking vanity

After unsuccessfully trying to order another vanity from a big box store, not once but twice, we found this one. The delivery was very professional, and everything was handled with great care. As a result, we received this lovely vanity, free of damage. The marble looks great and you can tell the construction is solid!

Verified Purchase

Houzz Pal

We didn't use the faucet that came with it because the brushed nickel didn't go with the other fixtures that were chrome.

We didn't use the faucet that came with it because the brushed nickel didn't go with the other fixtures that were chrome. The pulls that came with it were perfectly fine but I switched them out for some more decorative ones. The cabinet doors have the soft close feature which is really nice and the marble top looks beautiful!

Nice vanity but faucet did not work

I just finished installing this vanity and it is very nice ... however my plumber (30 yrs experience) was not able to use the faucet that came with the vanity because the hot and cold handles can NOT be tightened onto the cabinet, there just is no room to get a wrench in the very small rear opening to tighten these handles. As a result of this I had no choice but to head to Home Depot and purchase another faucet (Delta) that would work. The "included" faucet will now be donated to the local "Habitat re-sell store" I had plans to purchase another one of these cabinets for the other bathroom but plans have now changed.

poor quality

The vanity is falling apart after a very short time. the quality is terrible.

Bathroom Vanity

It's beautiful and sturdy. It's exactly what was advertised.
This product has 80 questions
What Houzzers are commenting on: