Sponsored Products
Featured Reviews of Leather Armchairs and Accent Chairs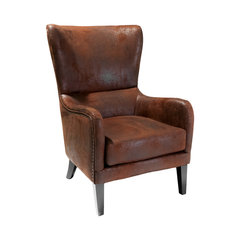 Clarkson Wingback Arm Chair
Leather Armchairs and Accent Chairs
Gorgeous chair!: I bought two of these chairs and they arrived very well packaged. They are actually very comfortable and they look expensive! I'm so happy that I took the risk of buying furniture sight unseen from Houzz. I will be buying more furniture from them in the future!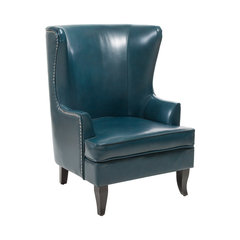 Jameson Tall Wingback Leather Club Chair, Teal Blue
Leather Armchairs and Accent Chairs
Teal Wingback: I purchased 1 of these beauties to use as my desk chair, however I love it so much, I plan to purchase another one and place them on each side of my fireplace. The Teal color is spot on with my computer monitor. This is a very rich looking chair.. I put it together myself in about 20 minutes. I say yes , order it !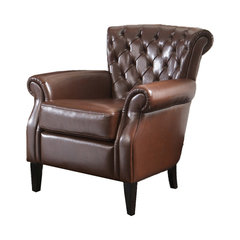 Tufted Leather Club Chair, Brown
Leather Armchairs and Accent Chairs
Attractive and definitely worth the price.: The chair is well constructed and well fits a small to medium sized person. My only criticism is that the seat cushion is very hard and would not be comfortable for longer periods of time. The chair probably would be more comfortable with an ottoman.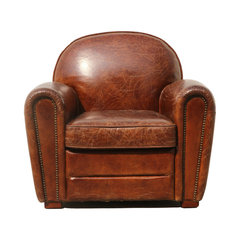 Pasargad Genuine Leather Paris Club Chair
Leather Armchairs and Accent Chairs
Beautiful chair: The chair looks fabulous (just like photo!) with very good attention to details. Do pay attention to the dimensions. It is a low club chair (30" high). It works very well for our room, which does not have large scale furniture. Looks great.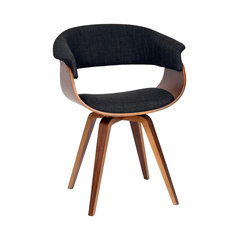 Summer Modern Chair, Charcoal Fabric And Walnut Wood
Leather Armchairs and Accent Chairs
VERY NICE FOR THE PRICE: I'm very pleased with this purchase overall. Would have given 5 stars except for one detail of the chairs. The piece of wood on the bottom of the seat, to which you attach the legs, is UNFINISHED wood. While standing this does not show, but if you are in a low chair somewhere else in the room and look toward these chairs the unfinished wood stands out like a sore thumb. I spent $15 for a small can of walnut stair and a brush and about 30 minutes staining these unfinished pieces. Now you don't notice. THE MANUFACTURER SHOULD DO THIS TO BEGIN WITH. All that aside I'm happy I bought these chairs. They look great with my Tulip Table.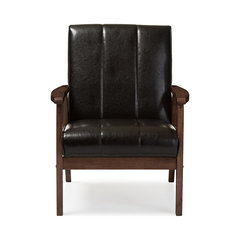 Nikko Faux Leather Wooden Lounge Chair, Dark Brown
Leather Armchairs and Accent Chairs
Comfy, sleek, and sturdy: We bought the chair and love seat and it's sooo perfect for our small space! It looks high quality. The chairs have the perfect amount of Cush and slight lean back angle to be comfy. The first was a little tricky to assemble but the second was a breeze once we figured out not to tighten the bolts all the way as you go not until the very end.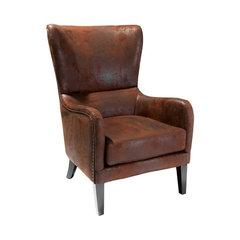 Salerno Leather Studded High Back Club Chair, Patina Brown
Leather Armchairs and Accent Chairs
Attention... Antique lovers: I purchased 2 if these chairs.. I'm an antique lover... and finding chairs to fit my decor and at a reasonable price is VERY difficult ... I bought these to go in an antique library area of my home they're comfortable and they fit the part perfectly❤️❤️❤️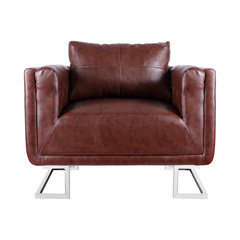 Brown Luxury Cube Armchair With Chrome Feet
Leather Armchairs and Accent Chairs
Worth the price: This is a great chair and well worth the price. It's small, well made and comfortable. Great for additional seating for a smaller available section or area in the living room. Fits in great with modern or contemporary decor. Glad I bought it.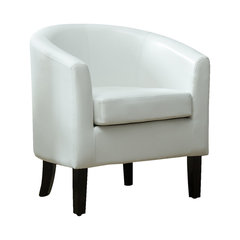 Leather Armchairs and Accent Chairs
Pleasant Surprise: Ordered this item to fill a vacant space in the family room with the likelihood that it would receive little or no use. The quality of workmanship and materials far exceeds our expectations. We have changed the location for this chair and now anticipate significant use for this outstanding chair. GREAT VALUE!!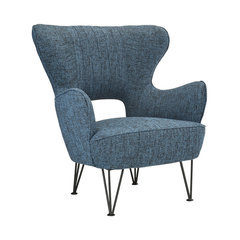 Mid Century Shelter Style Linen Fabric Armchair, Dark Blue
Leather Armchairs and Accent Chairs
Great accent chair: This is a cute chair. It was delivered quickly. The assembly took less than 5 minutes with just myself. I ordered this chair in orange and the color is right on with the picture.