Sponsored Products
Featured Reviews of Armchairs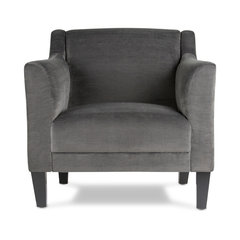 Harper Arm Chair, Charcoal
Armchairs
Gorgeous!!: These chairs are even better than I had anticipated! The picture does not do them justice. They are VERY FIRM so if you like a chair you can sink into - these aren't for you. They arrived quite promptly. Putting them together wasn't too bad - the allen wrench is a bit difficult to maneuver on a few last screws but well worth the effort!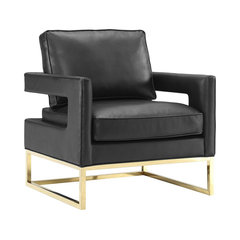 Danever Leather Chair, Black
Armchairs
Chairs are perfection: I was hesitant to purchase blush chairs because often times the color is different in person than online. But these are true to color and AMAZING. I love them! They are the perfect pop of color for my neutral toned living and dining room. And not to mention they are super comfortable. Super happy with this purchase.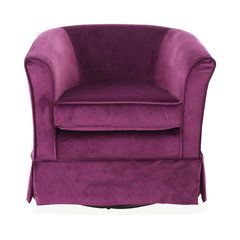 Rischa Fushsia New Velvet Swivel Chair With Loose Cover
Armchairs
Swivel Rischa Velvet Armchair: Color was perfect! Was having difficulty in getting an exact match so was happy the chair arrived as described. I had a small space in the bedroom and the chair fit perfectly. Although the back was not high per my husband's complaint, he was the first to sit in it, and promptly fell asleep! He admitted it wasn't so bad after all. The swivel makes it versatile as well. Would recommend this item to friends and family.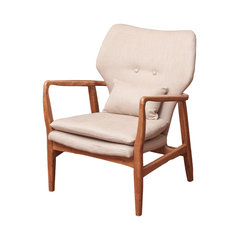 Kana Accent Armchair, Beige/Walnut
Armchairs
Fun Chair: This chair arrived in great condition and is sturdier than expected. I love the size, lines and slight curves of the build; especially the wooden support surround (back and arms). It would be nice to have more cushioning in the seat area; not all bad for my needs - I ended up purchasing an additional chair. Reasonable price for product.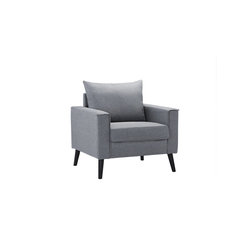 Mid-Century Modern Linen Fabric Armchair Living Room Accent Chair, Light Gray
Armchairs
They were comfortable and looked great!: We ordered these for a work convention to be in our lounge. They were comfortable and looked great, the color was the perfect pop. I can't speak to the long term durability because we didn't keep them long term but we are happy with the purchase.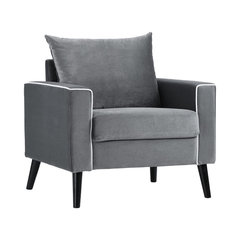 Mid-Century Modern Velvet Fabric Armchair Living Room Accent Chair, Dark Gray
Armchairs
Nice Chair: Love the look of my new chair and it was very easy to assemble. The only complaint (if any) would be the seat cusion is a bit stiff..... I'm hoping it will soften over time :)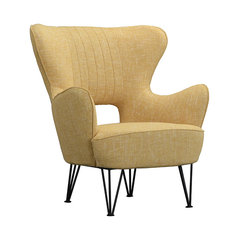 Mid Century Shelter Style Linen Fabric Armchair, Yellow
Armchairs
Great accent chair: This is a cute chair. It was delivered quickly. The assembly took less than 5 minutes with just myself. I ordered this chair in orange and the color is right on with the picture.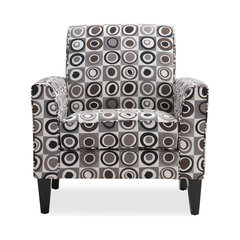 Bloomfield Arm Chair, Gray, Black And Brown Geometric Circles
Armchairs
As Described: I ordered two chairs. For the "Sale" price it is good price. The quality of the chairs was expected for assembly furniture. I have seen the same design chairs, already assembled, better quality fabric and heavy wood - the priced compensated for it. It cost thousand of dollars. With these chairs, I have same look. These chairs will not be used for high usage, high traffic area, only high visibility. It meets my purpose.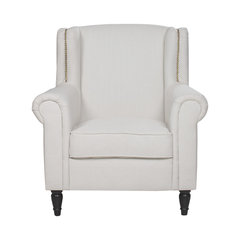 Classic Scroll Arm Linen Fabric Accent Armchair, Beige
Armchairs
Perfect chair: I wanted a chair that I could use in a corner of my bedroom. Love the style, color and size of this chair. I find this is perfect for slipping on shoes or what I had planned to do in this chair to pick up a good book to read. I love everything about this chair!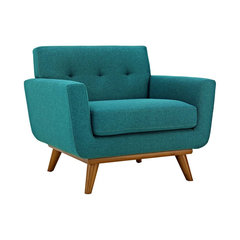 Engage Upholstered Fabric Armchair, Teal
Armchairs
Exactly as Expected: We ordered this chair for our therapy office. It arrived on time and was easy to assemble. The color was a little brighter than expected (or a bit more like a mustard color). It still worked for color scheme of our office. It's comfortable and roomy.