Sponsored Products
Featured Reviews of Barrel Chairs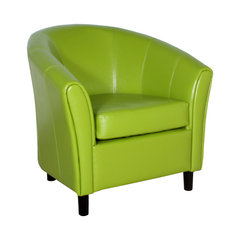 Newport Green Leather Club Chair
Barrel Chairs
Lightweight and Stylish: I ordered 2 of these chairs for my executive office and I couldn't love them more. I was super impressed by how light the chair is and the color is even more vibrant in person.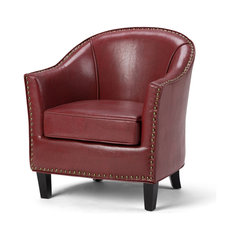 Limerick Cask Chair, Wine Red
Barrel Chairs
Perfect accent chairs for new office: Beautiful chairs that fit perfectly in front of my husband's custom office desk ensemble. Two of them flank the front of his desk and match our office color scheme perfectly. Very comfortable and perfect size for conferences. Thrilled with the quality for the great price!!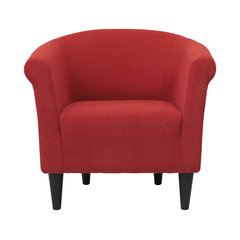 Savannah Club Chair, Marsala Red
Barrel Chairs
Nice Chair for the price: I was really surprised the chair came without any defects or issues. It is a nice chair for the price and was easy to assemble.....screw in four legs. Only reason for 4 stars instead of 5 was that the material on the back of the chair was somewhat puckered. Since I will have its back to a wall, it did not matter to me.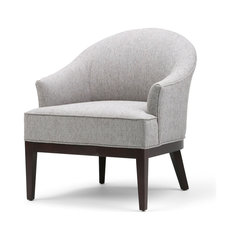 Daria Fabric Tub Chair, Gray
Barrel Chairs
Gorgeous chair: this is a very stylish and clean lines chair. I bought two for my library/study/area. I like them a lot. they are the right scale for this type of seating option. After looking at hundreds of vendors for a few months, I decided to go for these. As a first timer purchasing at Houzz, I am very pleased with my experience. They offered the best price and quality. The chairs are comfy, not super soft and not hard at all, just right. The only thing that was different is the color of the product. It is a much darker hue of gray, I wish the chairs were as light as in the pic. But having said this, they totally work with the color scheme I was going for!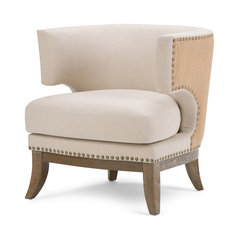 Barrel Chairs
Accent Chair: When the chair was delivered it was better than expected. The two toned, multi-layered fabric, really accentuated our decor. The only problem is one of the legs doesn't fit well. It appears to be a manufacturer defect. The legs are specific with a rail and groove system that allows the legs to slide perfectly into place; well one of the legs' rails were misaligned during manufacturing which prevents the leg from sliding on properly. Had to adapt and overcome by drilling out grooves to make fit. Still looks nice.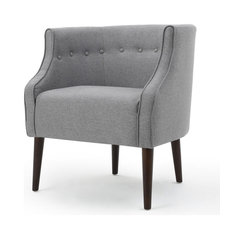 Davidson Tub Design Upholstered Accent Chair, Gray
Barrel Chairs
Nice color and size: This chair is not navy, but is true to the picture, which shows a dark teal, which is what I had hoped. It is well built and was very easy to put together. Decently comfortable ( back is hard, seat is softer, but not overly soft) which is fine for an occasional chair. Very happy with this purchase especially considering the price.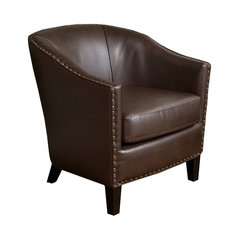 Carlton Tub Design Club Chair With Nailheads Accents, Brown Leather
Barrel Chairs
Beautiful leather chair: I am happy with the chair. I looked for quite awhile before finding this one. Very stylish. Love the leather and the nailheads. I have to use a pillow however for I am only 5 foot tall and my back doesn't reach the chair's back. But, that's ok with me.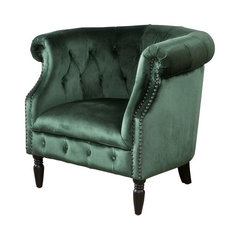 Aries New Velvet Tub Style Club Chair, Emerald
Barrel Chairs
Love, Love, Love this chair!: I ordered this chair for my bedroom and I have to say it far exceeded my expectations! It is truly gorgeous! The photo on the site does not do this justice. Once I put it in my room, everyone (my boys and cats) wanted to sit on it. A must have for sure!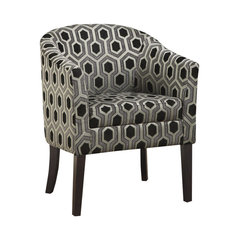 Barrel Chairs
Great Chair for Small Spaces: This chair is very easy to sit in for people who need back support and is ideal for a 5' 6" person. It was easy to put together: just 4 legs with 2 bolts per leg - the hex tool was provided. The pattern is shiny grey with black corduroy at the center of the geometric pattern. I love it.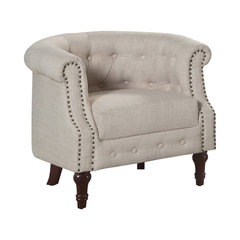 Argenziano Chesterfield Chair, Beige
Barrel Chairs
Love the color: Absolutely beautiful piece at such an affordable cost. You're paying a fraction of the price for what looks so chic! Chairs are beautiful. Well made and very comfortable to sit in. Would highly recommend. So glad I purchased these.