Sponsored Products
Featured Reviews of 4 Leg Counter Height Stools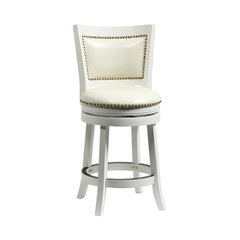 Bristol Swivel Stool, White, 24"
4 Leg Counter Height Stools
Outstanding!!: We ordered 3 bar stools in the cherry finish. All 3 were flawless of any defects. After they were assembled and placed by the kitchen island counter we couldn't help but high five each other at what a monumental difference they made in upgrading our kitchen. We are so happy with our purchase AND houzz had the best prices from all the competitors, hands down. Buy these, you'll love them!!!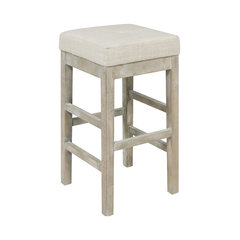 Valencia Backless Counter Stool Mystique Gray Legs, Canvas
4 Leg Counter Height Stools
Great value!: These stools are sturdy and comfortable and really just as they appear in pictures. Make sure you order them all at the same time though, as there is color variation if you order from different lots. I ordered 2 to make sure I liked them, then ordered 3 more. The wood on the second shipment had slightly more brown showing than gray...but it was a very subtle difference. I'm still using them together.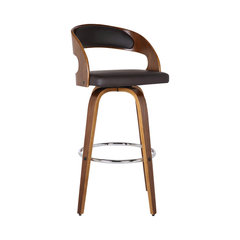 Shelly Swivel Bar Stool, 26"
4 Leg Counter Height Stools
Exactly what we needed: We needed 26" high stools for our taller than normal kitchen counter. These are perfect and soooooooo comfy. They swivel easily and slide gently on our hard wood floors. We were well packaged and easy to assemble. They also arrived earlier than expected which was great.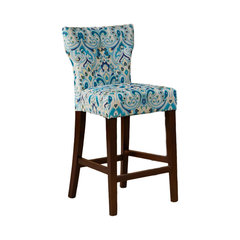 Avila Tufted Back Counter Stool, Blue
4 Leg Counter Height Stools
Overall, great product: I ordered three of these stools for a client's kitchen island. They were delivered in about 2 weeks which I was thought was a bit long but it was over a holiday weekend. The quality seems to be quite good, especially for the price. The product overview said there was no assembly which I thought was odd and sure enough, they needed to be assembled. It was fairly simple to put them together and my client is very happy with them!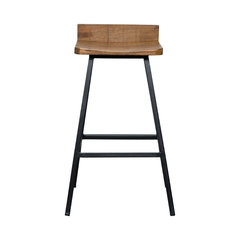 4 Leg Counter Height Stools
Love it but...: Great stool, but only ordered one to make sure we liked it. Now (less than a week later), it's saying that the stool is no longer available, so we aren't able to get a matching set of four. This lone stool is going back. :(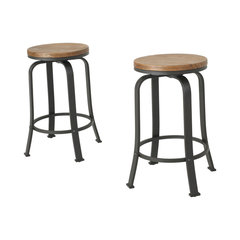 Arlington Natural Wood Rotating Counter Stool, Set of 2
4 Leg Counter Height Stools
Great stools: Stools look great in our kitchen. They are well made, seem sturdy and they swivel nicely. My only reservation is that seat although look like real wood on top are a fiber board but only the assembler would know.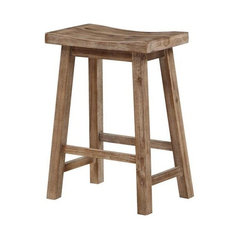 Sonoma Saddle Seat Counter Stool, Natural Wood
4 Leg Counter Height Stools
Counter height saddle stool: I love the look of these stools!!! My only issue is the edges are a bit hard and kind of down g in a bit when sitting on them. Based on the photo I expected the seat to have a bit of a softer edge to it. I'd also like it to be a bit of a bigger seat comfort wise. That being said, for the price and for a stool that will likely not be sat on THAT much it certainly serves its purpose.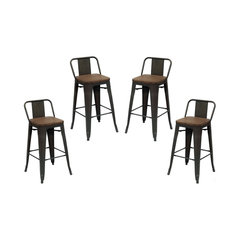 Purenity 24'' Matte Metal Industrial Wood Top Counter Stool, Set of 4
4 Leg Counter Height Stools
Wrong color: Very nice chairs and nice size. They were easy to put together and they seem pretty sturdy. The color is closer to copper instead of matte black. Otherwise I am pleased with them.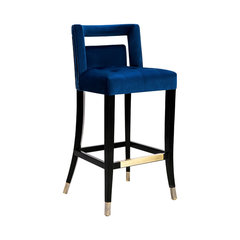 Hart Velvet Counter Stool, Gray, Navy
4 Leg Counter Height Stools
Fabulous!!!: These chair are fabulous! They are very light weight but durable and very elegant! The color goes well with our decor and the price is amazing considering I saw them for $317ea in a store and bought them for $208ea! Lovely addition to our new home!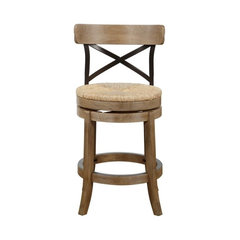 Myrtle Counter Stool, Wire-Brushed Finish
4 Leg Counter Height Stools
love the look: We love the look of the bar stools. They weren't to hard to put together. The only negative I have to mention is the smell from them. It's a very foul smell as soon as we opened the boxes. We've been airing the stools out on our coveted porch a few hours each day to help. So far (after 3 days) they still have an odor - but it's getting less. Hoping it goes away completely so we can fully enjoy them!