Bathroom Cabinets
Bathroom cabinets, not to be confused with vanities, are ideal for adding extra storage to your space. Forget cluttered countertops and overflowing medicine cabinets — a freestanding or
wall-mounted bathroom cabinet
will give you back the clean and organized look you once had. Whether you have a large or small space to fill, there's sure to be a bathroom storage cabinet that meets your needs. Read on to learn which cabinet will work best for your bathroom.
What are my mounting options for bathroom cabinets?
Depending on the size and layout of your space, you may have multiple bathroom cabinet options — these four types are the most common:
Bathroom floor cabinets: If you have floor space available, freestanding bathroom cabinets will be the most versatile option. You can move them around if you decide to change your layout, or easily swap them out without the hassle of unbolting them from the wall.


Bathroom wall cabinets: When floor space is limited, look to the walls for extra storage. With a little muscle, or the help of a handyman, you can have your walls working double time by mounting a simple wall cabinet.


Corner bathroom cabinets: If both wall and floor space are sparse, you may be able to squeeze some function out of an underutilized corner. Corner cabinets fit neatly into these nooks, whether mounted on the wall or freestanding on the floor.


Over-the-toilet bathroom cabinets: The space above the toilet tends to get overlooked, but is a goldmine for extra storage. Bathroom cabinets over the toilet combine the ease of a freestanding fixture plus the space-saving power of a wall cabinet all in one. Just make sure you anchor it to the wall!
Which features should a bathroom storage cabinet have?
At minimum, a good bathroom cabinet should have enough space to for the items you plan to stash there, plus a little wiggle room for extras that might make their way in over the years. Any other features are personal preferences, but may feel like a necessity to you. When shopping for bathroom storage cabinets, be on the lookout for features like these:
Towel bar: To have your new furniture work double duty, look for a bathroom cabinet with a towel bar. This way you can hang a hand towel or two from it and skip having to take up any more space than needed from the rest of the room.


Mirror: Make your space look bigger and your hair look better by scooping up a bathroom cabinet with a mirror. You can use it to replace a medicine cabinet or just to add another mirrored surface to the room.


Glass-panel door: Want to see all those lovely curated products you are storing? Opt for a glass-panel bathroom storage cabinet to show off the goods while keeping out the dust.


Shelving: You may want an open shelf or two for easy access to products that you use everyday or to place a few decorative objects to spruce up an otherwise plain bathroom cabinet. Also, adjustable shelving is handy to be able to move up or down depending on your storage needs.
Sponsored Products
Featured Reviews of Bathroom Cabinets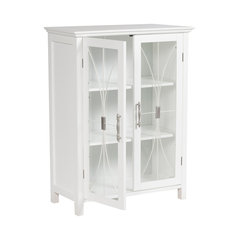 Delaney Floor Storage Cabinet with 2 Doors
Bathroom Cabinets
Beautiful: This is in the master bath and its design is clean while providing a more ornate design on the glass doors. Holds a lot of items probably 10x a standard in wall medicine cabinet. Very attractive!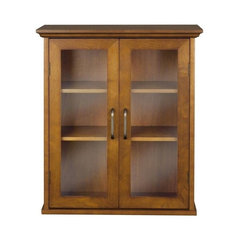 Elegant Home Fashions Avery 2-Door Wall Cabinet in Oil Oak
Bathroom Cabinets
Very satisfied: The contents of this cabinet were carefully packaged and arrived in excellent condition. The assembly hardware was clearly numbered, and the instructions were easy to understand. The wood feels sturdy, everything fits well, and it looks great in our bathroom. My only suggestions would be to label the parts with stickers that come off more easily, without leaving any sticky residue. Also, the mounting screws are not huge, so I'm not sure how much weight they will bear. Otherwise, I'm very satisfied with this purchase.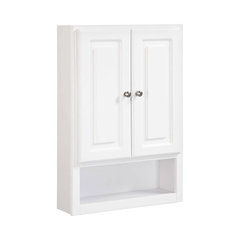 Concord 30"x21" Bath Cabinet White Gloss Finish
Bathroom Cabinets
Nice touch.: The item arrived fully assembled and in excellent condition. All I had to do was measured, level, and attach to the wall. It was up in less than 10 minutes.....and it looks GREAT.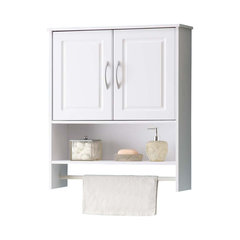 Nantucket 2-Door Bath Wall Cabinet
Bathroom Cabinets
We like it: It is as described, no surprises here. Looks elegant and very practical. The only difficulty we had was fixing it to the wall. But we eventually did it, and are happy with it.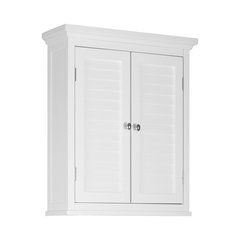 Elegant Home Fashions Slone 2-Door Wall Cabinet, White
Bathroom Cabinets
Stylish Simple White Bathroom Storage Cabinet: I chose to install the Slone bathroom storage cabinets in white with shutters because of the simple clean lines, ease of installation and the sturdy construction. Bathroom cabinets receive light use usually but these cabinets are mildew, moisture and rust resistant, perfect for the H2O steam and moisture in most family bathrooms.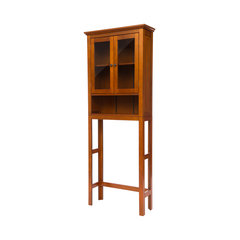 68.25"H Wooden Bathroom Storage Cabinet Space Saver
Bathroom Cabinets
Spacesaver: I color is perfect match with my pedestal sink. I put this together by myself, which was not hard at all. The only drawback is since the top is overshaped and bulky and the skinny legs makes it a little wobbly, it should be secured to the wall. I just had a hard time finding the studs in the wall to drill the screws into.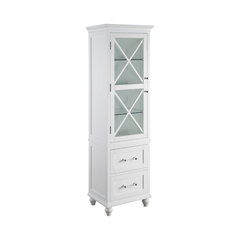 Bathroom Cabinets
Very cute mut not highest quality: I really like this cabinet. It is very cute, but it is not the highest quality. My whole bathroom smells of glue. Also, one thing to note is that it's not super easy to put together. My husband did it, but I wouldn't have had a clue. Overall it's great value, and looks great.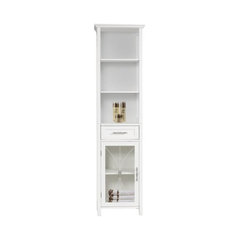 Dorchester Linen Cabinet, White
Bathroom Cabinets
Well constructed cabinet: All pieces arrived in good shape. You must read the instructions and look at the illustrations carefully to ensure you do not inadvertantly reverse a panel. The white paint was unblemished and all pieces fit together the way they should. The drawer does stick a bit, but that may work itself out with use. The cabinet looks very nice in our main bathroom and hold several large and hand towels easily. There are rooms to add decorative items. We are pleased with our purchase.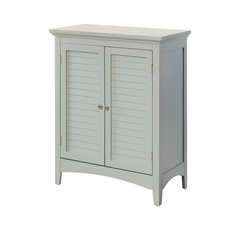 Glancy Double Door Floor Cabinet with Two Shutter Doors
Bathroom Cabinets
Decent quality: serves the purpose of a small bathroom cabinet we were looking for. The wood has held up well over the 6 months I've had it, but the appearance of the wood does not look to durable and might be susceptible to small bumps and knicks. Overall would recommend for the price and appearance.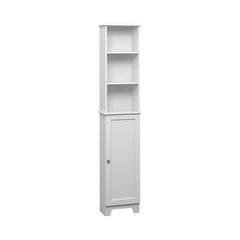 Contemporary Country Tall Floor Shelf With Lower Cabinet
Bathroom Cabinets
Perfect skinny storage: Purchased two, one for bathroom nook and one for kitchen hallway. Both were perfect fits and don't take up much square footage. Easy to assemble, everything was nicely labeled. Reason for 4 stars: One of the 4 back cardboard panels on mine was cut slightly too large, but it's hidden by cabinet so I just left it off. Still very sturdy. Could easily glue panel onto back and no one would know the difference.