Sponsored Products
Featured Reviews of Black Bathroom Faucets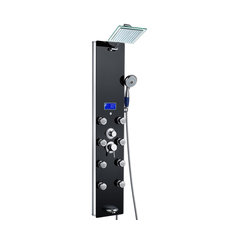 AKDY Aluminum Shower Panel Tower With Rainfall Shower Head, 52", Black
Black Bathroom Faucets
Shower tower: I'm remodeling my bathroom and saw this shower tower. I was excited when I opened the bix. It was so much prettier than the pictures. If I had another shower I would buy another. Very well made, great price.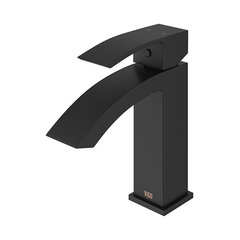 VIGO Satro Single Lever Faucet, Matte Black
Black Bathroom Faucets
chrome faucet: Love it! fit perfectly and looks good with our vessel sink. The water pressure is not very strong but I am still pleased with it. Looking to ordering another one for the other bathroom.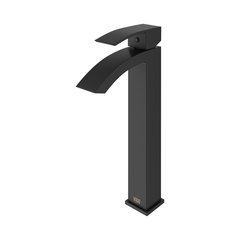 VIGO Duris Bathroom Vessel Faucet, Matte Black
Black Bathroom Faucets
Faucet: This is a gorgeous faucet, heavy, substantial and 12" TALL. You need a big sink to handle this size and I had to return it to order the 7" one instead. However, if you have that BIG kind of space, this faucet is a stunning example of elegant industrial design.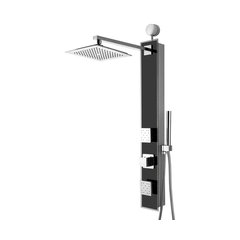 35" Tempered Glass Easy Connect Rainfall Style Shower Panel Tower System
Black Bathroom Faucets
Amazing Price!!!: Wonderful value! Everyone that's seen it wants one; not to mention thinks I spent 2/3 times the price I actually paid. Installation is simpler than a standard mixer combination kit. I'm so pleased I intend to purchase 10 more for the Townhouse complex I own. True bang for your buck!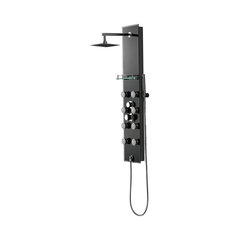 Luxier 51" Aluminum Safety Tempered Glass Shower System, Glass Black
Black Bathroom Faucets
Great product!: Make sure you have this product on hand BEFORE you build in the walls. Adjustments had to be made because the contractor just skimmed the instructions. Overall it's an easy install and a great product for the money. Our client just had 2 installed in their master shower and they LOVE it!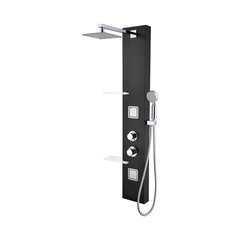 Ronin 52" 2-Jetted Full Body Shower Panel, Heavy Rain Shower and Spray Wand
Black Bathroom Faucets
Hard to get your hands on: Haven't installed my unit yet but these are such a hot commodity that if you find one you like, don't wait. They're always on backorder. This unit looks great. Has nice looking jets with a swivel to adjust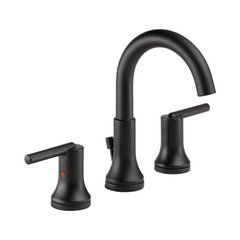 Delta Trinsic Widespread Bathroom Faucet, Matte Black
Black Bathroom Faucets
Delta Trinsic Widespread Faucet: Beautiful in our 1/2 bath just around the corner from the kitchen sink faucet, also a Delta Trinsic faucet-the kitchen version. Both look amazing and complete our first floor renovation!