Shop All Beach Style Accent Chests and Cabinets
Sponsored Products
Featured Reviews of Beach Style Accent Chests and Cabinets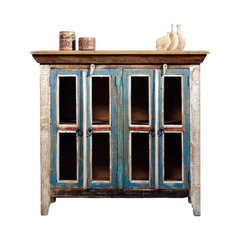 Distressed Reclaimed Wood Entry Way Cabinet
Beach Style Accent Chests and Cabinets
Beautiful Cabinet: This cabinet is beautiful and has plenty of storage. I used it as an entryway piece and get nothing but compliments. Try finding a reclaimed piece like this for the price. I did and ended up back at Houzz.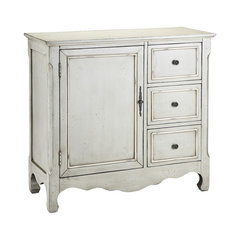 Chesapeake 1-Door Accent Cabinet
Beach Style Accent Chests and Cabinets
Love the Cabinet!: The color has more of a green tint than appears in the photo... but I love it! Another happy surprise... The details are beautiful and the finish is lightly distressed. In one word, Quality! I would recommend this timeless little gem to anyone.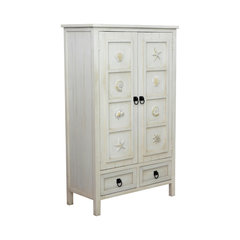 Beach Style Accent Chests and Cabinets
Beautiful chest!: I love my new chest! There's a few mishaps with it though. The left and right siding have minor scratches of some sort but not noticeable unless you are up close. One of the magnets that holds the door closed was broken and I replaced it myself. One of the shells on the door is also slightly damaged, but shells don't all look perfect in real life. So just a lil wear and tear! Also, the product description says one adjustable shelf. This product has 2 shelves that are not adjustable but it holds a ton of stuff! It is also quite a bit bigger than I was expecting and I'm extremely happy about it. I'm adding photos to show people an idea of how big this chest is.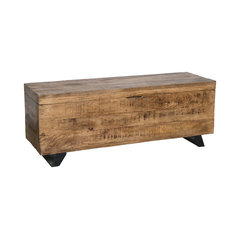 Beach Style Accent Chests and Cabinets
solidly built and nice looking: Very solid, nice piece at a great price. The chest is smaller than I expected but I did not carefully measure it as I should have. The picture gave me the illusion it was bigger.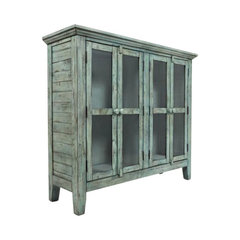 Rustic Shores Surfside 48" Accent Cabinet
Beach Style Accent Chests and Cabinets
Liquor Cabinet: This accent cabinet arrived today, in a timely fashion. It is beautiful ! Customer service was very helpful on the phone when I called Houzz previous to my purchase. Quality is excellent. The color is more dominated with green. Lots of entertaining, so this will be our liquor cabinet ! Bonnie