1 - 36 of 13,542 products
Sponsored Products
Featured Reviews of Beach Style Kitchen and Dining Products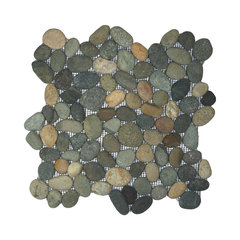 12"x12" Bali Ocean Pebble Tile
Beach Style Kitchen and Dining Products
Sold on the the sample: We just received the sample(s) of the Bali Ocean Pebble Tile, and it's even more lovely in person, and perfect with the slate porcelain tile I had picked out for our bathroom reno. I thought I had my heart set entirely on the natural (and I still do), but once I saw the glazed version, I'm thinking I _need_ to find an application for this too, in the future.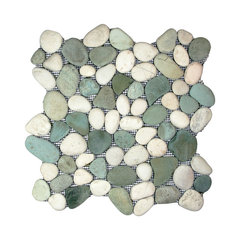 12"x12" Sea Green and White Pebble Tile
Beach Style Kitchen and Dining Products
Very nice.: Arrived well packaged, in a timely manner. Have not installed them yet. Will be using them in a walk in shower. Most of the sheets are more white and grey stones, not as many green as the picture. I would have preferred them to have more green stones like the picture.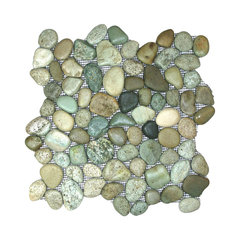 12"x12" Glazed Sea Green Pebble Tile
Beach Style Kitchen and Dining Products
Nice product: I don't think I would want to walk on it but nice stones well adhered to the backing. I plan to use as a wall embellishment with a small amount on the floor which will probably be fine. Company sent a sample of a similar stone at no charge to see.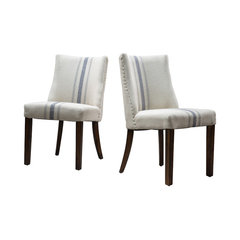 Rydel Fabric Dining Chairs, Blue Stripe, Set of 2
Beach Style Kitchen and Dining Products
great quality: We looked for weeks for the right chairs for our table. I was a bit fearful of ordering them online, since you can't really tell the quality of the chair, but I was pleasantly surprised when they arrived. They are very sturdy and great quality.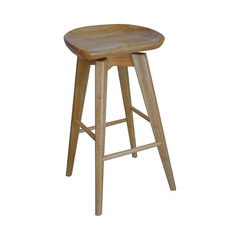 Dune Bali Swivel Bar Stool, Natural
Beach Style Kitchen and Dining Products
High quality Swivel bar stools: Bought 4 of these. The picture looks gray but the stools are natural and match my new natural oak floors. Quality of wood, finish and swivel parts are excellent. A metal footrest screw was missing and a few were loose. That is why I gave them a rating of 4. I would highly recommend this product.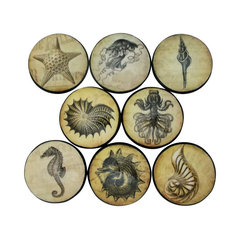 Vintage Sea Life Cabinet Knobs, 8-Piece Set
Beach Style Kitchen and Dining Products
quality not what i expected. returning. 5 out of 8 had a paper crinkle.: I took one star away because I thought the cost was a little high for quality. They are perfect for my slightly steam punk vacation rental near the beach in Hana Maui. I give them a 5 star for style. They are made of ordinary wood knobs that were painted black. Then a printed piece of paper was cut out in a circle then glued onto knob then glossed over on top. It's a great idea and I love that they are hand made. Hopefully by someone in the USA. But because the knobs curve down at the edges and a piece of paper is flat there are crinkles in the paper. The paper folded a little leaving a raised edge. It's not crinkled on every knob but many, 5 out of 8. Also, when i look closely, i can see the scissors cuts on the paper edge. Time will tell if the paper starts to peel. Also, I think they should try just a little harder to cut a continuous circle. Not a big deal because i love the look. EDIT: after 24 hours of questioning quality, I'm sending them back. I live in such a harsh tropical wet environment I think they would degrade quickly. I found some metal ones i like just the same for 1/4 the price of these. EDIT #2 I couldn't find my return request. apparently Houzz doesn't send an email letting you know when the company responds, so you have to check messages under "your Houzz". The company sent me return instruction right away, but it looks like i have to pay for shipping. I'm in discussion with them now to see if they will pay for the return. EDIT 3. less than a week later I am recieveing a full refund and i don't have to pay for shipping. and am very impressed on how they handled it. Don't be scared to buy from here. This company was very prompt with all responses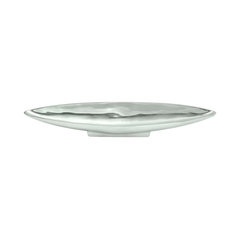 Aluminum Canoe Shape Bowled Tray, 24"x3"
Beach Style Kitchen and Dining Products
Great item: Great item which is difficult to find in local stores. Only thing to mention is it has a very smooth mirrored finish. It was more than I expected based on the product photos.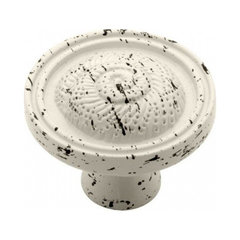 Seaside Cottage 1-3/8 Inch Diameter Vintage Antique White Cabinet Knob
Beach Style Kitchen and Dining Products
Great drawer pulls!: We love these drawer pulls with the seahorses. It gives a cottage feeling to our new renovated kitchen. The color isn't stark white but more of an ivory color which we like a lot as well.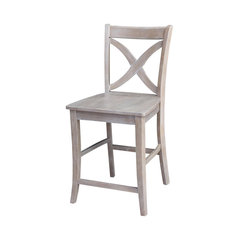 Cosmo Cross-Back Counter Stool
Beach Style Kitchen and Dining Products
Perfect for my beach house island: Lovely chairs, perfect beach feel. Definitely more of a chair then a stool, very comfortable. I would recommend hiring someone to put them together, 8 chairs was a wee too many for my hands.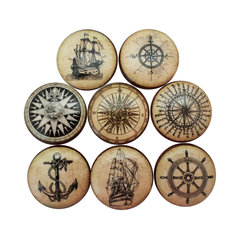 8-Piece Set Old World Nautical Cabinet Knobs
Beach Style Kitchen and Dining Products
Beautiful: These are larger than other knobs I purchased which I love and they are made from wood which I wasn't expecting. They are stunning and I love them! They shipped quickly and I am very happy they are made in the USA!