Sponsored Products
Featured Reviews of Beds and Headboards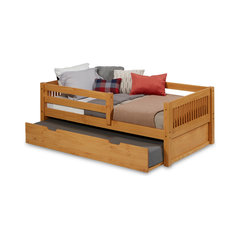 Twin Day Bed With Front Guard Rail and Twin Trundle, Mission Headboard, Natural
Beds and Headboards
Perfect for my 26 month old!: My son still wants to sleep with me and his toddler bed was too small to lay down together. It has been a big problem but finally I found the right bed! Now I only stay by his side until he falls asleep and leave. He is getting used to sleeping alone, slowly but surely! This bed is solid wood and well made. It's big enough all the way up to high school! Great buy.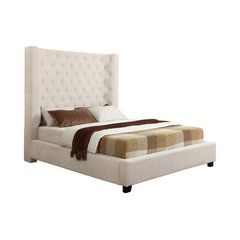 Jamie Upholstered Tower High Profile Contemporary Bed, Cream, Queen
Beds and Headboards
Beautiful bed: Looks great and easy to put together for the most part. Would have 5 stars if we were able to get all the support bars in the frame. Slightly defected in length so we came up with a quick fix.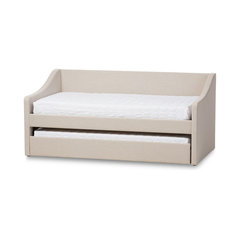 Barnstorm Upholstered Daybed With Guest Trundle Bed, Beige Fabric
Beds and Headboards
wonderful product: Easy to assemble and the quality is very high. My oldest is home for the holidays and used it and said how comfortable it was. Highly recommend this day bed to anybody who is looking for extra beds for guests or visiting chidren.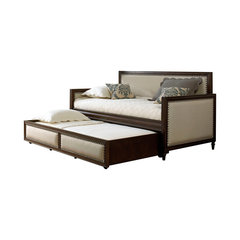 Grandover Daybed With Nailhead Trim and Cream Upholstery, Twin, Upholstered Pane
Beds and Headboards
Daybed: The daybed looks great it does require assembly by someone who knows what they are doing. I was given incorrect advice about the size of mattress - both mattresses should be no more than 5-6 inches or it will sit up too high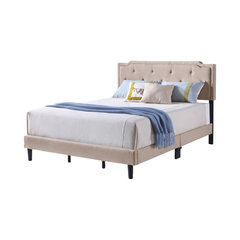 Starlight All in One Bed, Beige, Full
Beds and Headboards
very happy with purchase!: We transitioned a bedroom from kids to adult and this bed looks and sleeps great. There were simple instructions so it was very easy for my husband and I to assemble. It's really nice looking- dark gray/blackish color. It is very sturdy also.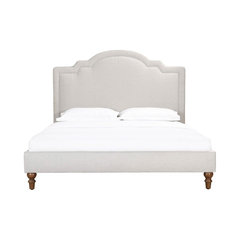 Cassis Upholstered Bed, King
Beds and Headboards
This bed is great!: This bed is great! Very sturdy, doesn't squeak or move with getting in and out of bed. Looks great! It is a tremendous value for the money. The box came quite badly damaged when I received it, but the bed inside was in perfect condition (it's why I gave the shipping three stars).