Featured Reviews of Beds and Headboards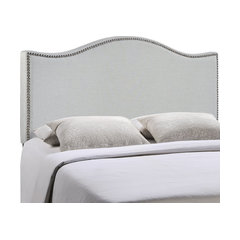 Curl King Nailhead Upholstered Fabric Headboard, Sky Gray
Beds and Headboards
Great headboard: Happy I chose this headboard - it is the same shade of gray as described which worked perfectly in my room. It is a good quality headboard at an excellent price and it was very simple to attach to my medal bedframe. It really completes the room and makes the bed look finished!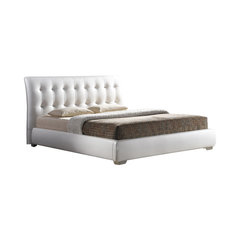 Baxton Studio Jeslyn White Modern Bed with Tufted Headboard, King
Beds and Headboards
Sturdy bed!!: The bed is very pretty!! Looks exactly like the picture. The faux leather is a little too shiny but it works for me. The constrcution is great. Assembly is easy and I feel it will last a very long time. Great buy!!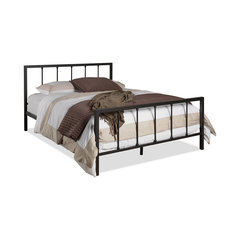 Amy Vintage Industrial Black Finished Metal Platform Bed, Full
Beds and Headboards
Perfect for Guest Room: This is exactly what I wanted. Looks really good for the price. I didn't want to spend a ton of money for my guest room, but I wanted something that looked nice. This is exactly what I wanted.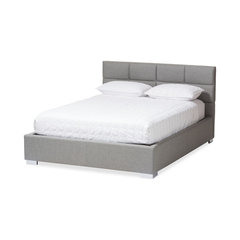 Sophie Fabric Upholstered Platform Bed, Gray, King
Beds and Headboards
Gray platform: I love this platform bed! It is very good quality and a good price! I had some questions about whether or not they would be able to deliver it directly to my apartment and Houzz was really great about answering all of my questions.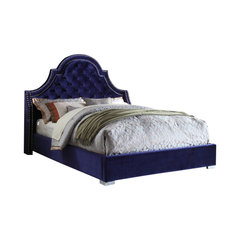 Madison Navy Velvet Queen Bed
Beds and Headboards
Absolutely gorgeous!!!!: I am so in love with this bed!!! Assembly was fairly easy and straightforward. Took me a little over an hour to put together (that was with a toddler "helping" me). No issues at all with holes not matching up or missing parts (having put together countless pieces of furniture, that is always a concern). The finished product is just stunning!! The velvet is a beautiful shade of grey, and has such a luxurious feel to it. So very pleased with this purchase!!!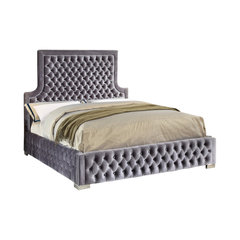 Sedona Gray Velvet Queen Bed
Beds and Headboards
4 stars: The item looks bigger online than it actually is. The headboard is a little smaller in person. Also the color is a dark gray rather than the light gray pictured. Overall the bed looks good.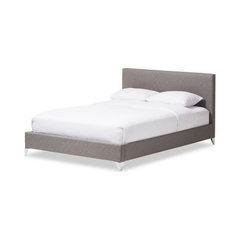 Harlow Quilted Fabric Upholstered Platform Bed, Queen
Beds and Headboards
Beautiful bed: Love the design/look of the bed. The color is perfect. The only negative I would say it that the legs of the bed are hard to put on. You have to drill through the fabric so it's kinda of tricky. Otherwise, for the price, you can't go wrong with this bed.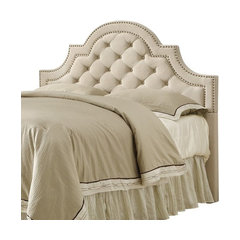 Coaster Ojai King Upholstered Headboard, Beige
Beds and Headboards
Great find: This headboard looks really good in the room. It brings the whole room together and it was easy to assemble. The small pieces were all over the place in the box . We were able to find them All.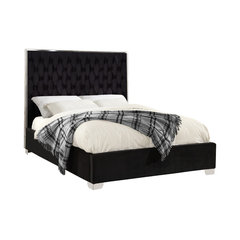 Lexi Velvet Bed, Black, Queen
Beds and Headboards
Great Quality Easy Setup: Delivery was with no issues at all. The Lexi velvet queen is very luxurious, great quality in velvet material and sturdy brass, steel, chrome, wood and plastic hardware. Better than what expected. The simple instructional manual seems too basic at first, but it's simply that easy of a setup. All the hardware pieces came in two separate boxes. Now let me end this review and enjoy tonight's slumber on my Lexi.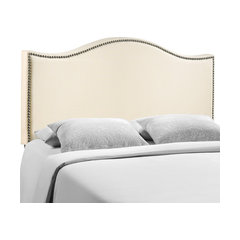 Curl Queen Nailhead Upholstered Fabric Headboard, Ivory
Beds and Headboards
LOVE: I am so in love with this headboard it looks awesome. I got so many compliments already. I originally wanted smoke but it was out of stock so I chose ivory. I paired it with black furniture, cream colored sheets, and a white down comforter. It was exactly what I wanted! It looks like a $2,000 headboard. The one thing is that the bolts don't fit into my bed frame so I have to buy a tad smaller ones. Definitely a great purchase!